Home
»
Advertising
,
collecting
,
diecast
,
Film
,
Internet
,
Marketing
,
Media
,
movies
,
Retail
,
Toys
,
TV
Mighty Muggs Checklist Part 2: Star Wars, Marvel, GI Joe, & Transformers (2009 Update)
The main news since our last update is that with the recent toy SKU reduction of the Big Three retailers (WM, Target & TRU) – it looks like Mighty Muggs will be a TRU exclusive only item coming this autumn-holiday season.
It's not that Mighty Muggs have not sold well but retailers just don't get it – since they're not quite action figures or light up or have parts that go flying off or RC … never mind that they are selling well. Stores might've liked it better if Hasbro could've packed some as 2-packs and charged $19.99 or something … but hopefully TRU will actually commit to them and not under-order.
Anyway, here's Part II to the Visual Checklist.
Part I of the Visual Checklist is here.
STAR WARS (Wave 6.5)
Two repeats from Wave 6: Han Solo-Hoth & Darth Vadar 2 (head swivels with either battle scar Darth (shown) or regular masked faced Vader). Wave 6.5 also includes  Darth Maul 2 (V.2 difference is body art design extends to navel) & Darth Revan.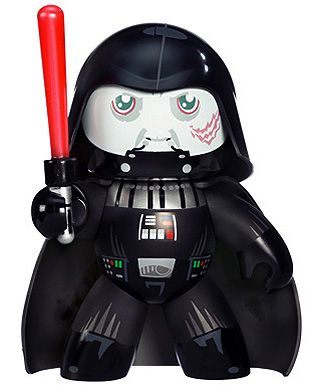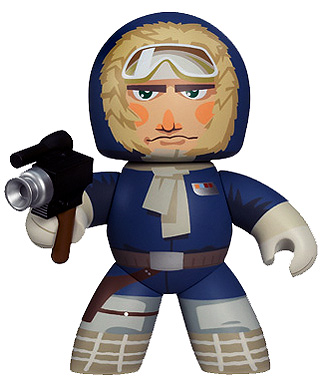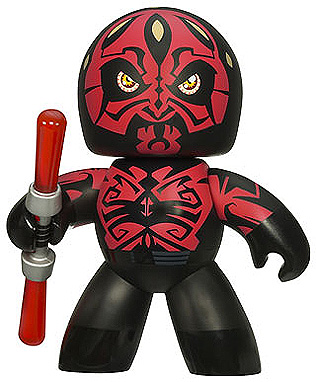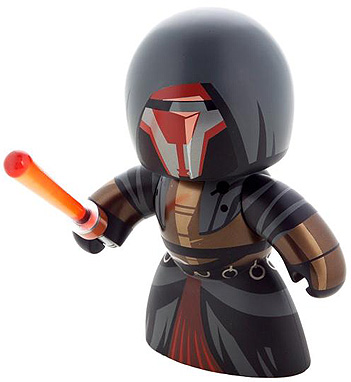 STAR WARS (DIAMOND DISTRIBUTOR EXCLUSIVE)
Admiral Ackbar & Shadow Trooper.

STAR WARS (Wave 7) (TARGET EXCLUSIVE)

A great wave with lots of interesting and different looks – Biggs Darklighter, Bossk, Snowtrooper, Teebo & Shock Trooper. And a repeat of Commander Rex with the Target Exclusive sticker plus re-release of C-3PO & Commander Cody.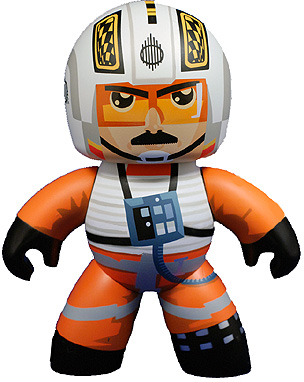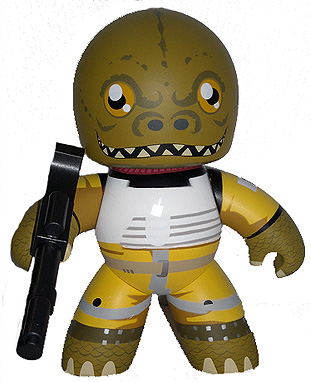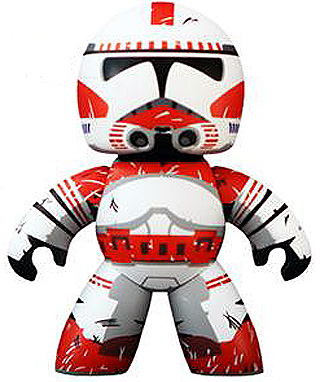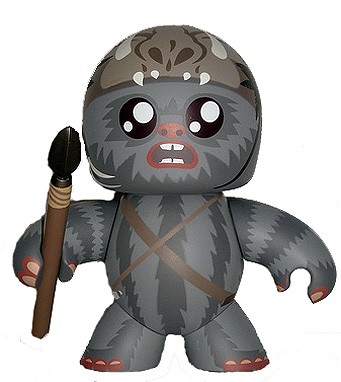 STAR WARS (Wave 8) (Internet Exclusive)

Not quite as a varied of a wave but still nicely done … Emperor Royal Guard, Qui-Gon Jinn, , Wampa & Wicket. Not so easy to capture Liam Neeson's face as Qui-Gon but nice job. It's too bad the Wampa couldn't be more in scale … What does internet exclusive mean? Looks like Hasbro.com and other internet sellers (such as Entertainment Earth) so you don't have to move until UPS/USPS knocks on your door 🙂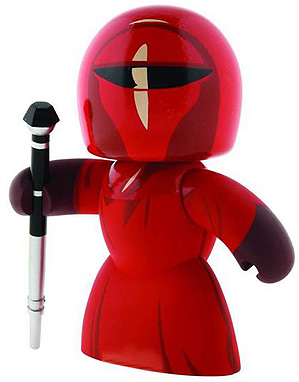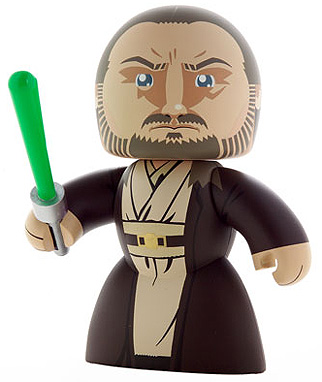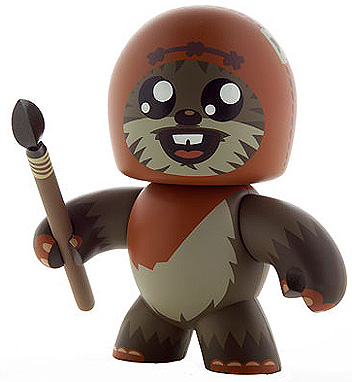 STAR WARS (Wave 9) (Internet Exclusive)

The last wave before going exclusive to TRU? … Another shared internet exclusive meaning Hasbro.com plus other online major retailers … Biker Scout Trooper, Gamorrean Guard, Luke Skywalker Hoth, & Obi-Won Kenobi.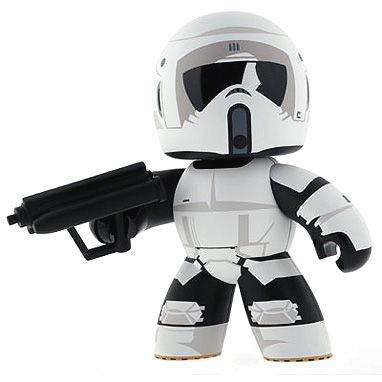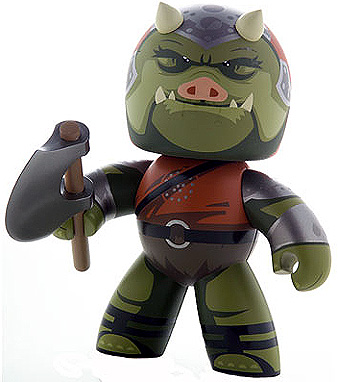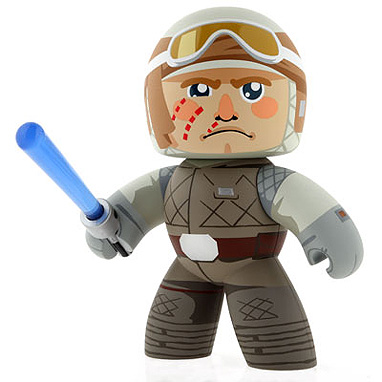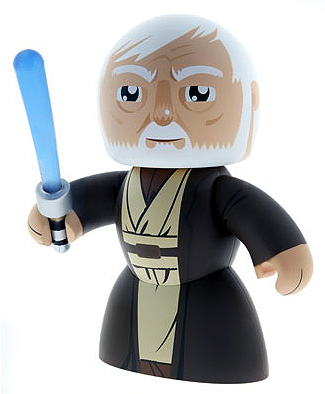 We should find out more at SDCC when the switchover will begin and whether another wave or two might make it out before the switch to TRU exclusive.
Star Wars & Marvel Mighty Muggs are two lines that are definitely continuing.
Marvel (wave 5)
Iron Man Mk1 Prototype version, Skrull shape shifter, The Vision, Avengers' Android and from the Ultimate storyline and the "Ultimate" Captain America (though not sure why they revisited Capt. America when the first release was much more interesting looking).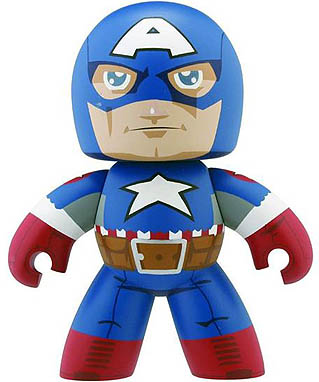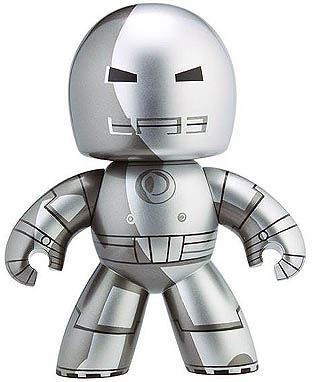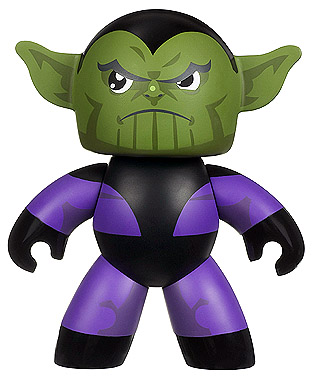 Marvel (wave 6)
Leading into the Wolverine: Origins movie …  Cyclops, Jean Gray (removeable hair and head swiveling action to turn into Phoenix – pic below), Logan, & Sabretooth.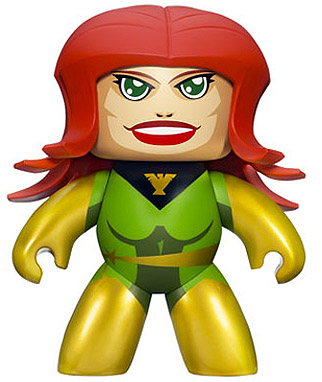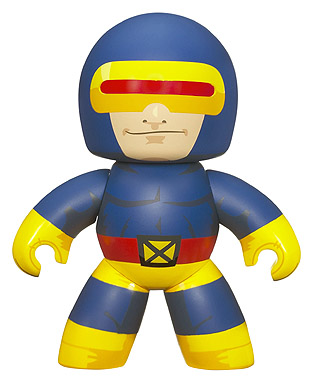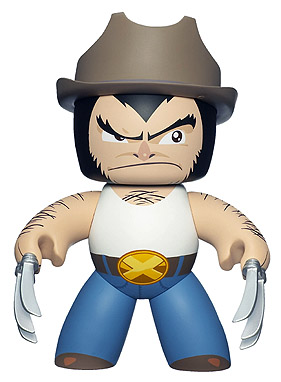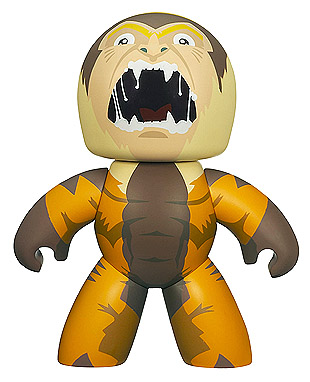 Marvel (wave 7)
Spiderman with cloth mask (see below), Green Goblin, Deadpool and ????

Marvel (TRU Exclusive)
Jigsaw & The Punisher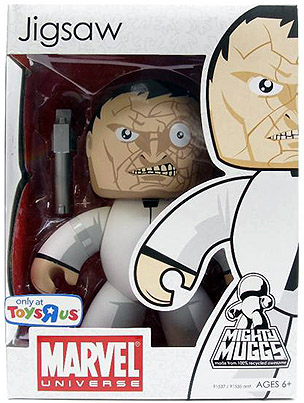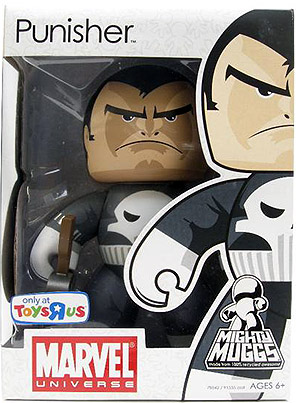 GI JOE (Wave 2)
Just two in the new wave – Destro & Baroness but nicely done … and speaking, is Joe done as a Mighty Mugg? Maybe with the movie coming out, we'll hear more about one more wave but it will now all depend on TRU. Destro looks better than this pic which doesn't pick up that he's chrome and not just silver/gray …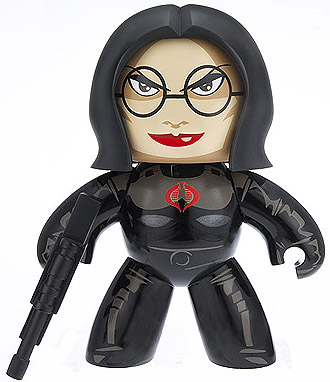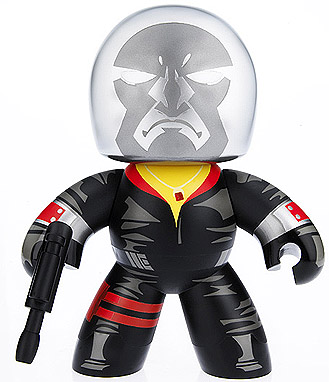 TRANSFORMERS (Wave 1)

Bumblebee, Megatron, Optimus Prime & Soundwave – great detailing on all and some nice weapons.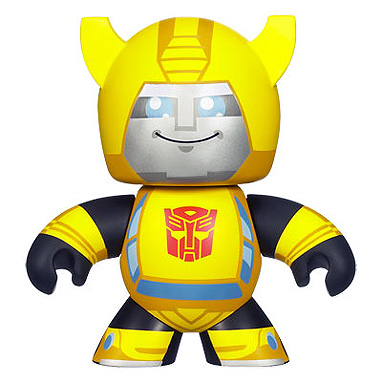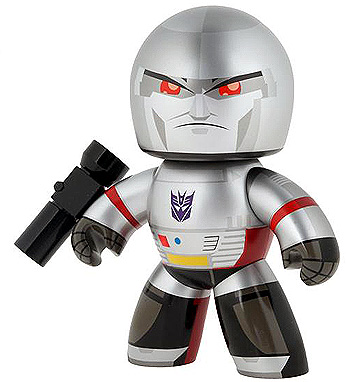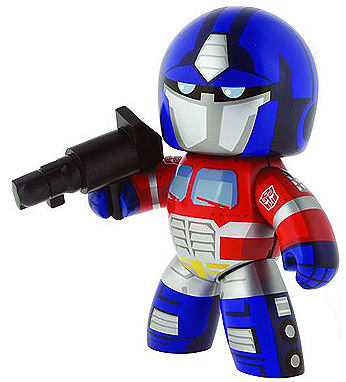 TRANSFORMERS (Wave 2)

Grimlock & Starscream are the new additions to the Transformers Mighty Muggs family.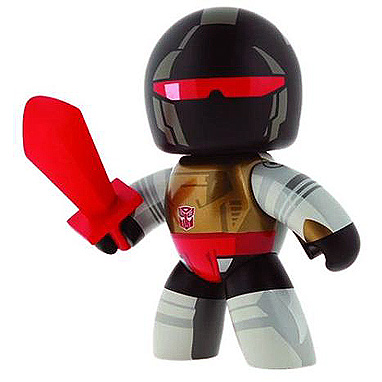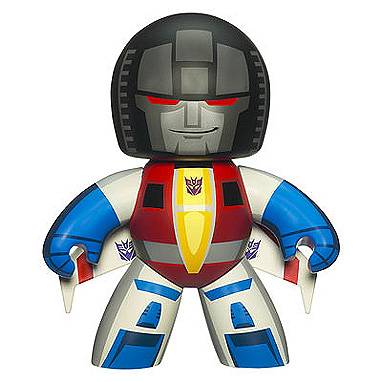 TRANSFORMERS (Wave 3)

There is some question whether Shockwave and Jazz will make it out. Since the film is coming out, the characters in II will have higher priority so it might be that we are not going to see these. At this point though, the retailers reducing toy inventory will have a bigger say as sales are okay. It doesn't look too good since they did not seem to featured at NYCC or Toy Fair.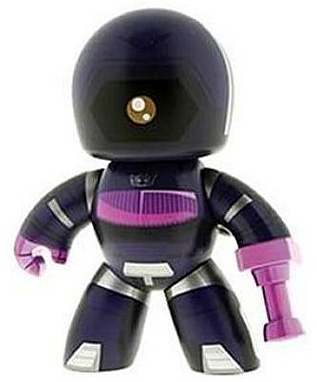 NY Comic Con- Toyfair 2009
Other than Marvel & Star Wars Mighty Muggs definitely continuing, Hasbro couldn't/wouldn't show off too much more …Photos courtesy of "Matt56." Thanks, Matt!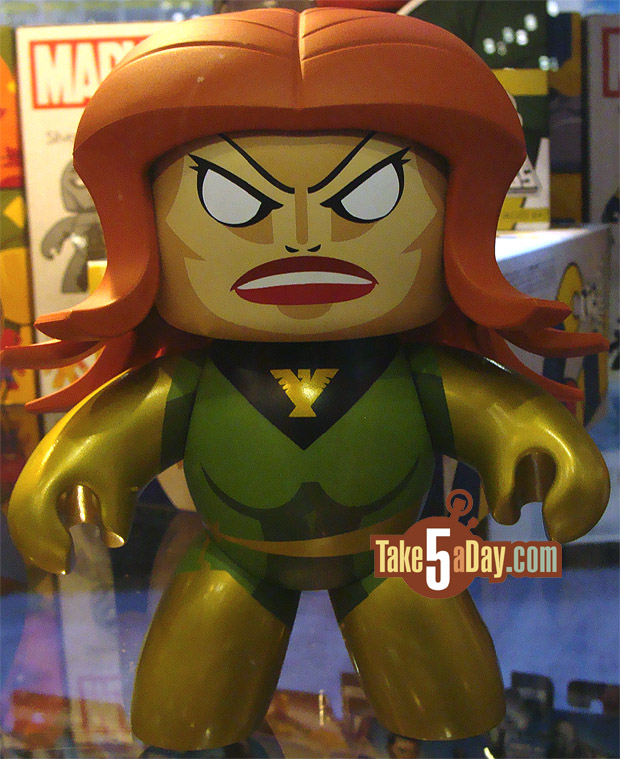 Jean Gray head swivel into Phoenix (or make your own joke here) 🙂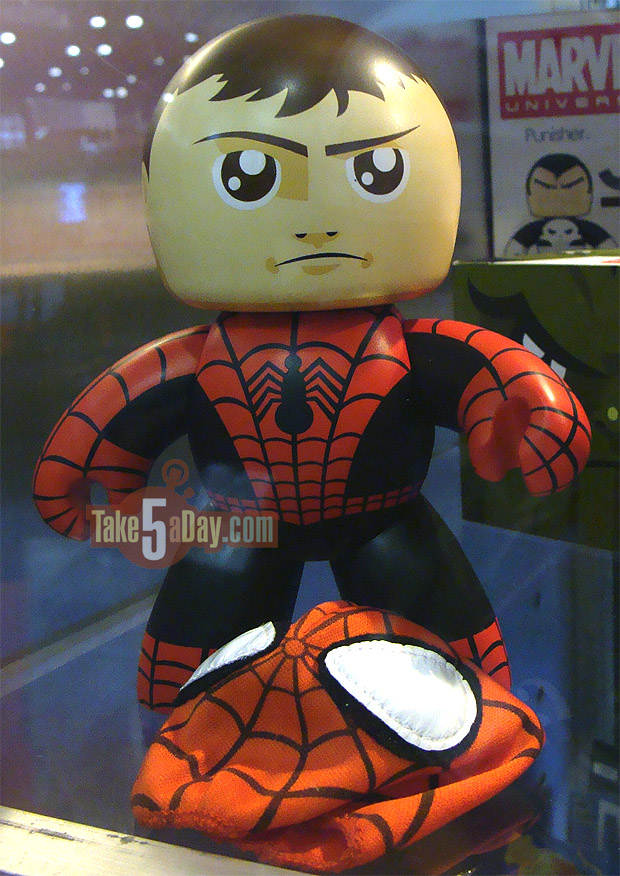 Wave 7 Spiderman with cloth mask – looks great!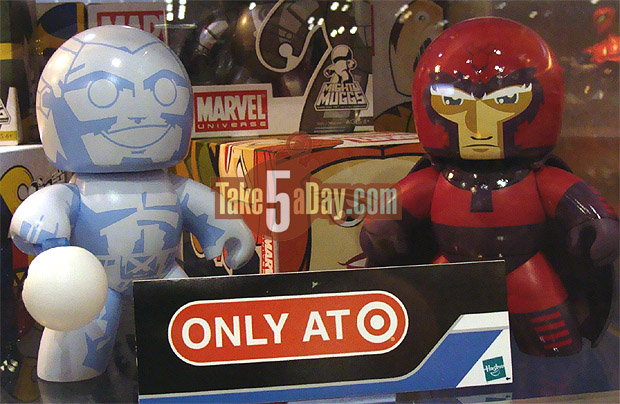 I presuming Iceman & Magneto and it looks like Target will get one more wave before TRU takes over? Or it wouldn't so bad if Target got Marvel Mighty Muggs as their exclusive.
That's the way retail is these days – with the big three controlling @85% of the toy market, if they decide they want to stop carrying something, there's no one else with the volume to really take up the slack … the alternative channels just aren't big enough for Hasbro. Smaller toy companies can produce a few thousand of something and raise prices to meet margins but Hasbro is only interested with a much higher minmum quantity of something and that it needs to grow by X every year … so what's next? Since Disney & DC are Mattel's – we'll never see anything there but Star Trek? BSG? Too bad Aliens/Predator is winding down … But if Transformers Mighty Muggs can't make it – that doesn't leave room for much else …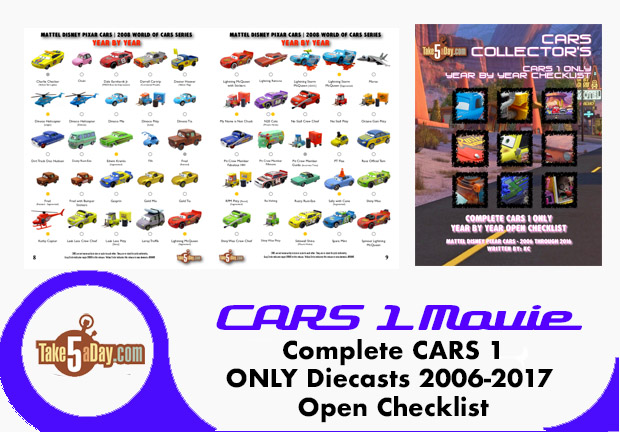 metroxing

29 March 2009

Advertising, collecting, diecast, Film, Internet, Marketing, Media, movies, Retail, Toys, TV


23 Comments