Home
»
Advertising
,
collecting
,
diecast
,
Film
,
Internet
,
Marketing
,
Mattel Disney Pixar CARS
,
Retail
,
Toys
,
TV
Mattel Disney Pixar Diecast CARS: Haulers Next at Target Online (UPDATE #2)
Thanks to "Mara," the next haulers coming are listed on Target.com and Amazon.com since they do Target's online fulfillment.
Some parts of this make perfect sense …
If you're still looking for …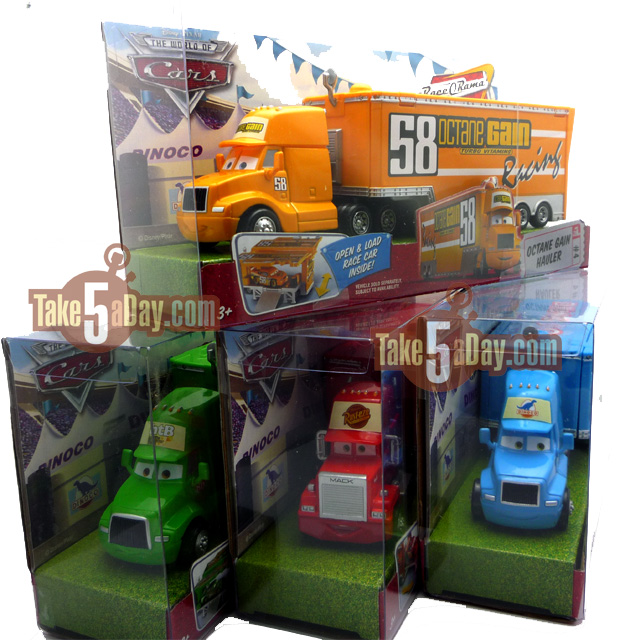 Amazon Target.com Links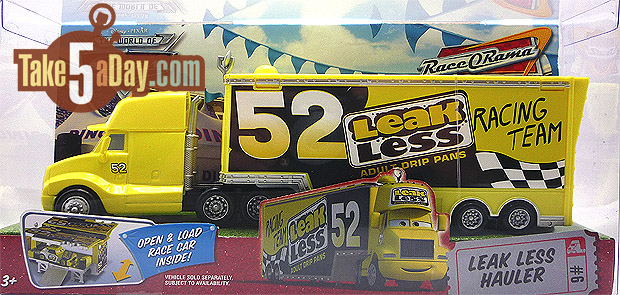 Target.com Links
You'll notice it's the same ASIN/product number as Amazon as Amazon does fulfillment for Target.
The next news sort of makes sense … Jerry Recycled is listed and "Sergio" says his order has a ship date of 4/23/2009 – while it does not exactly mesh with the production dates listed so far, Jerry Recycled might be ready to go since they made a batch for Walmart.
But the listing of the next ones after that – especially NO STALL HAULER? No Stall hauler's photo mysteriously appeared last month but there is no case assortment assigned … so if Walmart got a special case of haulers, now they offered one to Target? But they seem to be offering a lot to Target?
The listing so far? (click on the links for direct Amazon ordering)
Plausible as it's the next "new" one after JERRY RECYCLED.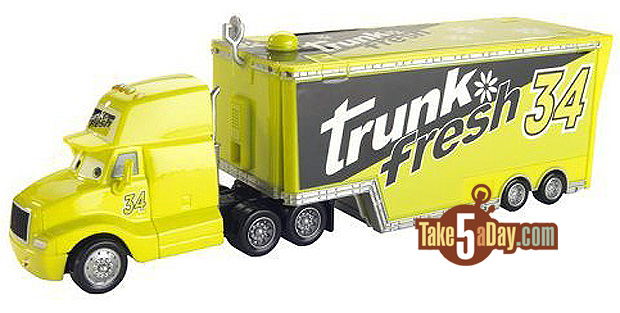 Presumed it was coming later in 2009 but not on the listing through CASE G. "Early to ship" exclusive?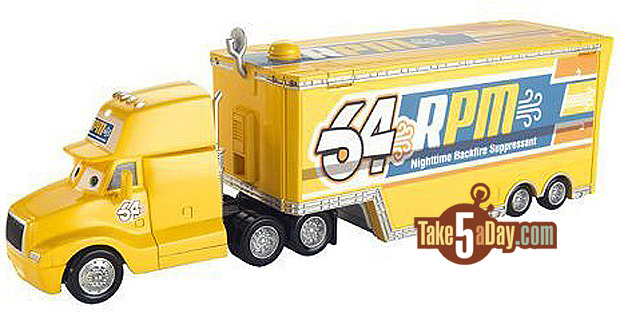 Another "early to ship" exclusive also?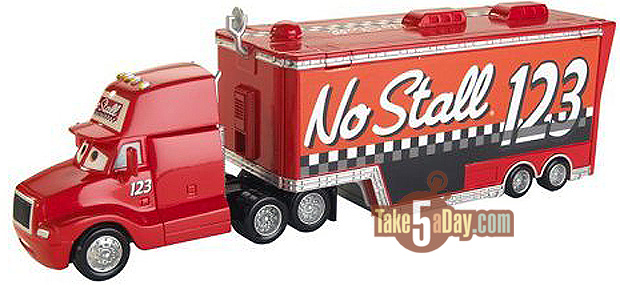 Scheduled but not until early Autumn …

Scheduled but not until late Autumn …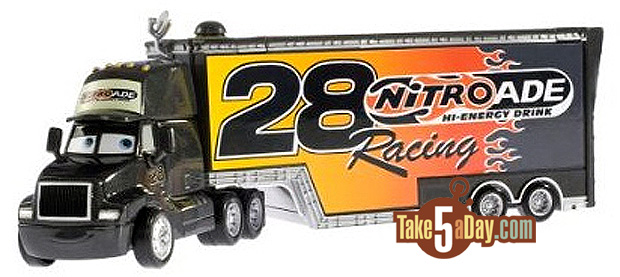 Scheduled but not until late Autumn …

You know what they say about if something sounds too good to be true …
Order a dozen?
🙂
That's our new Mattel Disney Pixar CARS saying.
Since we keep getting haulers, I have now decided to rank them based on the confirmation from Sergio that his order is coming 4/23/2009.
From the good to not so good spectrum for April-May 2009 🙂
90% Confidence Level
That Jerry Recycled is going to ship along with any order for Octane Gain, Leak Less (plus of course Mack, Dinoco & Chick Hicks hauler)
75% Confidence Level
That Trunk Fresh will ready to ship to Target – those above would comprise an early special Target shipment.
50% Confidence Level
That maybe No Stall or RPM is a special case set aside for Target much like WM got Jerry Recycled. RPM is relatively straightforward since they have already released the megasized so while mixing that plastic color for the Semi, might as well do the Hauler.
So, Jerry Recycled is a probable. Trunk Fresh (scheduled for the case after Jerry) is certainly very possible and No Stall or RPM hauler are very plausible if they moved up production or are making a special shipment for Target.
Beyond those, I would not be setting your clocks …
Gil, Nitroade & Shiny Wax are all scheduled for early to late Fall … so while Target could get them to push up the dates slightly, it's not going to change by a lot – unless Matel suddenly has decided to do two new haulers a month – and haven't told anyone 🙂
Can I see Target getting a couple first to ship or even real exclusives such as RPM or No Stall – sure but first to ship to Target on the next 6 new ones and all in a month's period or even 2 month time period … unlikely.
Might we see Gil, Nitroade and Shiny Wax earlier than the current schedule of early to late Fall? Sure. But will we see it before July? I doubt it very much. I would put the possibility of seeing these three before June at 2%, of July at 20% and even August – no more than 50%.
Of course, there's no reason for you not to pre-order since your card isn't charged and at Amazon, as long as your order is not being packed, you can cancel but do not be surprised when in April, you get an email saying part or all of your order will be delayed.
As with Target, since they use DPCI numbers, it's hard for any info to leak out since unless they have access to the buyers DB, there's no way to match up UPC's with Target's DPCI's … so the bottom line is that the actual scenario is unknown.
Maybe don't expect too much and you might be pleasantly surprised? 🙂
And Team Hauler Leak Less is next (Hauler, Racer & Pitty Target box) so can we presume they will both arrive on the same ship in mid April after tax day? 🙂
Humm ….
So, thanks "Mara" for the heads up and "Sergio" for your info.
Good luck!


metroxing

20 March 2009

Advertising, collecting, diecast, Film, Internet, Marketing, Mattel Disney Pixar CARS, Retail, Toys, TV


83 Comments