Home
»
Advertising
,
collecting
,
diecast
,
Film
,
Internet
,
Marketing
,
Mattel Disney Pixar CARS
,
Retail
,
Toys
,
TV
IndyKJT CAR CARES: Your Help or Donations …
What is CAR CARES?
"This program is designed to take in donated items, new or gently used, related to the 2006 Disney/Pixar movie Cars.  Those items are then taken, and put into care packages that are sent out to children 14 and younger who would benefit from such a package.  We also take in monetary donations to purchase Cars items, and to help offset the costs associated with shipping out the packages.
These packages can be sent out to kids who can use a small gift to uplift their spirits and moods. During stays at the hospital, or even times at home recovering, little things go a long way for kids. Things like this stick in a child's mind, and are as comforting as anything else can be. And, as a parent, can be one of the most wonderful things even from someone they don't know personally.
This program can be one of those wonderful things. It can be a help to parents who have children coping with something of this nature. It can be a help to brothers and sisters of these kids, who often feel left out due to all the attention being paid elsewhere. It can be a help to kids who are still in the hospital, who are at home sick, who have lost a loved one, or have one through anything that a little box of Cars stuff can help to mitigate."
Be sure and read about Kevin, and the Tamosaitis family & their personal reasons for starting this and their time spent in different hospitals.
Cars Cares always accepts new and gently used Disney/Pixar Cars related merchandise.  This can include diecast, plush, stickers, books, activity kits, games, clothing, etc.  We also accept and encourage monetary donations.  Money donated will be used primarily for purchasing new Cars merchandise, and to offset shipping costs for care packages.
If you have anything you wish to donate other than Cars merchandise, please contact the site administrator prior to donating.
Send donation packages to:
Cars Cares
8656 Hopewell Ct.
Camby, IN  46113
Monetary donations can be made via PayPal at the Cars Cares email address: carscares@hotmail.com
You can read Kevin's blog at: carscares.wordpress.com
Thanks to all.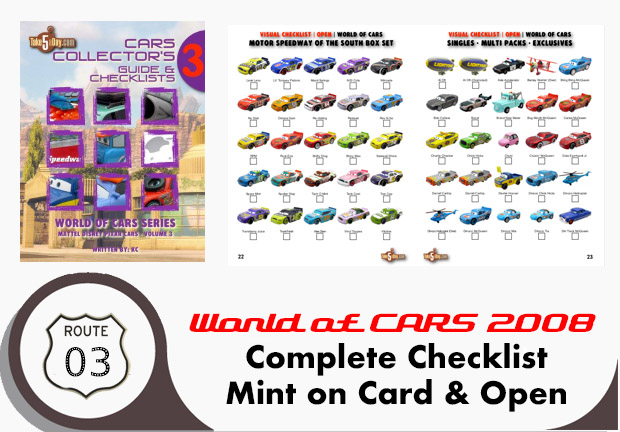 metroxing

28 February 2009

Advertising, collecting, diecast, Film, Internet, Marketing, Mattel Disney Pixar CARS, Retail, Toys, TV


17 Comments