Home
»
Advertising
,
collecting
,
diecast
,
Film
,
Internet
,
Marketing
,
Mattel Disney Pixar CARS
,
Retail
,
Toys
,
TV
Mattel Disney Pixar Diecast CARS: Pirate Cars CARS Have Hit US Shores …
At first glance, it's plausible that they were some cake topper CARS toys or something …



But then I looked at the packaging at 'normal' size, it's time to call in the trademark & counterfeit police :-/

First big clue – read the blurb under "TOP"
While it's an interesting philosophical conundrum … as an selling blurb, it's no COLLECT THEM ALL. Well, okay, it also makes no sense.
And of course, Disney doesn't mind at all when you replace the Disney-Pixar logo with the words SUPER RACING … well, not mind in the sense they will beat you with splinter sticks.

Surprise, no where on the back are the fabled ©Disney/Pixar words … though there is the international symbol that Pac Man should not eat Squares – otherwise, he will cry and eject it?
What's the symbol to the right? Kids of all ages will enjoy this toy or enjoy Pac Man spitting up squares?
I think CASE DASH CODE 789B will have the Apple Car so I'll wait for that one.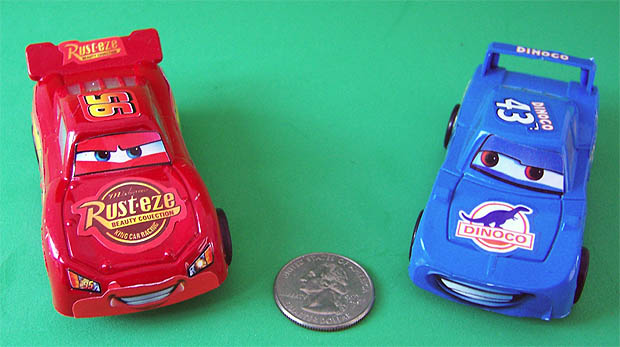 The good thing is they did not waste too much plastic … and the paper mouth & eyes, humm, maybe it's just me but I don't classify that qualifies as modern & elegant in fashion …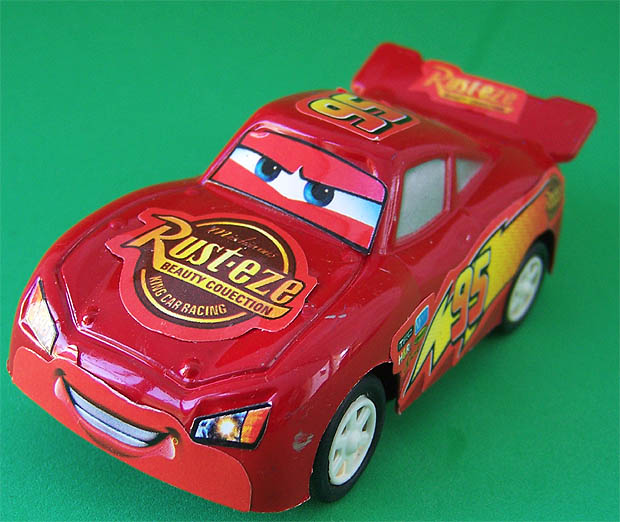 On second thought, I don't really want the Apple CAR from this line … though I know many women & men would like some Rust-eze Beauty "Couection" products …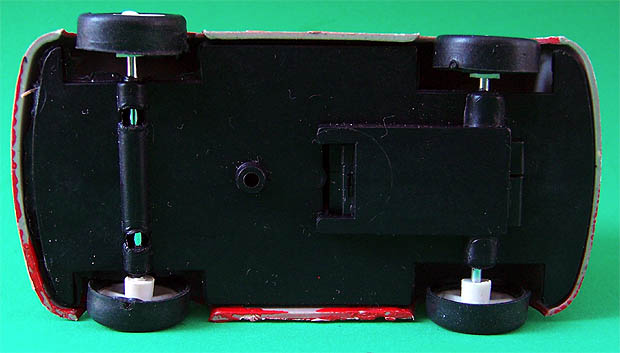 You do get 4 wheels and a car base plate so that's something …And it's cheap, only $2 for the multi-pack though you do get what you pay for.
Thanks for the pics "RJ."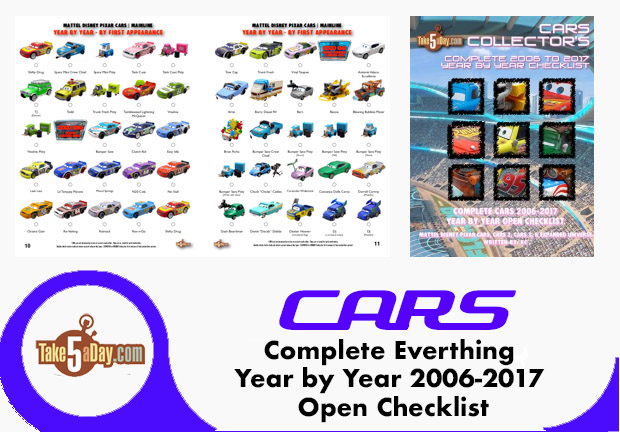 metroxing

21 February 2009

Advertising, collecting, diecast, Film, Internet, Marketing, Mattel Disney Pixar CARS, Retail, Toys, TV


79 Comments