Home
»
Advertising
,
collecting
,
diecast
,
Film
,
Marketing
,
Mattel Disney Pixar CARS
,
Retail
,
Toys
,
TV
Mattel Disney Pixar Diecast CARS: Mack, Bumper Save & Free "Coloring Book"
I think everyone was at least able to find Mack with Bumper Save, Nitroade & Bob Cutlass on or about Black Friday …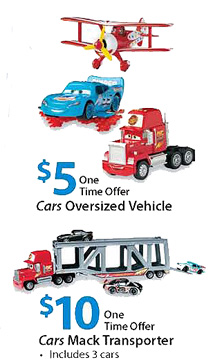 This was one of those deals where Mattel & WM did not make any money, WM just wanted to assure you were eager to be there on BF and Mattel basically counted it as advertising for the CARS line. Other than the $10 price, for us, it was business as usual as they didn't really skimp too much …
(BTW, the Mack with 3 other CARS normally sells for about $22.99)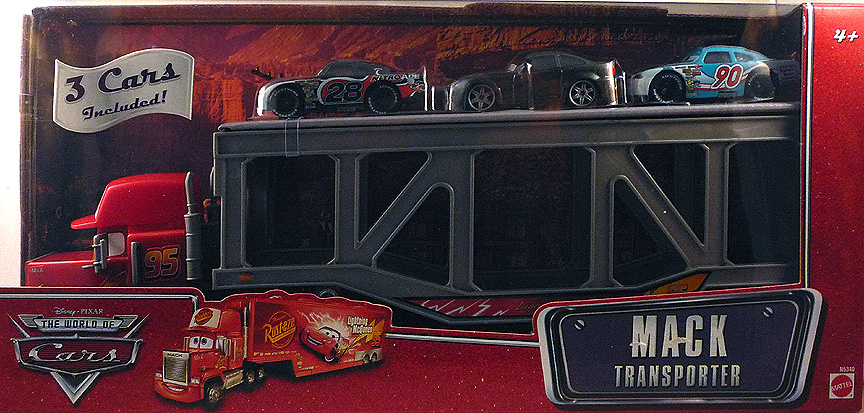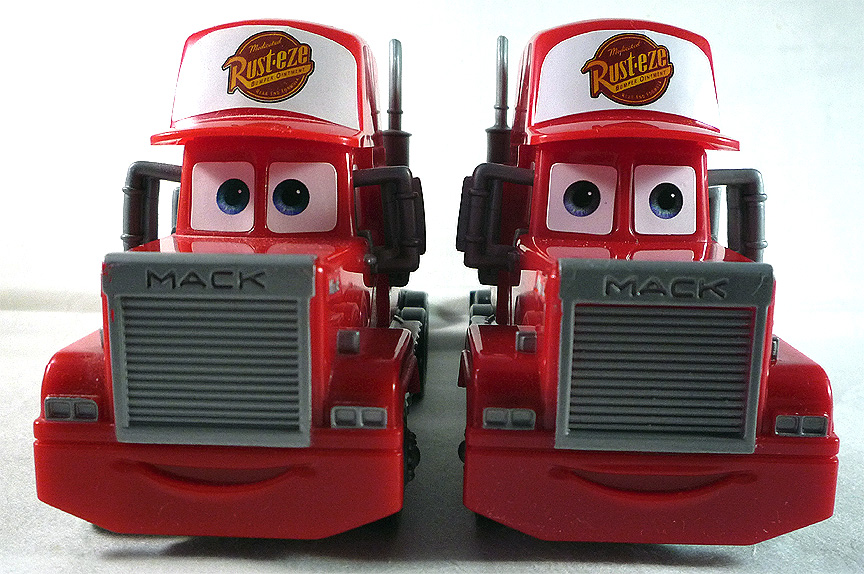 All around, upside down and 360 – this all-plastic Mack cab seems to be virtually identical to the 2006 Mack (Transporter) Cab … the only real tiny difference is the © info on the bottom of the cab is slightly different but otherwise – the same.

You get the very nice Mattel locking tabs so if you like, you can re-lock the trailer back on its display base – an excellent design for collectors of all stripes.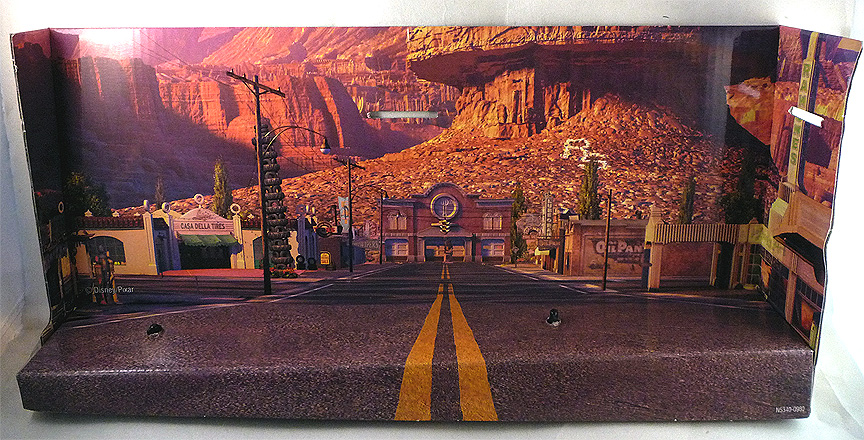 Of course, you also get a "free" diorama base … you can teach kids about the concept of 'perspective' and for older kids, the irony of how purchasing this box set as a loss leader at a giant meglomart, you/we are all contributing to crushing the tax base of small towns … okay, maybe you want to skip that lesson …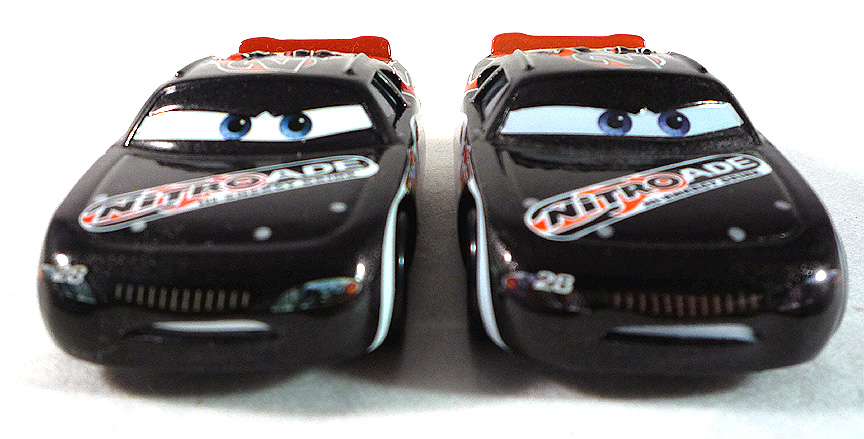 Now, that I have to study every new release with its 2006 BASE version, there are a couple small differences with Nitroade, the one on the right is the 16-desert back 1st release … he has violent or purple eyes to go with his purple/violet/lavender grill/mustache … but now, he's a blue-eyed dude … I suppose I should go back and dig out the older CARS but if you have a SC version, does he have violet eyes or blue? His expression is the same but there is less white paint so it's not a obvious … also the new one has his mustache/grill slightly askew but that might just be this particular one …
Plus, you get a free "coloring book!"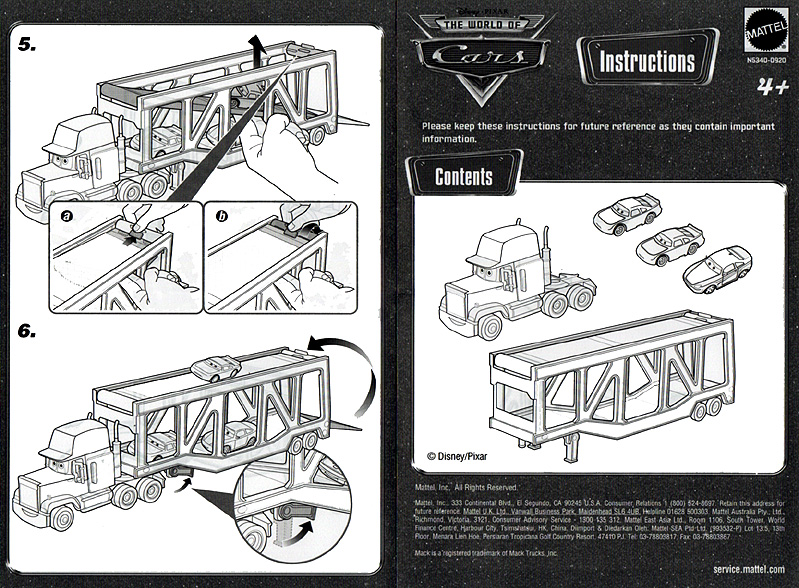 Okay, it's not intended as a color book but you know, while you're playing with your N20 Cola & Bumper Save, give this to the kids along with 3 crayons – stocker stuffer, right? 🙂
It's nice. You get to verify all the pieces in your set … they even drew the little GPS nubbin on Bob Cutlass – nice – and the Piston Cup racers both have grumpy expressions and perfect for kids to customize!
(And since they're blank – you can swap out Bumper Save for Mac iCar and go haha – my car has more graphics! ) 🙂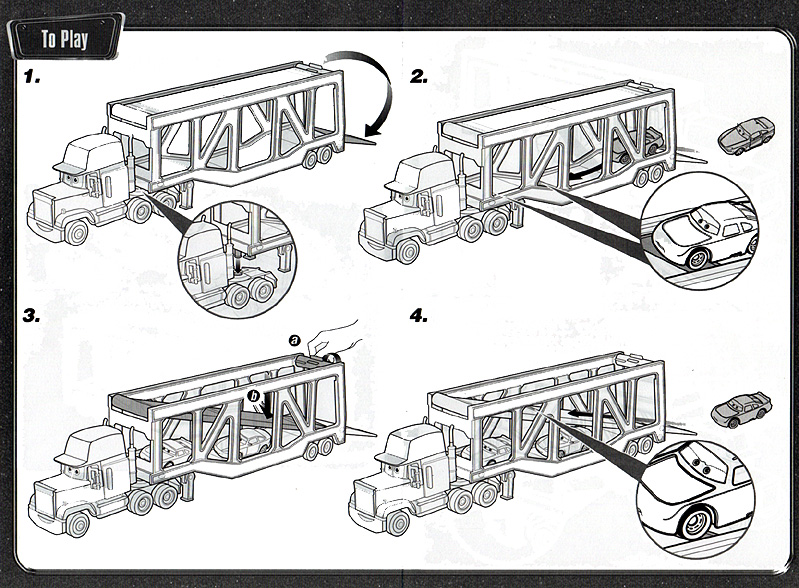 And of course, you want to gather up all the kids and go over each step of how to play with Mack and the three CARS … but first make them dress up in their Sunday best – learning toy instructions and proper structured play is important. Unloading CARS from a carrier is serious business. First, you need to proper set up traffic cones to warn other drivers …
Then you want to explain the giant hand represents the handout the auto industry expects from each hardworking taxpayer 😉 …
Pretty sophisticated set for $10 USD!
* And remember, you may swap out Bumper Save for another racer or more and donate this Mack to a kid's charity … however, swapping and returning to WM is unacceptable on man levels so don't do it … look at it this way, if I have to be your conscious, you might have serious problems 🙂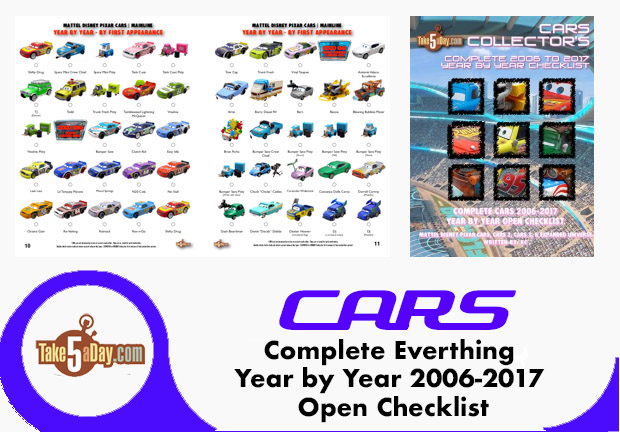 metroxing

2 December 2008

Advertising, collecting, diecast, Film, Marketing, Mattel Disney Pixar CARS, Retail, Toys, TV


34 Comments