Home
»
Advertising
,
collecting
,
diecast
,
Film
,
Internet
,
Marketing
,
Mattel Disney Pixar CARS
,
Media
,
Retail
,
Toys
,
TV
Mattel Disney Pixar Diecast CARS: BLACK FRIDAY 2008
Once upon a time, the day after Thanksgiving was so named because retailers began to turn a profit for the year with the amount of stuff they would sell in the next 5 weeks … that is not really the case anymore but it sounds IMPOSING – BLACK … FRI-DAY! Still not as good as the Monster Truck rally guys – SUN-DAY, SUNDAY!, SUNDAY!, SUNDAY!
And in case you want to know, at the turn of the 20th century, it was not uncommon for most kids to get an orange or a carved toy as the extravagant gift … of course, if you lived in a mansion with 100 butlers & maids, you probably got a mastodon and your own clown troop … so that's how far we've come … so if you haven't found any CARS to buy, remember 110 years ago, if you were good, you got an orange, not so good – you got a half eaten orange … or malaria.
Anyway, a few years ago, stores started elaborate discounting to get you to bundle up and get up off the couch after eating 25 lbs of turkey, giblets, gravy, pumpkin pie, ice cream, turducken, sweet potato pie, pecan pie, apple pie, ice cream, whip cream, mashed potatos, fries, doritos, guacamole, m&m's, ham, cod, some alcohol chased with some other kinds of alcohol … then add in 4 football games – turn up the thermostat to 84 degrees and I'm just gonna close my eyes for a few seconds, hours, … um, triptophyan days.
It was so innocent then – you needed to gather up info, you needed to plot out a route and you needed to figure out how to get to all places in one military maneuver … but in the ultimate irony, commercialism has been trumped by bureaucratic commercialism – pure unadulaterated blast of shopping skills was replaced by a bureaucratic orderly system requiring no skills shopping and if one store made you get up at 7 AM, another said 6:45 AM and so on … and then slowly, the "door busters" were no longer laptops for $299 but …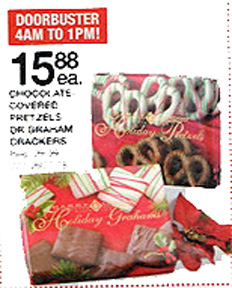 This is one of JCPenney's doorbusters … really, 4 AM to get chocolate covered pretzels for $16? Are chocolate covered pretzels normally like $79.99? The person who approved this doorbuster should be beaten with a door.
So, yea, sorry to say – not as much fun as it once was …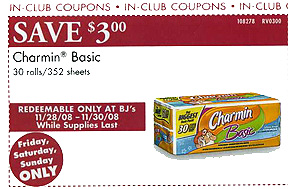 Really? Sure, I like Charmin next to by delicate body parts as much as the next person but holiday door buster? Come on, really?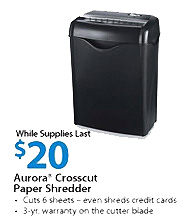 Merry Christmas honey! I got up at 4 AM and fought like a rabid dog to get you this 'while supplies last' paper shredder … it will be a sad day for the person who shows up at 5:53 AM and this is sold out. Christmas will be like totally ruined – what could you possibly find to represent the hearths and hearts of your feelings on this most special day but some heartless bastard beat you to this 'limited supply item.' Oh the humanity.
Of course, you're here to hear about the CARS – well, the WM pallet will finally be out and hopefully TRU will actually drag more CARS stuff out. Target seems to have stocked already this week … and I have looked through every BLACK FRIDAY ad from any company that might remotely sells CARS 1:55 items … so I skipped over the SWEDISH COD store, the BUTTONS ARE US store and even the funnest of all stores, the Microsoft Online Software Store … COLLECT THEM ALL!
First, the stuff that is available on sale this week …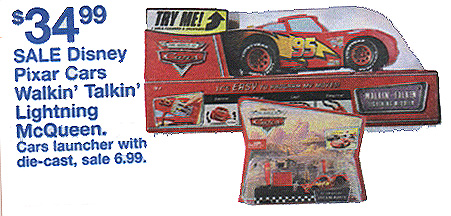 Kmart has launchers for $6.99 – do they have the latest ones? I would be stunned but then the West Coast Kmart's don't get a lot of new merchandise – we have never seen a short card in NorthernCal but maybe in your area – who knows … can't hurt to look. This prices are effective from today – note Kmart is OPEN pretty much ALL DAY on Thanksgiving (7 AM to 9 PM) and they have different doorbusters everyday but nothing 1:55 CARS through Thursday other than the launchers.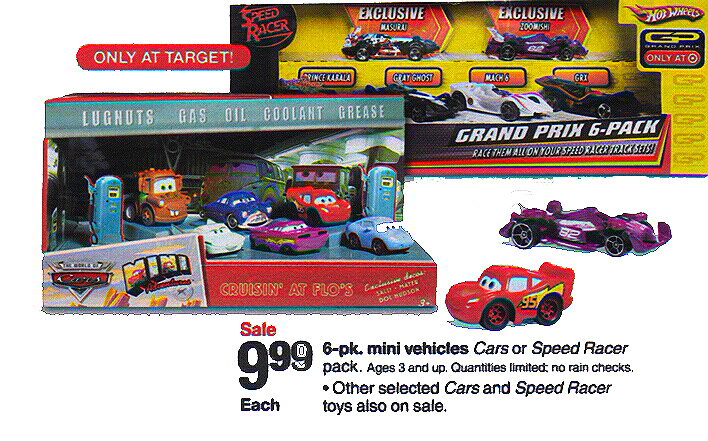 If you wanted the Mini's Box set, $9.99 is a great price for 6 Mini's and if you bought at the regular price of $17.99 in the past few weeks, with a receipt, you can get a price correction/refund.
The Speed Racer cars are finally priced right at 6 for $9.99.
Target is closed Thursday so this price is only good for the next three days.
AND NOW the Black Friday stuff.
Lots of TV's and good pricing on DVD's but not much in the ways of real CARS stuff.
KMART – Friday & Saturday.
Not Cars 1:55 but seems like a good price for a bed and or the toy box …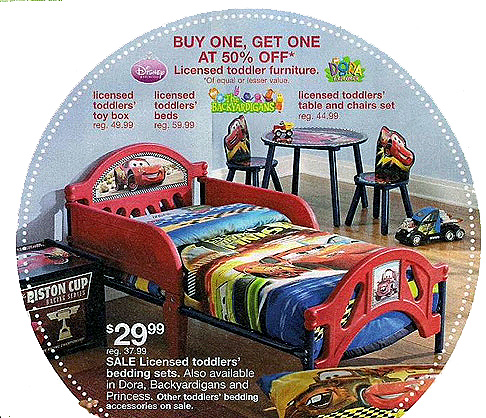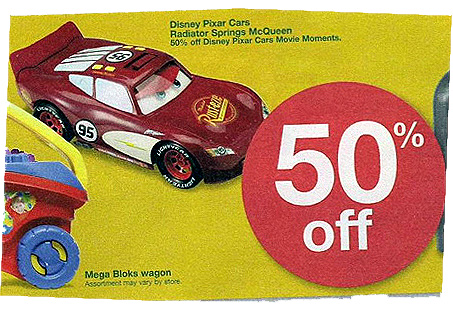 Also Kmart Friday-Saturday, Movie Moments are 50% which is obviously a nice price.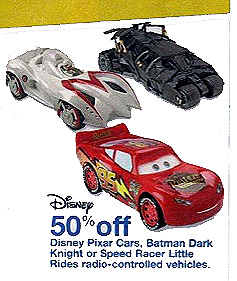 And all the Mattel RC CARS are 50% …
WALMART – Friday & Saturday.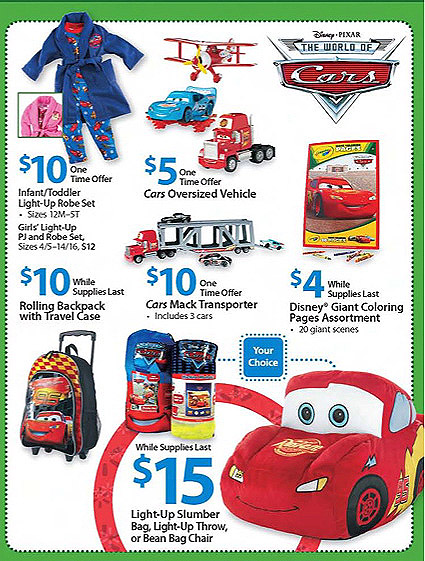 Walmart is offering a lot of CARS stuff (also see below) but the best 1:55 stuff are the oversized/megasized at $5 each and the Mack Transporter for $10 which is a nice great deal now that we know the photo is correct.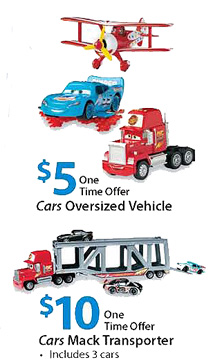 It says includes 3 CARS but if you don't get Bob Cutlass, Nitroade & who is that, Sputter Stop? Will you throw a hissy fit?
Great NEWS – Not just a random photo but an actual photo of a WM exclusive – thanks to Brandon of the CARS DRIVE IN GALLERY, it is Bob Cutlass, Bumper Save & Nitroade along with Mack. (slightly more details in follow up post). All for $10 – Nice!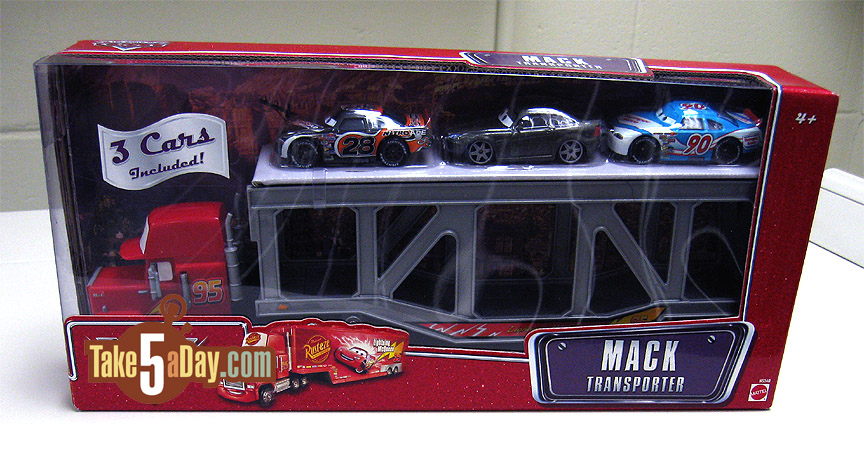 Lenin also spotted a giant CARS Misc section at WM – an assortment of different things …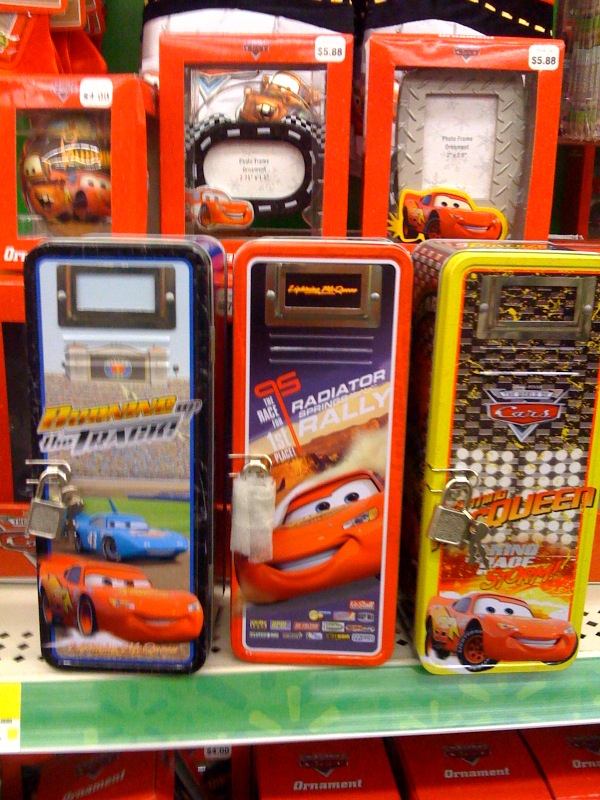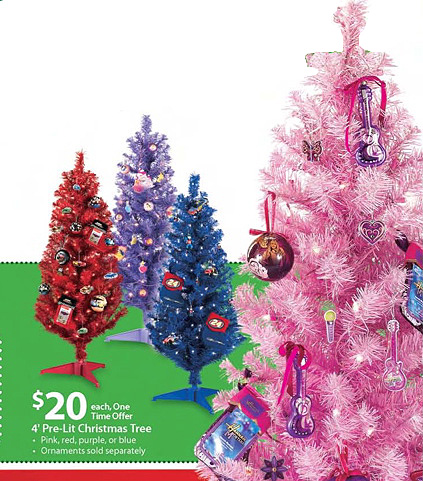 So, remember, collect all the color of the rainbow in trees … again, with the one-time offer … because in February, these will be $22.99?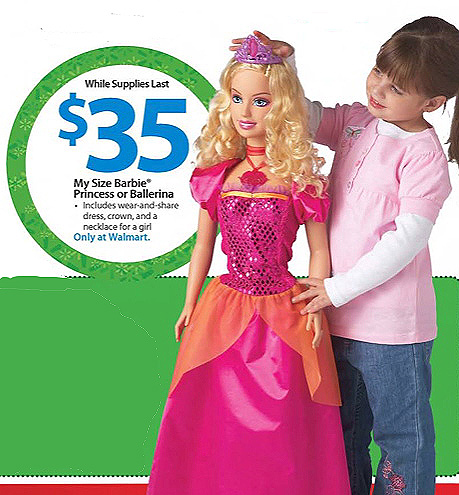 So, how come we don't have a giant Transformer or a Wookie this tall? Are little boys under 4-feet scared of life-sized action figure/dolls and only little girls like a play object the same size as them? Though $35 seems like a good deal – that is a hella lot of plastic & "fabric." … no way would get a $35 3′ feet tall Transformer … or Lightning McQueen.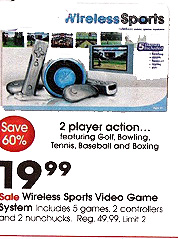 Or if you run out of money after completing your collection, pick this up for others – it's "Wii-like" at a savings of hundreds of dollars – kids aren't savvy today, just write NINTENDO on the side, you can even mis-spell it – they'll never know 🙂
Costco – Friday, Saturday & Sunday
Okay, I did find one legit doorbuster-like item … this is NOT a useable coupon – you have to go to Costco to get one but with this coupon and their already discounted price, you can get $60 worth of iTunes music/tv shows/movies & games for $49 … or 20% off purchases so a good deal …

Plus, we are now an iTunes affiliate so if you click on the links, we get a couple pennies … so that I may overindulge in JC Penney pretzel chocolate without having to get up at 4 AM.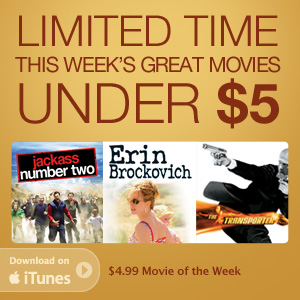 (NOTE – Clicking on $5 link above will launch iTunes)
Thanks and happy shopping. Non-Americans, keep in mind, we are going to try and drag us all out of this recession by converting our remaining cash into diecast CARS and giant dolls.
Wish us luck!
So, while I have checked every Black Friday ad from stores that sells anything CARS, I did not list anything CARS if they just had CARS PJ's or sheets – but if I missed anything related to the 1:55 line, let me know.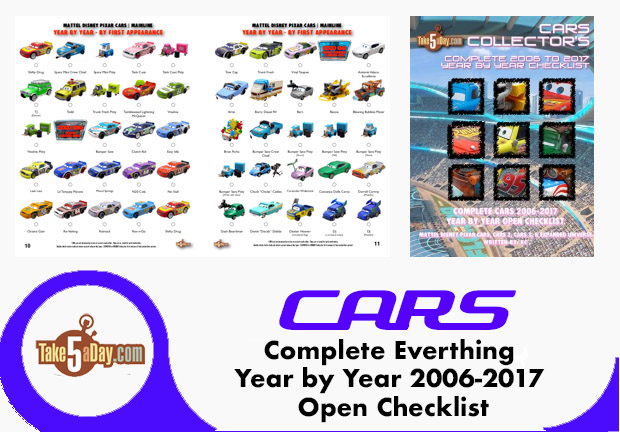 metroxing

23 November 2008

Advertising, collecting, diecast, Film, Internet, Marketing, Mattel Disney Pixar CARS, Media, Retail, Toys, TV


30 Comments