Home
»
Advertising
,
Apple
,
Apple Mac
,
Internet
,
iPhone
,
Marketing
,
Retail
Apple iPhone Software 2.0 – Two More Features & Tips
The APP STORE will let you know if there's an update to one of the apps you bought/loaded with a numeric note – nice.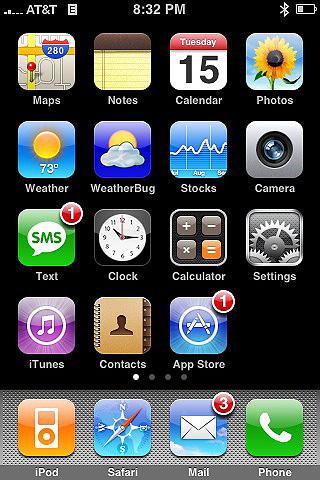 (In this case, it's EVERNOTE – not shown on page 1)
And when you press UPDATE, you even get a nice 'uploading' bar – very thoughtful.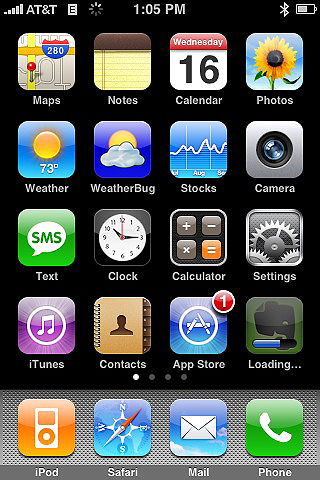 I even did it over EDGE to test it out and it worked fine.
Plus, in case you've missed it – you can now take screenshots of your own iPhone by holding down the HOME button and then clicking on the power button – the screen will flash white and the screensnap is placed in your photo folder.
(and yes, if you want to be annoying, you can take a screensnap of the home screen (like above) and use it as a your 'wallpaper' and your friend/spouse/kinder will wonder why their touch screen has stopped working … of course, all in good fun until you lose an eye 🙂  ).
(and yes, I have moved around all my home screen buttons – I prefer the buttons I use most often on the left and right side so I can tap with my thumb while the less often used ones, I can use my index finger …).


metroxing

16 July 2008

Advertising, Apple, Apple Mac, Internet, iPhone, Marketing, Retail


No Comment