Home
»
CARS
,
Mattel Disney Pixar CARS
,
Mattel Disney Pixar Diecast CARS
Mattel Disney Pixar CARS Diecast: Get Caught Up with One Ebay Auction
Sad but you can get caught up in collecting CARS 1 (and Toons) in one fell swoop.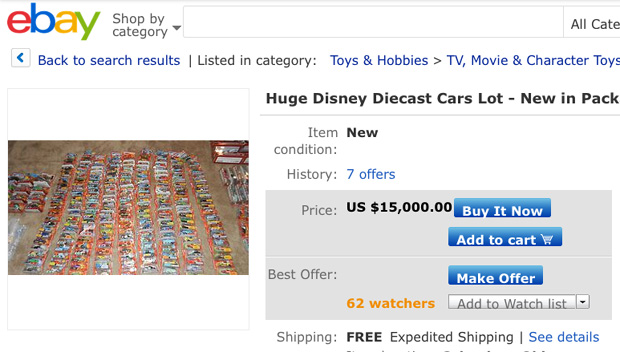 Okay, you do need 15 Grover Cleveland's or 150 Benjamin's but hey, what's skipping one mortgage payment for complete CARS 2006 to 2011? Or if you're a pro athlete, one wheel rim for your SUV for hundreds of CARS?
And Free Shipping!
I always hate auctions for $10,000 but shipping is $79.99 – really? For $10k, you cannot throw in a bone for free shipping?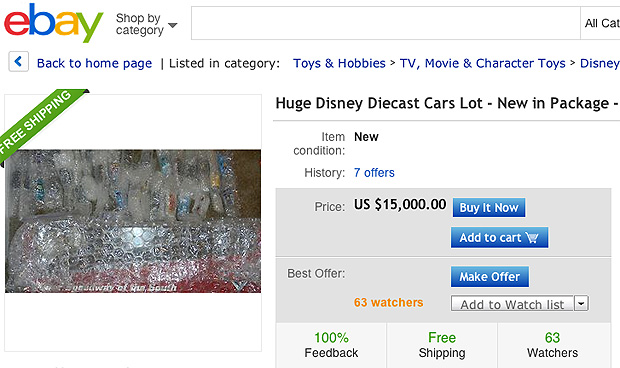 We don't normally post about eBay links but anything above $14,999, we'll consider it. 🙂 Think of all the time you saved in 2006 to 2011 – CLICK and done. Then you can tell boastful stories about how you found a MSOS set marked down on a shelf in Walgreen's during a rainstorm so large, you had to pass a destroyer to get the last parking space.*
*Minor embellishment allowed after spending $15k on an eBay auction.
So, fellow CARS Collector – sorry to see you go – hope your collection finds a nice home.
I guess I should post my collection for $14,999.99 though I think he is missing most of the haulers?
Thanks for the heads up, "John H."


metroxing

26 August 2013

CARS, Mattel Disney Pixar CARS, Mattel Disney Pixar Diecast CARS


16 Comments