Home
»
Advertising
,
collecting
,
diecast
,
Film
,
Internet
,
Marketing
,
Mattel Disney Pixar CARS
,
Retail
,
Toys
,
TV
Mattel Disney Pixar Diecast CARS: Kmart CARS Day Case Pre-Sale "Email Me" Up
Thanks to the eagle-eyes of NascarBroncoFan, it's all true and very real.
Kmart CARS Day II CARS are listed for "email notification."
Click on the graphic or the link to go to Kmart.com.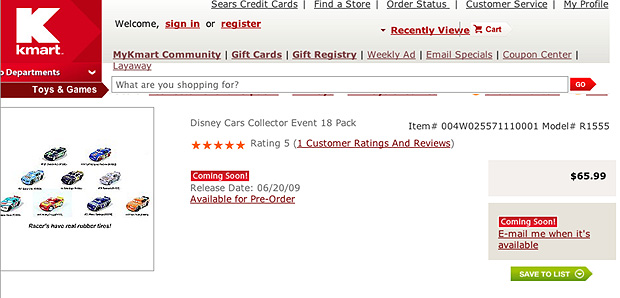 Click on "EMAIL ME WHEN IT'S AVAILABLE" and they will send you an email when "COMING SOON" changes to ORDER ME BABY! (or something like that 🙂 ).
Price by the way is the same for a case from last year – shipping is probably $7 per case but of course, if you order more, shipping per case drops and of course, it all depends on where you live from their warehouse (they have several so not sure if they are all in one warehouse).
There is an offer of free shipping for purchases over $75 but of course, until you can put the bisket in your basket …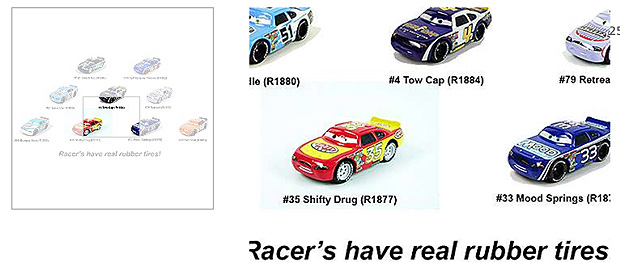 They only ship to US plus US territories. Plus tax but you'd pay that anyway … except for states with no sales tax, of course.
Also, there was NO LIMIT last time and I presume the same this time. They'll take your money and as much of it as you want to hand over.
Some people have asked why are they doing this?
Because they love you with all the hearts?
Okay, a more realistic answer?
Why not?
They get to sell you a full case at full retail – saves them a lot of work.
And they probably noticed that in some cities & stores, they simply had too many cases for too few customers and those stores had to mail them back to the fulfillment center (save 1 case) to resell online after the event. So, this way, they can ship less to their stores and more directly saving and making them more money.
So, now – when will pre-sales be "up?" Last time, the "email me" feature was up for about a week before the CARS were available to order so check back … don't fall asleep on us, soldier!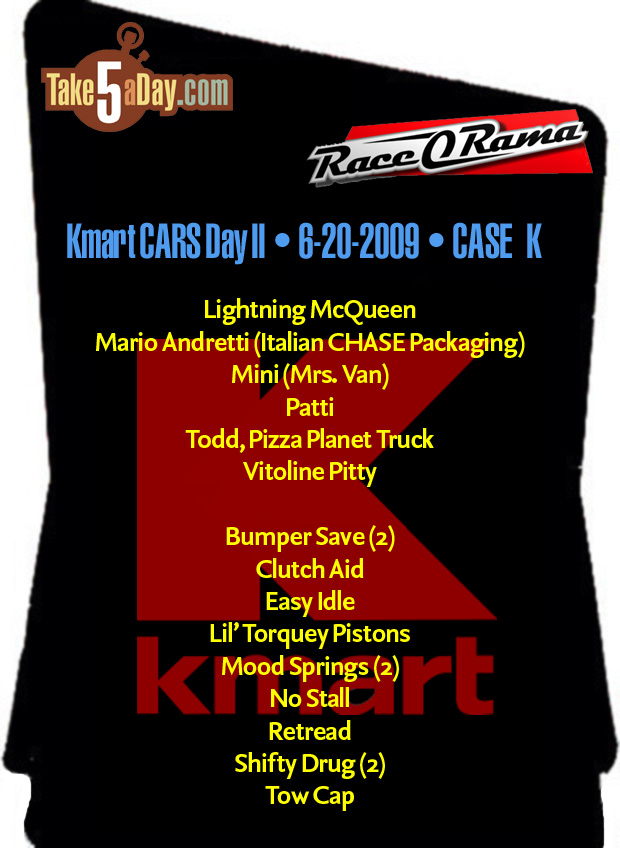 So, thanks Kevin-NascarBroncoFan for staying up 'all night long,' I'm sure he'll be all awake and twitchy the new few days or week? … before the go-code is given.
Post with rest of details HERE.


metroxing

31 May 2009

Advertising, collecting, diecast, Film, Internet, Marketing, Mattel Disney Pixar CARS, Retail, Toys, TV


364 Comments