Home
»
Mattel Disney Pixar Diecast CARS
Mattel Disney Pixar CARS: BEHIND THE SCENES – Ramone Color Changers Playset + Original Arriola Sketch
MARTIN ARRIOLA, lead designer of CARS diecast and playsets from 2007 TO 2019 is clearing out his storage and has some fun CARS items left – some of which he has added an original sketch! He's got a rare Ramone's House of Art Color Changers playset SEALED – He'll also "
The artwork is signed and dated and can be personalized upon request." VERY COOL.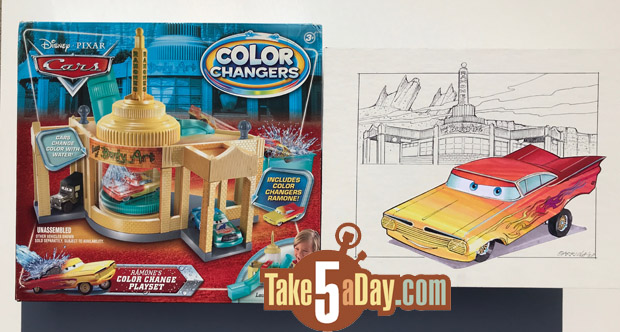 But just for us, he gives us the background of getting this created and approved … if you thought it was like Santa's workshop where everyone is singing a happy chantey … er, no  🙂
"Play sets were always a major challenge. As with all products, Marketing wanted everything: play features, size, decoration, magic moment payoff, for the cheapest price possible, especially when it came to play sets, what a pain in the ass. They would always compare my concepts to my product counterpart Hot Wheels and I always had to remind them that HW didn't have the licensed royalty rate!!!!!!!!!!I still remember having to cost reduce this set at least two different times in order to meet my super low exfactory price point. The color change cars also cost more to paint/decorate and the color change palette was somewhat narrow which was also a challenge in order to get as much variety as possible with that particular segment/line extension.
One of the biggest challenges I had with play sets was that Marketing insisted at both Cars die cast and plastic cars had to work with ALL Cars sets which was another major hill to climb. Hot Wheels were ALL diecast and they even had certain cars that worked best with powered sets. Not so with my Brand. The weight difference between a metal and plastic car was totally different and that affected how they both functioned with each play set. Mattel also had a so called CPI group that dictated how many cycle times a car had to perform within a certain play period/cycle time i.e. how many time a car has to complete motorized or non motorized loops/jumps/rolls/ etc………..
Every single play set I designed/developed had to be cost reduced especially this one. As a Designed you want to design the most fun and compelling/visually pleasing set you can. You have to in order to get the buy in/approval at concept approval meetings. I had a trick or technique where I would purposely over design/promise features just to get the initial approval then keep cost reducing the concept until I hit the cost target. Time consuming but it worked. You end up taking out plastic piece count/size, paint ops, label art, even lights and sound. 
The problem was that all my Cars concepts had to also be approved by 3 different levels. My upper management, Disney, and then the Pope himself, John Lassiter who could spot a piece of cost reduced product from a mile away. His left eyebrow would raise and I knew he hated it………..No wonder I still have nightmares to this very day.
Play sets were so difficult to get approved that I finally actually needed to start generating storyboards for all my major higher TV Drivers*. I had to present my hand drawn storyboard taking them through frame by frame what the TV commercial would look like ending with the magic moment payoff. I didn't do one for this this set but did so for many others. No other designer in the Design Center had to do that but me."
*TV Drivers are ones that get TV ads – aka: driving sales.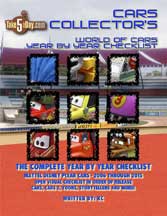 metroxing

16 February 2020

Mattel Disney Pixar Diecast CARS


2 Comments