Article Archive for 22 July 2019

Mattel Disney Pixar CARS: Metallic Sally is Shiny & Chromy
Posted in
Mattel Disney Pixar Diecast CARS
on 22 July 2019
Stats: and
No Comments
Thanks, "Mark T." for the nice photos. Metallic Sally is super nice.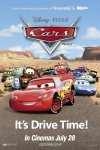 Disney Pixar CARS: CARS Movie One-Sheets
Posted in
Disney Pixar CARS
on 22 July 2019
Stats: and
No Comments
These are the European versions but if you want some nice JPEGs of CARS (2006) posters, check them out here.