Article Archive for 10 July 2019

Mattel Disney Pixar CARS: 2-Packs Next
Posted in
Mattel Disney Pixar Diecast CARS
on 10 July 2019
Stats: and
2 Comments
Shown on the back of the 2020 2-pack cards are upcoming 2-packs … Waitrsss Mia & Tia always had the eyelid line but will they be unibody now? Alex Machineo gets an eyelid line … Rip's Pitty was scheduled for 2018 but seems to have gotten a new design plus eyelid lines.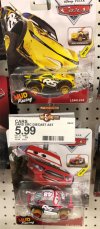 Mattel Disney Pixar CARS: Wave 2 Mud Racers on the Pegs
Posted in
Mattel Disney Pixar Diecast CARS
on 10 July 2019
Stats: and
2 Comments
Lightning is a carry-over from Wave 1. New – Dino Draftsky (Clutch Aid), Next Gen Leak Less, TG Castlenut (Re-Volting), Jackson Storm (Ignitr), & Steve "Slick" LaPage (Trunk Fresh).