Home
»
Disney Pixar CARS
,
Mattel Disney Pixar Diecast CARS
Mattel Disney Pixar CARS: 2018 Mater Variant Throwback That You Don't Want to Throw Back
The 2018 Mater Variant is a throwback that you don't wanna throw back …
2018: It's an all metal cab, face & tow body unibody with the proper mis-match color back rims and black carburetor cap … but with a flat windshield … so mostly sorta like it sort of was in 2006.
Let's go to the wayback machine …
2006: Made in Thailand, Mater had an all-metal body face, cab & tow body with a raised metal eyebrow windshield. His carburetor cap is black BUT his back rims are incorrect – just brown, no mis-match rims.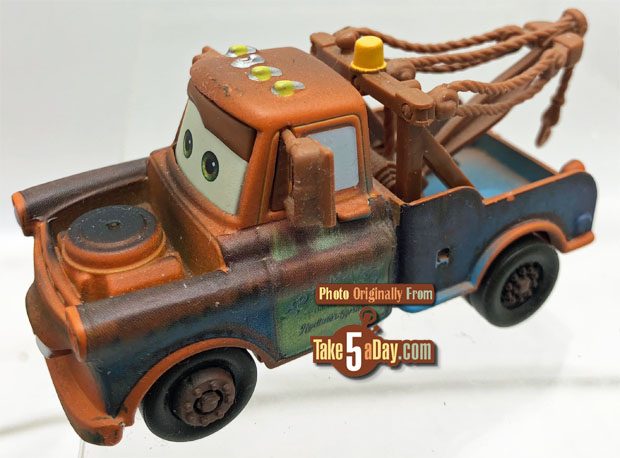 Besides it's Made in Thailand, there is NO seam between the body and the tow body – that's is the difference.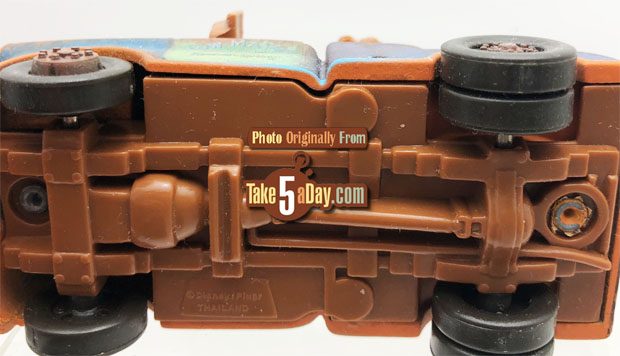 Late 2006-2007: Made in China. Mater's tow body became plastic. Everything else stayed metal. He still had the incorrect rims – just brown color, still no mis-match rims. He got an overspray on the face so he looked dirty/rustier.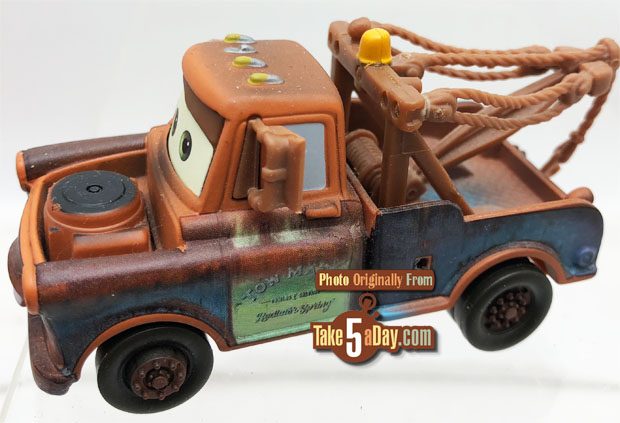 Note the break in materials between the metal cab and now plastic tow body.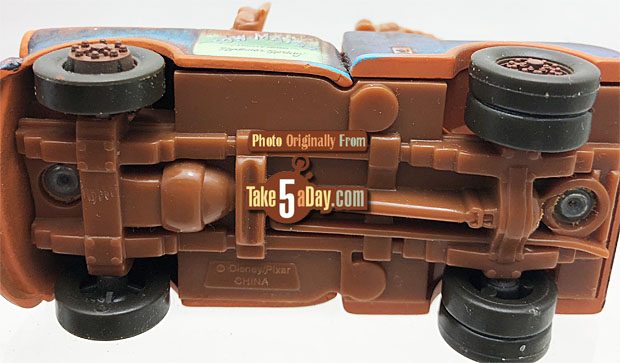 The face got a little more rust.dirt – left is the China variant.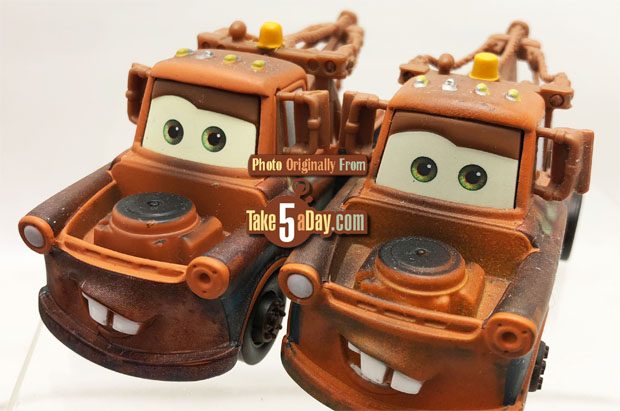 Also note, they cut a hole in the metal engine bay so they could push up a plastic engine (left is China #2)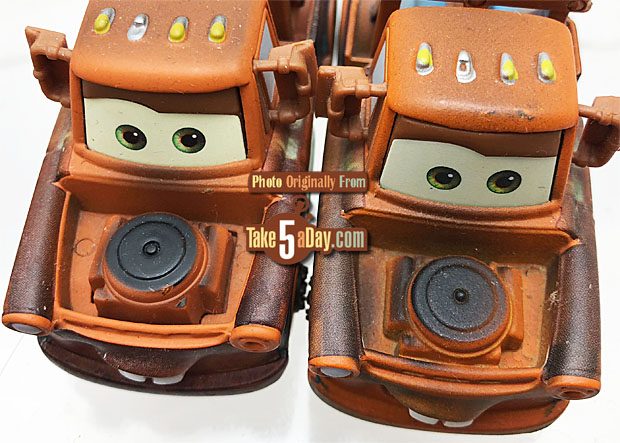 2008 to 2010: Made in China. Just a guess on the date as it's pretty hard to tell but his face was "segmented" off (see lenticulars) as plastic. You can kind of tell it's a plastic face plate by the larger than normal seam and that it flexs slightly (try not to snap off his face). His eyebrows were still metal and raised. There was also 2 lenticular versions (not shown here).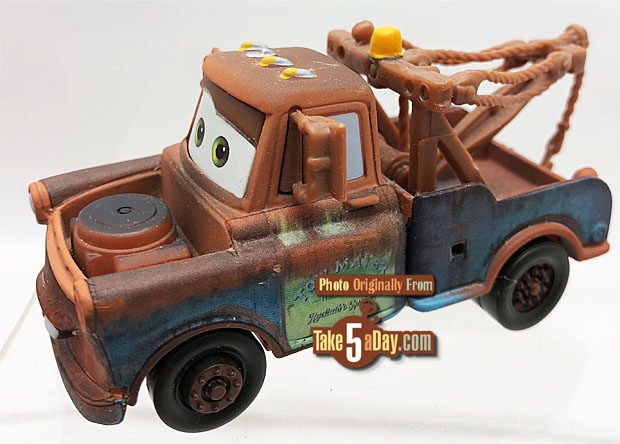 2011 to 2012: As Race Team Mater … all flat windshield. Not counted as "Mater," but included here anyway.

2012 – 2017: Mater returns to his Radiator Springs look – however, he's now a flat windshield Otherwise,he had a metal face & cab with a plastic tow body. The rim colors are correctly mis-matched. But the carburetor cap has no black overspray.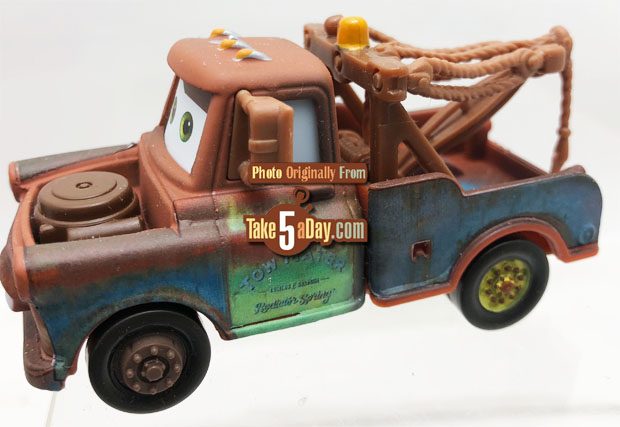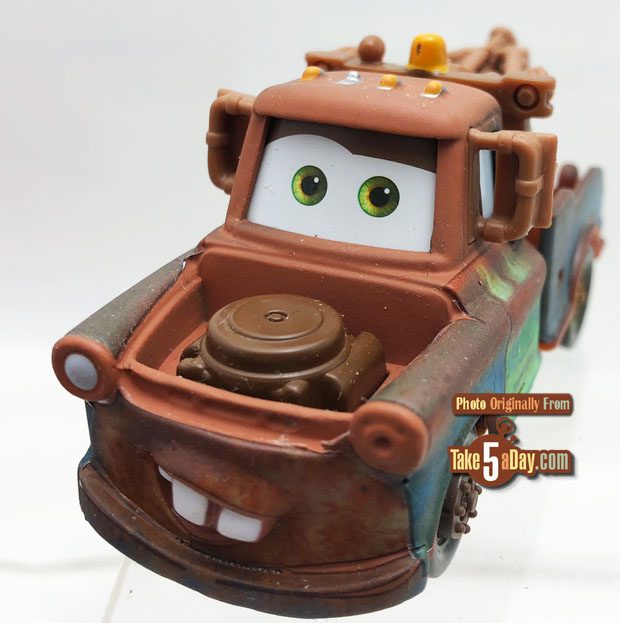 2018: It only took 12 years but they have finally fixed all the anomalies into ONE ALL METAL UNIBODY Mater (face, cab, tow body) with correct mis-matched color rims, a black carburetor cap and the face overspray.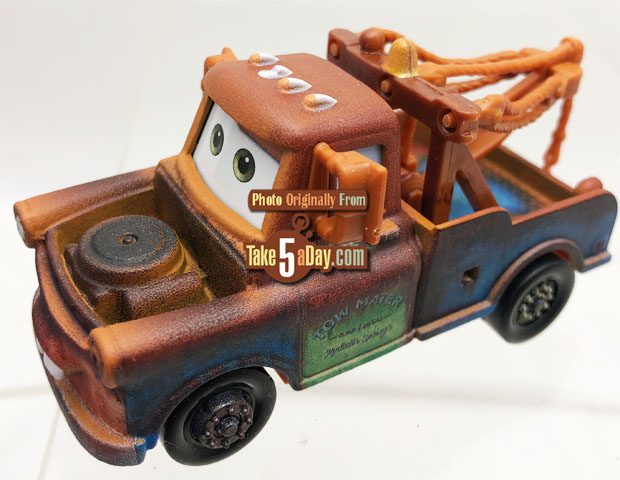 However, he is now a flat windshield though but he's mostly a better throwback.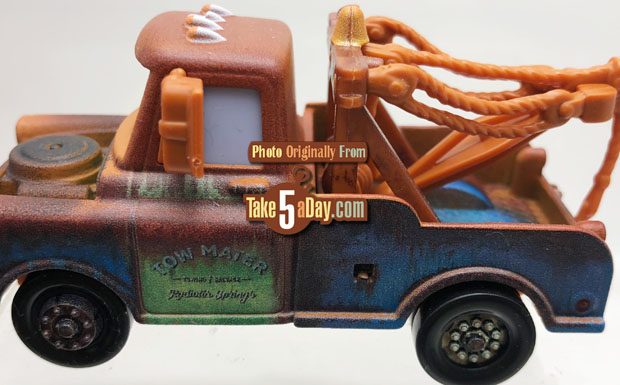 Comparo between 2006 and 2018 variant.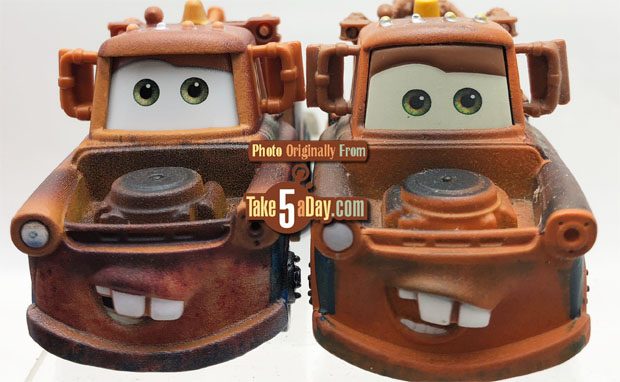 No engine bay gap. Back in time.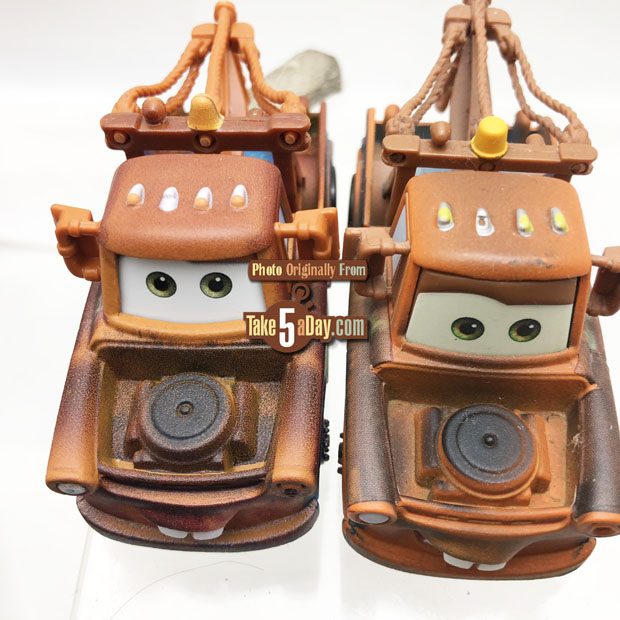 Post CARS 2, there was a release of Mater in the RS Classics lineup – did he sport both a raised metal windshield and CORRECTED mis-matched wheel rim colors? If you have one, let us know.
Post CARS 2, in the mainline THEME YEARS 2013 or 2014, was there one where the rim colors were just brown AND he had a flat windshield?
So, we might have a few more variants but pick up the 2018 Mater, mate,  if you want an all-metal cab & tow body Mater with mis-matched rim colors.
AND he's back to Made in Thailand (as are all or most of the 2018 mainline singles). As noted by "BMW," there is a version made in China which seems to one left over from 2017 so make sure the back of the card says MADE IN THAILAND … and it feels pretty hefty.
Collect 'em all.


metroxing

1 October 2018

Disney Pixar CARS, Mattel Disney Pixar Diecast CARS


5 Comments