Home
»
Disney Pixar CARS 3
,
Mattel Disney Pixar Diecast CARS 3
Mattel Disney Pixar CARS 3: Kmart CARS Day Today – How Did It Go?
One last roundup of FAQ's.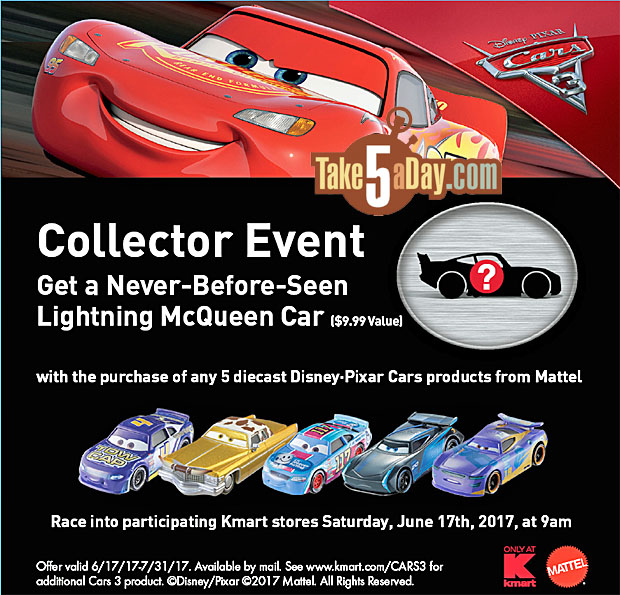 So if I go into my Kmart on June 17th, I will find 2 early release diecasts?
Yes.
Note, they are NOT exclusives – just "first to Kmart."
What are the two "early to Kmart" diecasts?
It looks like the two Piston Cup racers are Ralph Carlow/Lil' Torquey Pistons and Jack DePost/Tow Cap as they showed in the header graphic ad.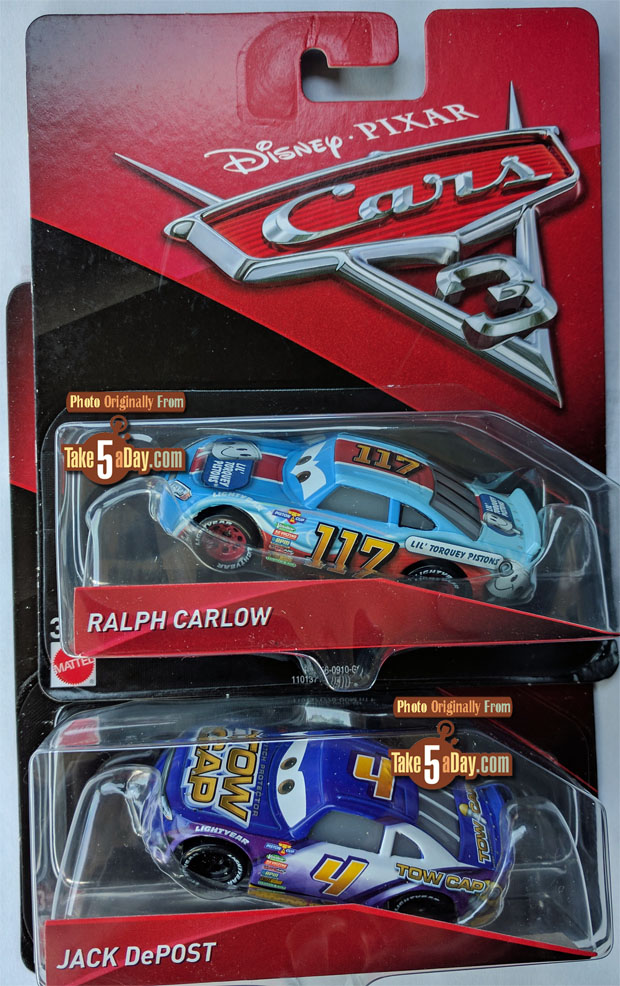 So, how does the CARS Day Event work?
Well, that's depends on you and the circumstances of your store. Here's how the process is supposed to work. You drew numbers and in order, you got a case to open. You could select 5 CARS. In the early days of the Kmart CARS Day Events, there were up to 60 cases per store so if you drew a number lower than 60, you got a case to pick the 5 you wanted. After everyone who showed up got their five, then it was a free for all. As the Kmart CARS Day Events went along, some store got fewer and fewer cases so in some stores, there was not much of a guarantee of anything.
So, on June 17 (for CARS Day #11), there are apparently ONLY TWO of Ralph Carlow/Lil' Torquey Pistons and Jack DePost/Gask-its in a case of 24 so even if you draw a low number – the other 22 appears to diecasts already available at other retailers – you will have to choose from "common re-releases" as you are only allowed to open one case anyway.
Most people who have checked at their Kmart report their store seems to getting 4-8 cases so unless just a couple people show up, your odds of getting the 2 racers are not high.
Of course, it ultimately doesn't matter as these two diecast characters are available in cases coming in the  next few weeks so Kmart's "exclusivity" might be limited to a few weeks or maybe just a week. AND unlike previously Kmart CARS Days, these are not unique cards with the ONLY AT KMART snipes – they are just regular cards. And you have to open them to match the UPC to mail in …
At least they are slightly discounted – singles are $4.49 now. And of course, it's now even more unlikely that Kmart will sell singles online – though the 12-pack will be available.
What about the "12-pack?"
The 12-pack has been revealed and as the old saying goes, when the going gets weird, the weird turns pro.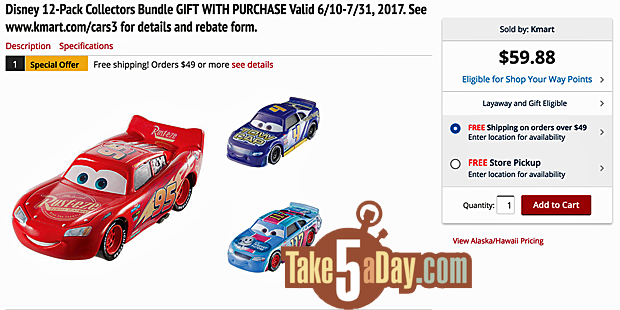 "Each bundle contains at least 1 Lightning McQueen, 1 Mater and 1 of the 2 early-release cars shown here (Lil' Torquey or Tow Cap) plus 9 additional assorted cars. Mixes may vary."
I should also point out this 12-pack should qualify you to order TWO Precision Series CARS 3 Lightning but the banner seems to indicate it only qualifies you for ONE. But I guess it saves you a drive to Kmart.
Then What?
(Send in cardbacks, original receipt & $3.50 for each vehicle).
The rundown on the rules are HERE.
The Mattel site to fill out the form is HERE.
"Toomsterev" found a disparity on the offer – on the Kmart site, it says LIMIT 5 Precision Series LM redemptions while the Mattel website says 10.
"Although you may purchase 5 (five) die cast cars on separate receipts within the promotional period, there is a limit of 1 (one) Lightning McQueen vehicle for every 5 (five) die cast cars you purchase within the promotional period, regardless of how many receipts those 5 (five) cars are on. Offer is limited to 10 (ten) Lightning McQueen vehicles per household per promotional period." 
To be safe, if you intend to redeem more than 5, you might use another address for safety.
"Toomsterev" also reports that there's ANOTHER SALE going on …
"My contact told me that because they are on the closing list that YES they did still get Cars and probably like 6 event cases and a large influx of regular 2 packs, megas etc – cleaning out whses etc.
But the kicker is ALL toys are 25% off – Even Legos etc ( Other depts – Tools etc are 20% etc etc.) 
So that will include the Event Cars 

on Saturday.
So at $4.99 reg they will prob be between Target And Wally pricing – I assume $3.74 ish. Assuming they will go from highest price, not the sale price.
Or $3.36 if they go 25% off current sale."
BTW, if you're looking for CARS from 2015 & 2016, you might want to check out your Kmart … this is what mine looks like.


metroxing

17 June 2017

Disney Pixar CARS 3, Mattel Disney Pixar Diecast CARS 3


15 Comments