Home
»
Disney Pixar CARS 3
,
Mattel Disney Pixar Diecast CARS 3
Mattel Disney Pixar CARS 3: May 2017 Buying Guide (UPDATED)
If you are trying to complete all the CARS diecast characters out now – here is your buying guide of what's out now and what's coming in the next singles CASES that might be out in May. Other than the early exclusives in box sets, and two racers coming as singles in CASE B, it's not too complicated.
If you're an opener, it makes sense to buy the three box sets (with a few repeats but not too bad) … and then fill out with singles. If you're a completest opener, the CAL WEATHERS with the CAL tampo decal is only available in the Target 11-pack.
If you want zero repeats, you have to roll the dice on the exclusives in the box sets. Note, EXCLUSIVES are generally guaranteed to not appear for a year, NONE of the exclusives in the box sets are marked as exclusives just as FIRST LOOK which means just that BUT there's also no guarantee it will get a "second look" re-release … it merely unlocks Mattel from the promise of a year guarantee.
This singles list only goes through May, 2017.
There is only one single exclusive, a "clean" Todd, the Pizza Planet truck only available at Walgreen's. However, there is a Todd coming with a Collector Booklet. Will it be a clean Todd or a "dusty" Todd as from before??
But as long time collectors know, it's better to have a diecast in hand than 2 on a mythical checklist.
Deluxe or haulers are not listed since they are readily available and while there is a 3-pack out with mack, Lightning & Chick with headset, you save no money and getting Lightning McQueen is not that difficult.
Ponchy Wipeout out now is currently with black eyebrows, presumably an error but unknown if he'll get fixed.
Happy shopping!
Racers are listed first in alpha order, then new CARS 3 character diecasts. CARS townie re-releases are not included.
(UPDATED to delete Phil/Nitroade and few other clarifications).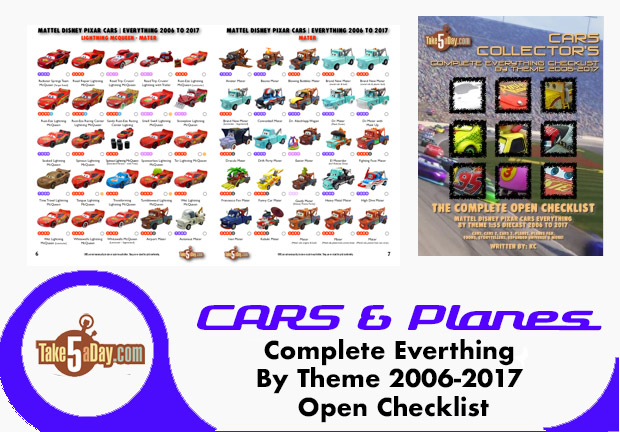 metroxing

8 May 2017

Disney Pixar CARS 3, Mattel Disney Pixar Diecast CARS 3


7 Comments