Home
»
Disney Pixar CARS
,
Mattel Disney Pixar Diecast CARS
Mattel Disney Pixar CARS: Precision Series Playsets Luigi & Mater's Tow BOGO 30% Off Through eBates
Thanks for the heads up, "John H."
eBates has a BOGO 30% off at Shop.Mattel. PLus get a 2.5% rebate.
Sign up or sign in through our T5 link at eBates. After purchase, you get a rebate AND for NEW MEMBERS, get a $10 GIFT CARD!
Then from eBates, search for MATTEL.
A bunch of coupon codes will load. The BOGO 30% off + free shipping looks the best but you can check through which one looks the best for you.
Click on SHOP NOW (remember the coupon code!)
Then search for DISNEY CARS. 
A bunch of singles will also show up (The Precision Series singles are $9.99 plus other singles including BUD is listed but he is OS).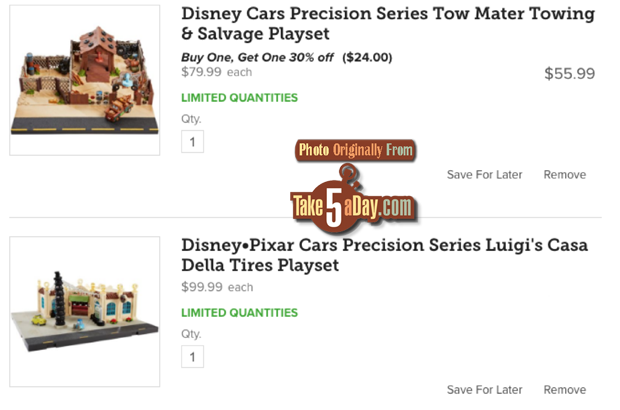 You get 30% off the second item, it seemed best to select just two items as the coupon has no limit.* In theory, you maximize your savings if you want 2 Luigi's as you get nearly $30 off on the second one. Shipping is free also with this coupon. (see savings if you buy one of each).
NOTE, I believe you only get 30% off the second item – so if you buy 4 in one shopping cart, you only get the 30% off once. I'm pretty certain this is the case but you can test it out.
However, I closed one shopping trip and started a second one and applied the coupon code again and it works fine.
So, I believe it works best if you select just two items at a time to maximize your savings. Since shipping is free and you pay the same tax rate. Your absolute best deal is to live in sales tax free state. 🙂
There's a lot of other items in the shop so maybe you can get a bunch of Christmas shopping done … though of course, gifting yourself the Precision Series playsets is nice. 🙂


metroxing

27 October 2016

Disney Pixar CARS, Mattel Disney Pixar Diecast CARS


One Comment