Home
»
CARS
,
Disney Pixar
,
Disney Pixar CARS
,
Mattel Disney Pixar CARS
Original Art Auction – Martin Arriola Global Race Pitch Artwork
Another fun auction up – back in 2007 or 2008, Martin and his team was all ready to present a new diecast lineup based on Lightning taking on others in a global race.
To present their ideas, Martin created an original watercolor!
"Global Race Pitch to JL" Image size 11″ x 17″, Gouache on 300 lb. Arches Watercolor Paper. Note: This painting was sprayed with UV protected Crystal Clear but should still be framed behind UV museum glass, as Gouache is a very fugitive medium. If possible, keep out of direct sunlight as well.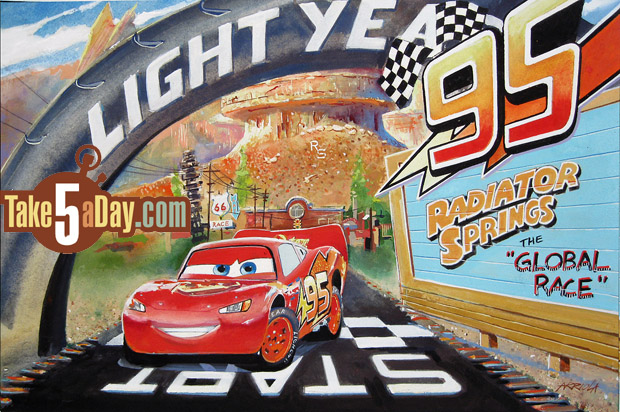 AND we even get a behind the scenes look …
"I hand painted this Gouache rendering many years ago…
Every year we had to come up with a new "storyline/world of" concept in order to keep the Line, along with Package Graphics fresh. My Designer & I brainstormed possible concepts & we were inspired by an image we saw of a Radiator Springs Gran Prix poster in the Art of Cars book, which I always used as a bible for reference knowing that Lasseter always wanted to stick to what was canon to the film.
We always generated decks of concept images/B-Sheets in a 11″x17″ format which we handed out because John hated Powerpoint presentations as he was strictly Old School. Marketing would present the financials then I would take him through the Product concepts & answer any product/costing or play pattern questions that came up.
I used this painting as the cover for the deck we gave out & also pinned all the concept renderings to wall of the conference room to pitch our Product concepts for JL's approval. My painting didn't print very well from our color copier but I had no time to go outside and reprint as the flight was the next morning and I was still at work @ 10:00 that evening. We were always running late for JL Pixar presentations because our genius Marketing Team always got nervous & kept adding/changing things at the last minute, which drove me crazy as Design was always the one that controlled the actual images within the deck via Photoshop jpegs which we/design generated."
Here's a closer look at the Lightning section of the watercolor painting – of course, the original does not come with a T5 logo.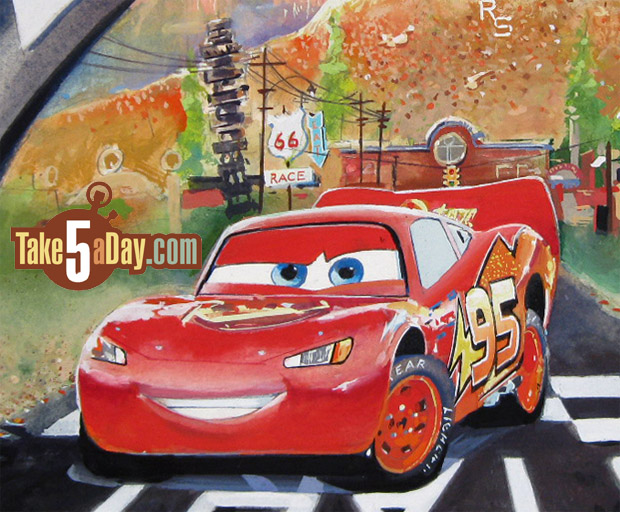 John Lasseter (the one and only) put the kibosh on the pitch – spoiler alert! … that they were already planning CARS 2 and there would be a global race in that one …
"At that meeting JL quickly took a glance at our images/concepts, had a brief one on one which his lead team member, then sat at the head of the table and started explaining the storyline of what was to be Cars 2. It was going to be a Global Race."
Martin and his team ideas included all sort of racers including dragsters and "Rat Fink" ones … unfortunately, the rest of the presentation is lost to time.
But if you're interested in a one-of-kind original handpainted watercolor from the one & only Martin Arriola, here's your chance – up on eBay.
Good luck and thanks for the peek behind the scenes Martin!
Of course in hindsight, this book was a big clue – Otto ultimately became Max Schnell.


metroxing

24 May 2015

CARS, Disney Pixar, Disney Pixar CARS, Mattel Disney Pixar CARS


One Comment