Home
»
Disney Pixar CARS Toons
,
Mattel Disney Pixar CARS Toons Diecast
Mattel Disney Pixar CARS: Metallic Radiator Springs Team Lightning McQueen
The Acrylic Box Radiator Springs Team Lightning McQueen is just a bundle of weirdness.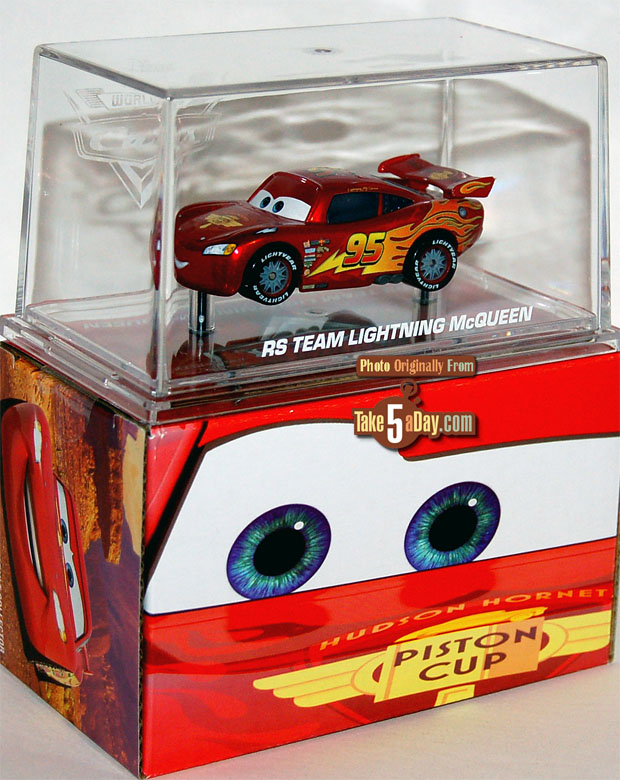 It was a ToyFair promo giveaway that was not marked as a giveaway.
By its product code, it seemed to be a series of Kmart mail aways but Kmart claims this and the Metallic Dusty was not.
Then, Target.com started shipping this but Target Retail stores not only had a DIFFERENT outer packaging but the diecasts are slight variants of each other … weird.
The product production codes doesn't give much of a clue … most seem to range in the later part of 2013 which make sense for its availability as an extra ToyFair giveaway (after the KM thing was canceled/plausibly denied/all those involved iced and silenced to a KBToy warehouse).
From "BMW,"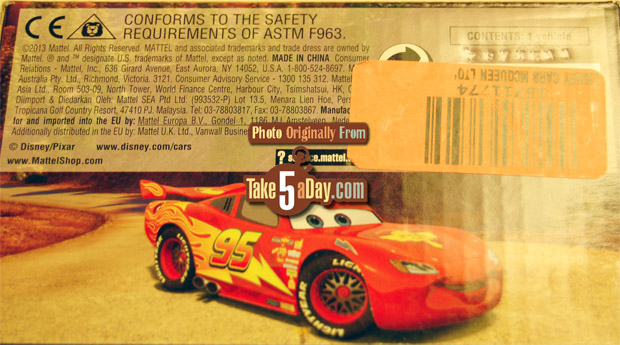 2973EAA. The date code is clearly from 2013. The orange sticker is (applied by Target.com).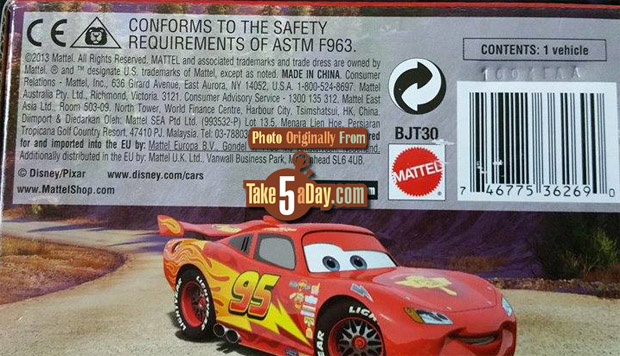 The 2nd picture is one a friend got where he removed the orange sticker to see the product code, and it shows the BJT 30 and date of 1004 EAA.
But there's no real rhyme or reason. Recent orders are "back" to being from 2013 so it's hard to tell how many were really produced for "Kmart" back in 2013. In addition to the # given away at ToyFair, they still seem to be shipping them from Target.com. AND there are ones like the ones above made in April of 2014 so how many did Target order/re-order? 5,000? 10,000?
AND the retail outer box version seemed to be shipped 8 to a store – all 1,800 US stores? So, that's about 15,000 (did Canada stores get this?) BUT keep in mind, a few people also got these from Target.com so what is the number?
This diecast is now marked as clearance at Target.com but note, they have switched the photo to the CAR in the retail box – so are they only shipping that one now? (the original photo at Target.com only showed the CAR open so it was unknown that you were getting the red box version).
So, the weirdness continues of a diecast that comes in two acrylic boxes versions, two packaging versions of diecasts with slightly different tampo decals … originally to be given away by a retailer that claims to have not been offered it only to be mysteriously shipped by Target a year later with a SECOND different version only in stores that might be the version shipped – got it? Good.
So, has Target run out of the red box version? Are they only shipping the retail store version?
So, if you're going to roll the dice today, drop us a line on which version you're getting?
(and yes, you can return them to Target stores if it's not the one you want).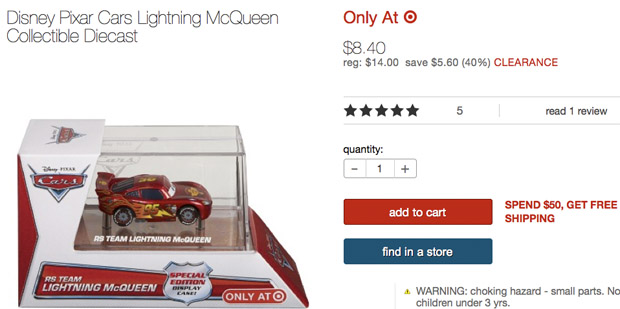 If you want to see the two versions open, read this POST.
Thanks for the photos, "BMW."
Add'l photos …
Top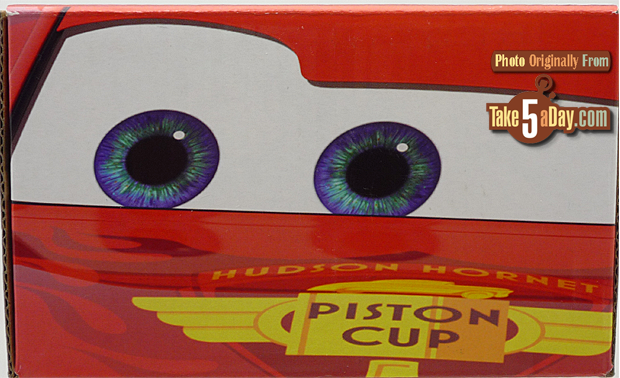 Front flap.
Side panel – different art on each side.
The bottom is the UPC panel (near the top of this post).
The best way to remove the Target UPC sticker is to slide a razor blade under it and keep pushing on it so the sticker slides above it. Then use some goo-gone or other "residue" remover.


metroxing

9 January 2015

Disney Pixar CARS Toons, Mattel Disney Pixar CARS Toons Diecast


11 Comments