Home
»
Disney Pixar CARS Toons
,
Mattel Disney Pixar CARS Toons Diecast
Mattel Disney Pixar Toon Diecast: Acrylic Box Metallic Lightning McQueen Variant Differences
Thanks to "BMW" comments, I should've actually looked at the versions of the Acrylic Box Metallic Ransburg Lightning McQueen from more than 10 feet away.
So, here's the kerfuffle in sequential order.
At Toy Fair 2014, friends of Mattel & Disney were given a Ransburg Dusty Crophopper in an acrylic box with a Toyfair logo box. It turns out that Dusty was also available in a red box and a mystery master carton box turned up that indicated that it was another Kmart mail-away (that never happened). If you enjoy mysteries, Kmart claims they were never offered this Dusty.
Apparently, some people also got a Ransburg Lightning McQueen in an acrylic box with a red outer cardboard box.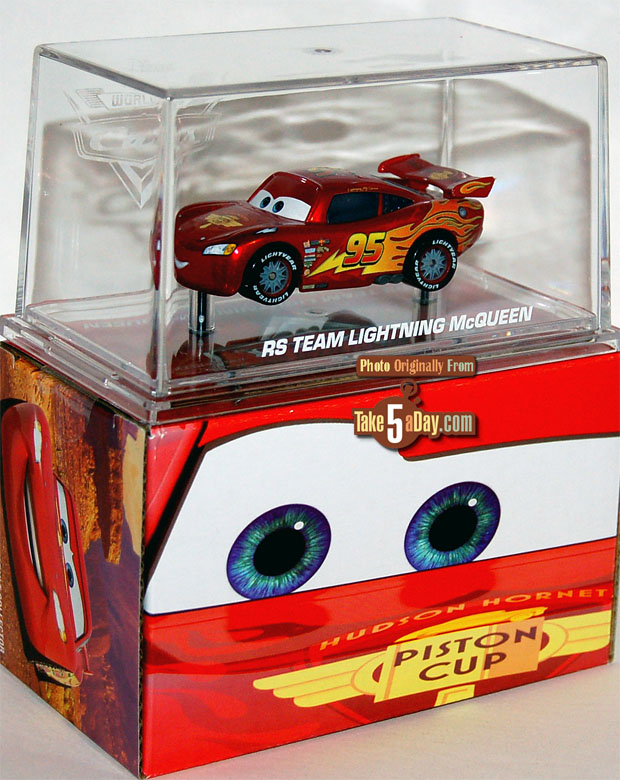 A few weeks ago, Target surprisingly offered this Radiator Springs Team LM online and in stores …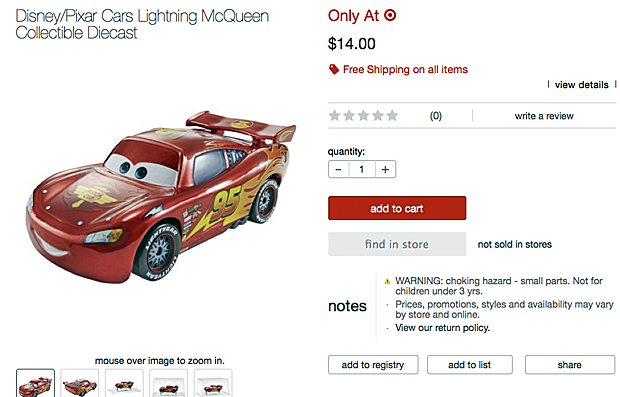 While the online photos only showed the acrylic box, some people managed to get the retail version early. The retail version contained the CAR in an acrylic box but with a more retail friendly packaging so you could see what you were getting.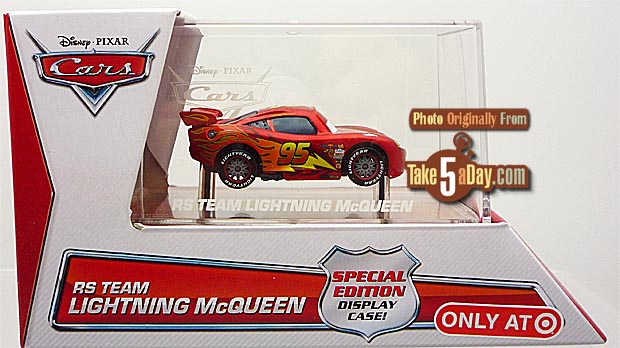 Since my Target didn't have it in stores yet and Target was offering free shipping, I bought it online – and surprise, some people got the red box version in the first photo including me – but to add to the strangeness of this, some people got the retail version.
Without looking too closely, they seemed to be pretty much the same but the CARS but there's more work to be done. 🙂
So, the Toyfair RS Team LM and the Target red box versions are essentially the same.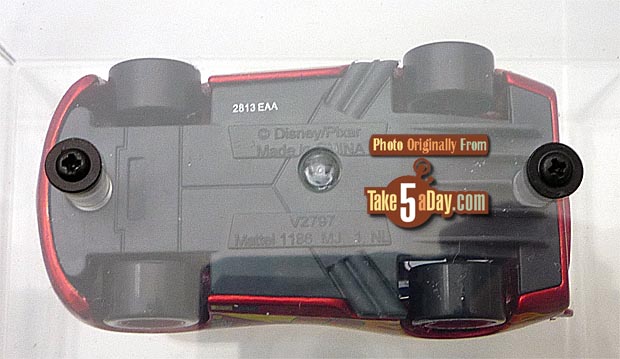 The Target one actually has the earlier production date code than an official (verified) Toyfair giveaway. The Target one is slightly crooked on the stand but presumably that can be easily fixed.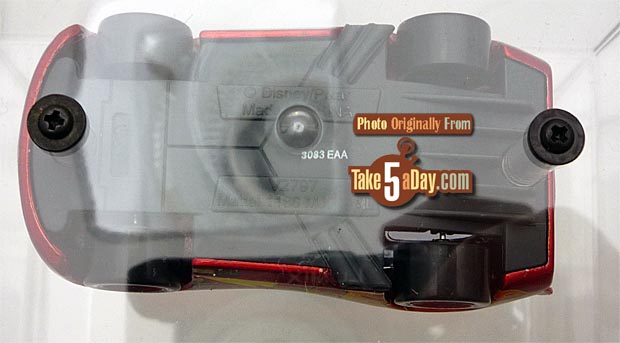 The Target RETAIL version has a date code from this year (XXX4) – presumably all of the retail ones are from 2014.
And yes, there re actually some production differences. The most obvious one is the hood tampo decal – it is a darker brown and a tick larger on the Target RETAIL version. The Hudson Hornet outline is also much less detailed.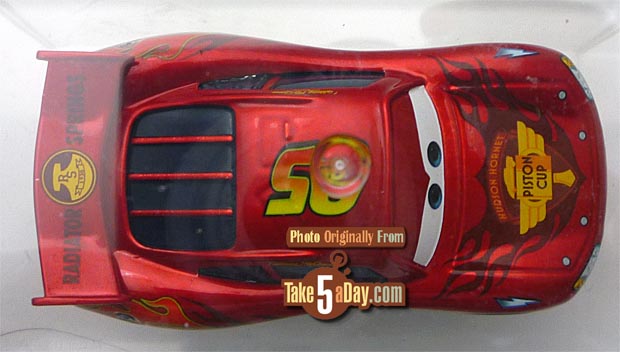 The Toyfair/Target Mail version has much fainter flames on the hood and slightly smaller.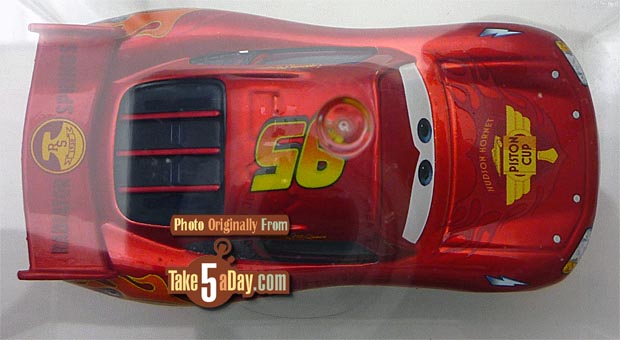 Not as evident in this photo but the Target RETAIL version (L) overall seems to just a skoosh darker red but the more obvious difference are that the flames on the back quarter panel are filled in with red while the Toyfair/Target MAIL version is more orange fill than red color.

AND the acrylic box from the Toyfair/Target MAIL version are stenciled/labeled as DISNEY WORLD OF CARS while the Target RETAIL version is marked Disney • Pixar CARS.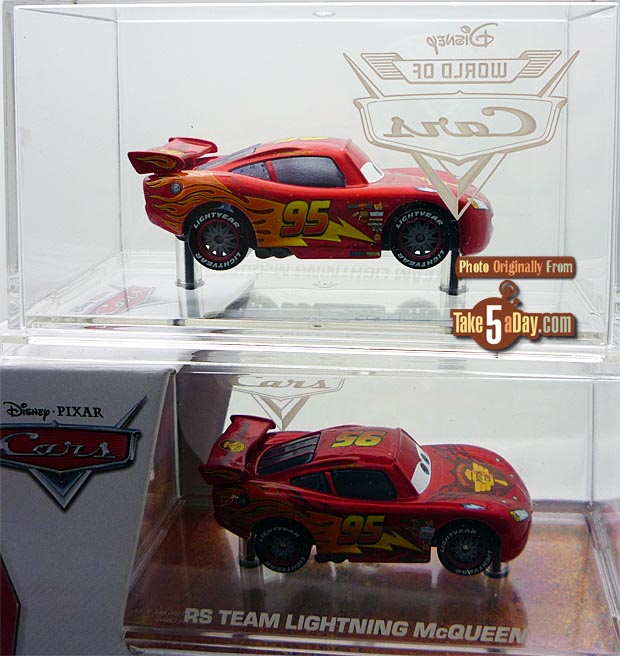 The CARS are also faced in the different directions. The Toyfair/Target MAIL version has the logo stamped on LM's right and he's facing left. The Target RETAIL version has the logo on the left back and he's facing right.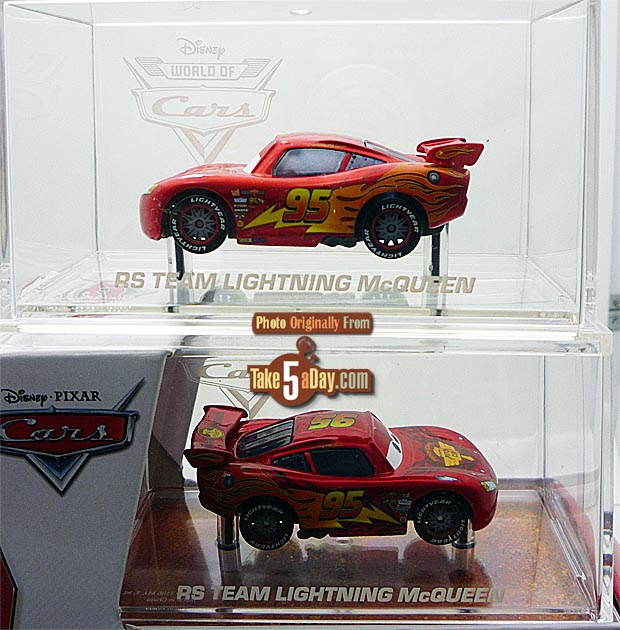 So, yep, variant. To recap:
Toyfair/Target MAIL version:
Red Cardboard Outer Sleeve
Date Code XXX3
Design on hood – fainter flames, doesn't extend as far.
Back Quarter flames – orange color fill.
LM faces left with Disney World of CARS logo over right front quarter panel.
Target RETAIL version:
Retail Open Box
Date Code XXX4
Design on Hood – Dark Brown flames – extends further.
Back Quarter flames – red color fill.
LM faces Right with Disney • Pixar CARS logo over back left back quarter panel.
Thanks for the heads up, "BMW!"
The boxed Target-only Radiator Springs Lightning McQueen is available online at $8 this week – which version will you get?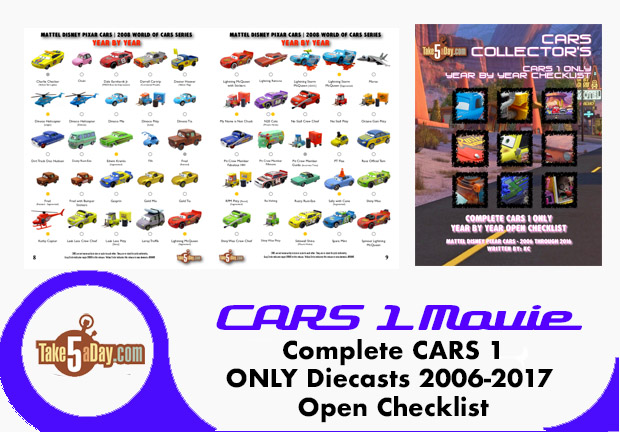 metroxing

29 December 2014

Disney Pixar CARS Toons, Mattel Disney Pixar CARS Toons Diecast


7 Comments