Home
»
Disney Pixar CARS Toons
,
Mattel Disney Pixar CARS
Mattel Disney Pixar CARS: Retail Neon Racers Lights Shu is Plastic
While the Limited Edition SDCC Neon Racers Box set diecast CARS had lights (red & orange), & was double Ransburg, we thought we might get a "lite" version of Shu.

It's presumed the "general retail" version would be missing Ransburg and maybe only had one light color. (sorry for the blurry photo shown off at SDCC in the Mattel booth).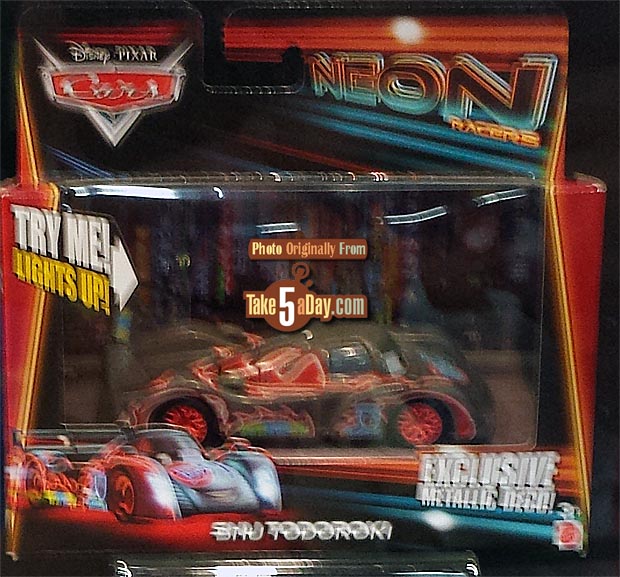 "Lavictdoukarai" sends along a nice new photo of the "Neon Racers Lights Shu," arriving in France.
SPOILER ALERT – He looks plastic.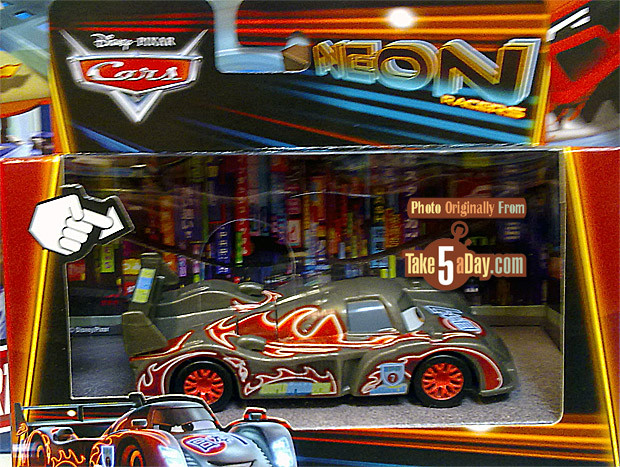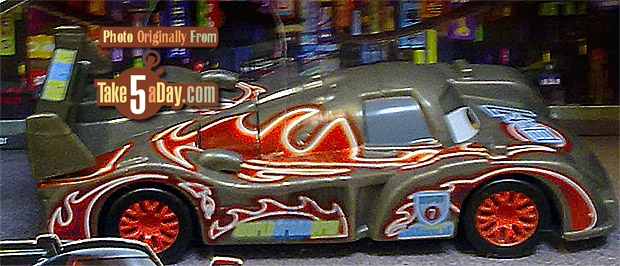 And the details don't match up to the diecast one from the SDCC Box Set. The trigger switch on the diecast is his roof – there's no real reason to move it in this one – the body is not even the same. That "air scoop" is level with the side of Shu and not concave as it is on this vehicle. You can sort of see it in the top photo but the axles are metal on the diecasts and you can see them in the middle of the rims – here, not the same. There's no reason to discard the metal diecast mold just to make this one – it does NOT match the regular Shu body (from 2011 to 2014) nor does it match the SDCC limited edition version which is lightly bulkier to fit in the electronics.
It looks plastic, the trigger is moved and there is no metal axle. I would be surprised if this was diecast.
Also the US packaging does not actually say DIECAST – it clouds the issue by saying "Metallic Deco" and since the only pic I had was kind of blurry … so now it looks like we will NOT be getting a DIECAST LIGHTS SHU – outside of the Double Ransburg version from the SDCC Box Set.
Thanks "Lavictdoukarai!"
UPDATE – "David V." has confirmed it's plastic and larger than 1:55 – maybe 1:43? And the series includes a Lightning McQueen, Lewis Hamilton, Max Schnell, Miguel Camino, Nigel Gearsley & Raoul Caroule. Could not actually find a listing for the US.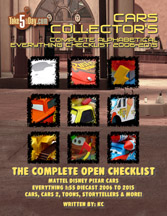 metroxing

6 October 2014

Disney Pixar CARS Toons, Mattel Disney Pixar CARS


3 Comments