Home
»
Disney Pixar
,
Disney Pixar CARS 3
,
Mattel Disney Pixar Diecast CARS 3
Mattel Disney Pixar CARS Diecast: Darrell Cartrip with Headphones & Unibody Edwin Kranks (Update Photo)
Darrell Cartrip with Headphones is technically new in the mainline 1:55 lineup …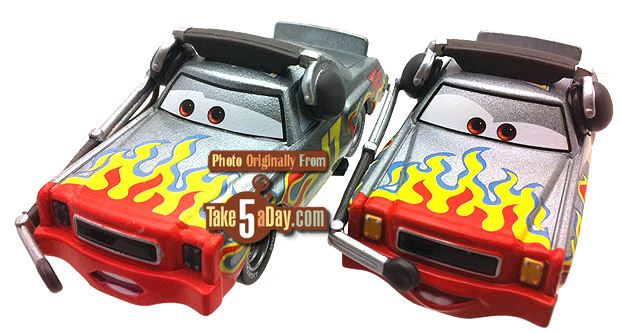 But he's virtually a repeat of the CARS 2 Lights & Sounds release from 2011. The L&S version is on the left. It was a great series as almost all the releases simply re-used the diecast bodies from the 1:55 mainline. You'd be hard pressed to tell the two Darrell's apart – the left one has actual "headlights" that would light up instead of two orange coverings. Then the rest is minor, different mouth, eyes expression and the windows are tinted gray and not black (the base obviously contains a battery port but otherwise, identical). So, for some collectors, if you have the L&S Darrell Cartrip, the new 1:55 release is actually a lesser CAR as there no lights, sounds and dialogue. There is a slight different in the headphone ear pieces but otherwise, looks like the same exact plastic part.
For some reason, Mattel designers have serious problems with Darrell's mouth … if it's not lips painted like a clown in the original release, it's Mater-like teeth in the latest release. 🙂
Edwin Kranks is another surprise and upgrade to a unibody! New release on the left as you can tell. Otherwise, essentially identical.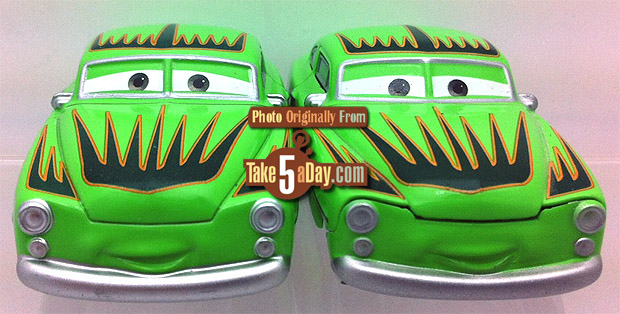 The new Edwin I got (on the right) has the upside down license plate so if you're a collector of that error, I'm not sure if they all come like that … I was too lazy to double check.


metroxing

24 July 2013

Disney Pixar, Disney Pixar CARS 3, Mattel Disney Pixar Diecast CARS 3


5 Comments