Home
»
Disney
,
Disney Pixar
,
Mattel Disney Pixar Diecast CARS
TakeFiveADay: New Advertiser – Pixar CARS Price Guide.com
People have long asked for a price guide – Ken & Kenny of PixarCARSPriceGuide.com has finally put one together and we welcome them as new advertisers!
Here are some sample pages and an explanation …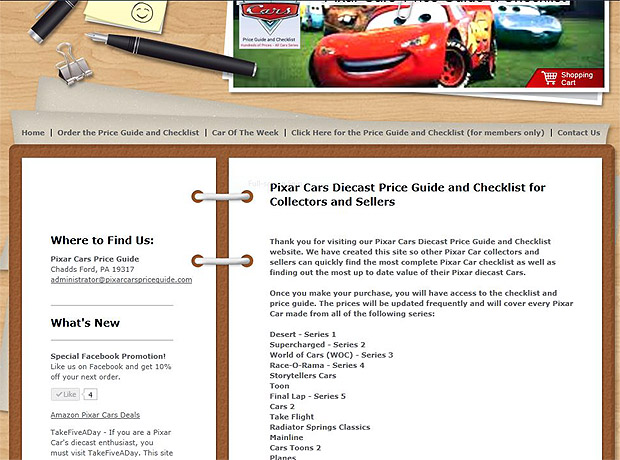 As avid collectors of Pixar Cars from the Desert series to present, we were frustrated to keep up with the changing values of our collection. Since we were unable to find an up to date price guide, we decided to create one for our own use and for other collectors too. To come up with an accurate price/value of each car, we take note of what each Pixar Car sells for on ebay, Amazon, and several other sites that sell Mattel diecast Pixar Cars. We then determine a fair price range and a average sale/value price. We continually check the retailer's sites to see if there is movement in each car's price/value. Hopefully, this information will be helpful to both collectors and to sellers. As new cars, multi-packs, and series are released, we will add them to the guide. There is a one time cost of $15.00. Take5aDay members will receive a $3.00 discount.
To order, send $12 by paypal to tmccann348@aol.com. Then email us at the same address and we will email you back with your own password so you can access the member's area where the price guide and checklist are found.
Thank you,
Ken and Kenny
So, you can check out the
website HERE
or
email them
with any questions. Thanks, congrats, enjoy and good luck!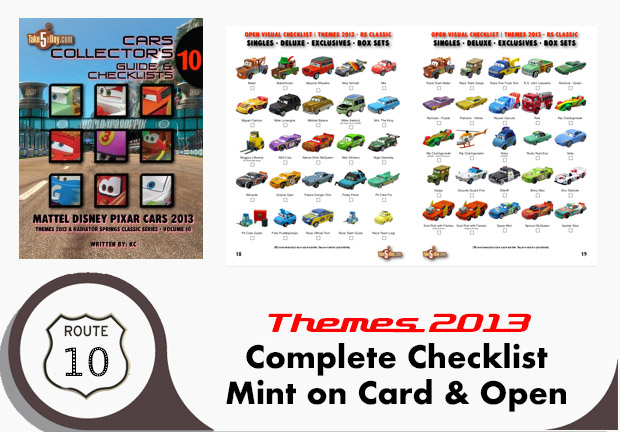 metroxing

30 June 2013

Disney, Disney Pixar, Mattel Disney Pixar Diecast CARS


8 Comments