Home
»
Disney
,
Disney Pixar
,
Mattel Disney Pixar Diecast CARS
Mattel Disney Pixar CARS: Time Travel Mater Beginnings – Lightning, Mater & Stanley
"John H." sends along great photos of his open set.
The newest Mater Tall Tales Toons Box Sets are only available at the Disney Theme Parks …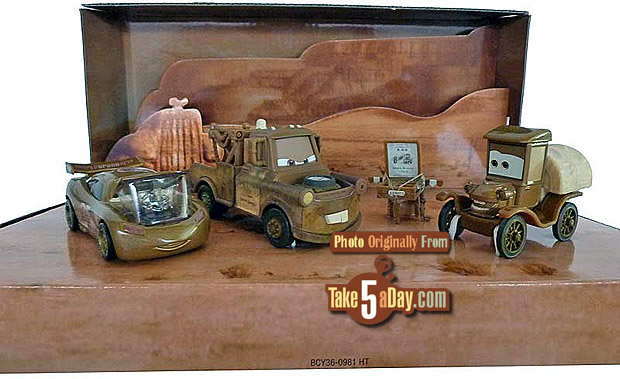 Yes, it's 1:55 in scale.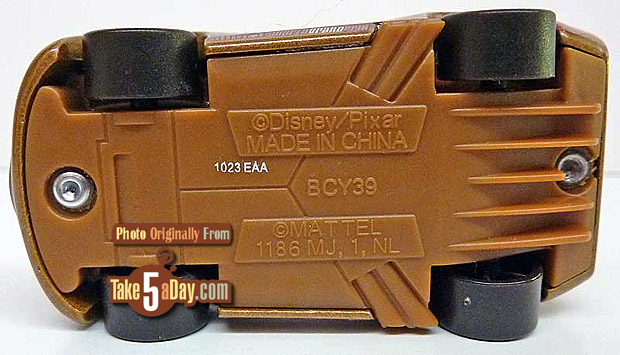 Yes, it's from Mattel – special order by the Disney Theme Parks group. Clearly, it's the CARS 2 Lightning McQueen base and the © Mattel legal. And yes, it's CARS 2 Lightning McQueen that appears in this short (with the raised wing spoiler).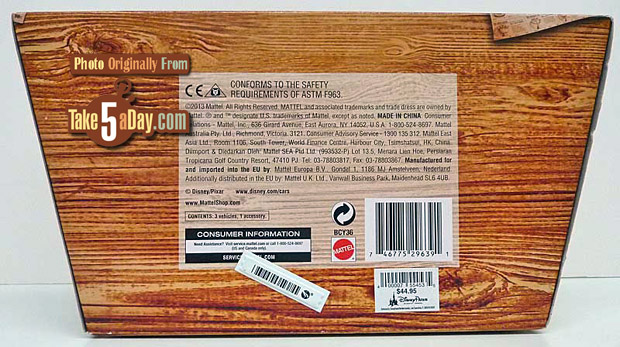 And if that's not about to convince you, the bottom of the box has the Mattel logo.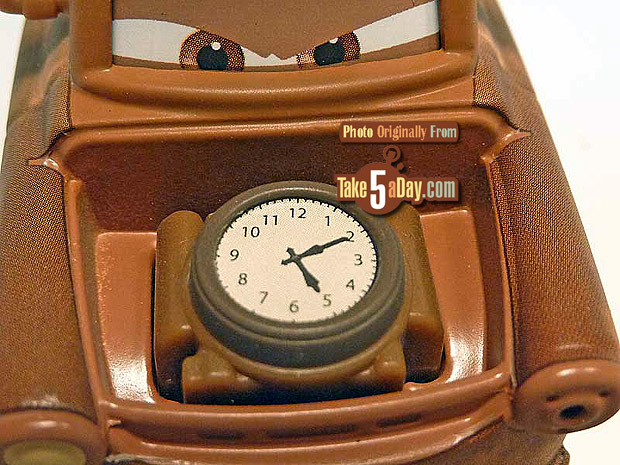 There's not much new about Mater other than the clock molded on his plastic engine block.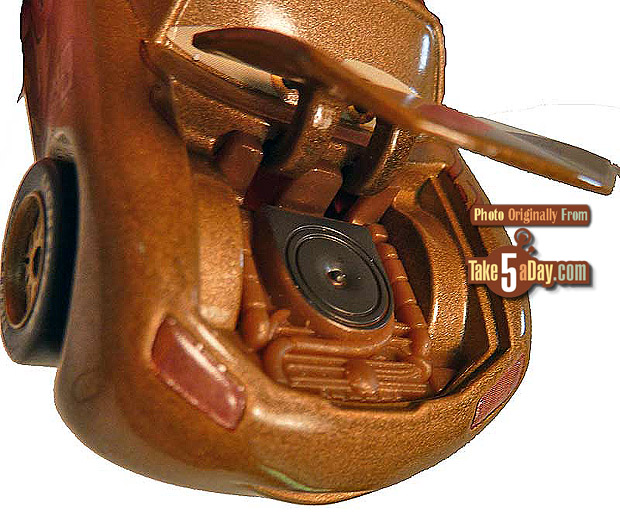 This of course is the first Lightning McQueen with an open hood – as was its appearance in the short, the first time we have looked under Lightning's hood.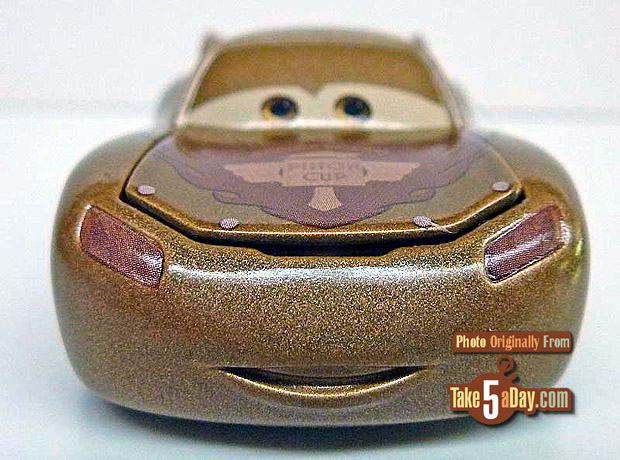 So, that's a nice different. But of course, the huge addition is the brand new sculpt of Stanley. And this time he's not a statue accessory.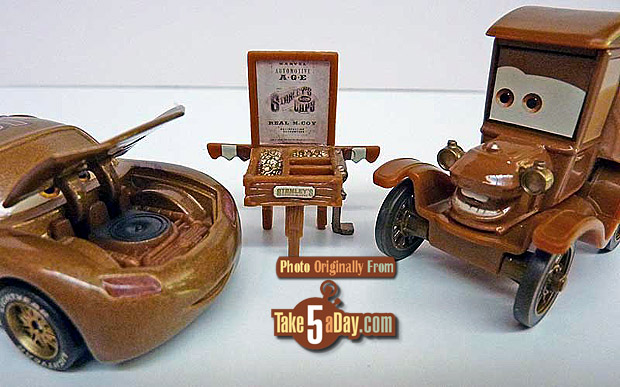 You also get the nice salesman kit …  It's nicely done … the nicest free standing accessory … what's second best, Mator the UFO's oil cans? Pitty tool chests? The Ref Bell?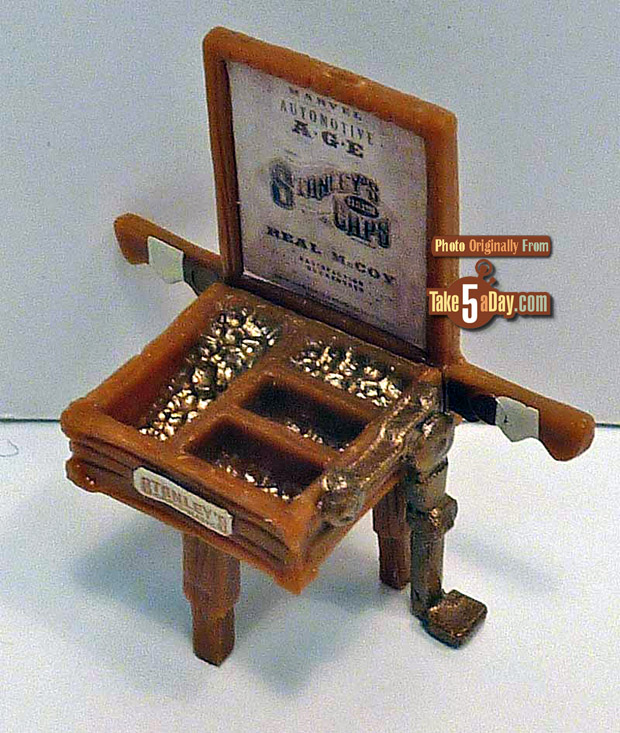 It does not actually attach to Stanley.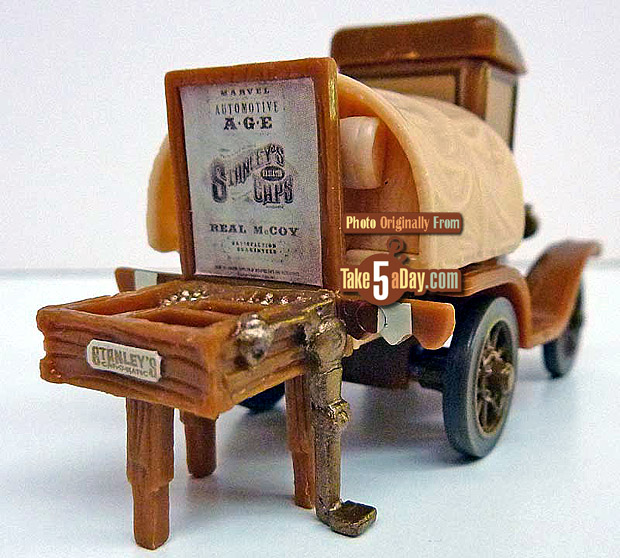 Thanks for the great pics, "John H!" The Wedding Box sets pics are HERE.
As for ordering them, they are available at the Theme Parks (including the stores outside the park) – the last reports were the stores outside & inside the parks had enough on hand and that more trucks were coming. Those who wish to place their own orders can call the 800-number, 1-877-560-6477 – their stock situation no doubt changes from day to day. Good luck! They do accept international orders!
People have asked how limited are these?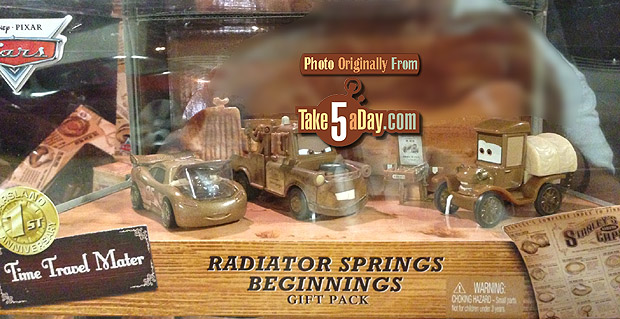 Of course, that's hard to say. While these are "1st Anniversary CARS Land Box" sets so in theory, after a few more months, maybe they think it's past due and drop this set. Or they simply delete the snipe in the second printing of the outside box paper tab – a very easy change as nothing else on this set ties this into CARS Land's 1st Anniversary. I'm sure it'll be available through the summer and most likely through this Christmas season – after that? Maybe not but there are theme park items that are still available years later – the Disney Theme Park items are priced that they're not really afraid of losing money on them and they are not very quick to discount them … 🙂
The big question is whether based on the sales after the first few weeks, they place a re-order or already had one planned … a re-order will take a minimum of 3-4 months if it was NOT already planned.
Generally exclusives are granted a one-year timetable so my guess would be that the Disney Theme Park group planned for sales to last until next spring so they already booked production for re-orders … the only question is whether they change the printed snipe which ultimately means nothing as no one will NOT buy one simply because in Spring of 2014, it's approaching the 2ND ANNIVERSARY, right? 🙂 Unless your kid is a mini Shelly Cooper. 🙂
Maybe they will re-fresh this with a non-sepia version of Lightning, Mater & Stanley? 🙂
Then a black & white version refresh.
Then of course, the silver chrome version which people will scream NON-CANON while climbing over a grandma at D23 Expo in 2016. 🙂
You can read this update post on ordering.


metroxing

27 June 2013

Disney, Disney Pixar, Mattel Disney Pixar Diecast CARS


7 Comments