Home
»
Disney Pixar
,
Disney Pixar CARS 3
,
Mattel Disney Pixar Diecast CARS 3
Mattel Disney Pixar CARS: Diecast & Micro Drifter Consolidated Pack "Consolidated"
"Matthew1090" found these at the discounter/closeout store "Tuesday Morning."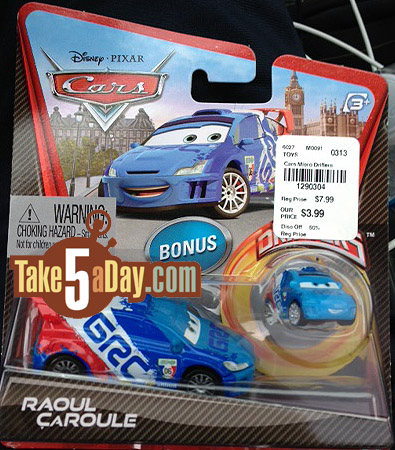 So, it seems pretty unlikely this line extension will get many more releases. These seem to have gone from release to discount consolidation pretty quickly.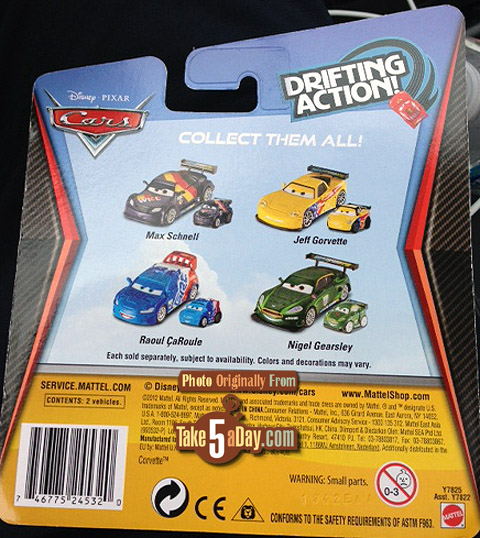 John in MO asked why these were not included in the checklist. Some of it had to do with the card design, this "London" design* seems to have been one of the follow-up to Porto Corsa that was abandoned (along with the brief appearance of the Tokyo night skyline design) so it's not technically Porto Corsa but mostly, these were not included as it was only briefly available and seems to have generated very little interest. Of course, low availability might mean highly sought after but I think these were mostly met with a shrug – especially at $5.99. At $3.99, they are not a bad deal – a regular diecast with a $.50 mini CAR, acceptably priced.
Thanks for the photos, "Matthew1090."
There were another 4 racers listed but NO Rip Clutchgoneski …
By the time these were released, the 4 racers had been out as diecasts for over 15 months AND as Micro Drifter CARS and a high price point … what was the point? If these were available very early before the Micro Drifter 3-packs had come out, I could see their collecting viability but now? Also, these were called "Diecast with a Promo CAR" implying that you would get a free/low priced Micro Drifter to entice you to collect the new line by giving away a "starter" set but either a) they didn't understand the concept of a "promo," by charging $2.50 for the MD and $3.49 for the diecast at the original retail price of $5.99 or b) they were intended as a promo to launch MD's in the late Winter of 2012 but since retailer interest was so low/non-existent, they had to move MD's to Fall 2012 to ride the tide of the Holiday season so by then, a promo "giveaway" was pointless as the singles would be out so they simply priced it to try and make some money back …
Instead, they should have release a line extension of Finn McMissile, Francesco, Race Team Mater & Lightning McQueen with Racing Wheel at $7.99 each but includes a thought balloon above the CARS that reads TWO YEAR ANNIVERSARY ON THE SHELF! TAKE US HOME TONIGHT!
But if you have a resale license, you too can start carrying this line extension also as one consolidator has available to order …

* The only other London design release was the Quick Changers series.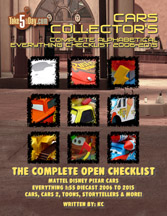 metroxing

22 April 2013

Disney Pixar, Disney Pixar CARS 3, Mattel Disney Pixar Diecast CARS 3


9 Comments