Home
»
Disney Pixar
,
Disney Pixar CARS 3
,
Mattel Disney Pixar CARS
Mattel Disney Pixar CARS: Micro Drifters Mega Track Pack
Well, if we can't get retailers to buy two Micro Drifter playsets, put them together in one 2-pack – double the "fun" at 85% of the price!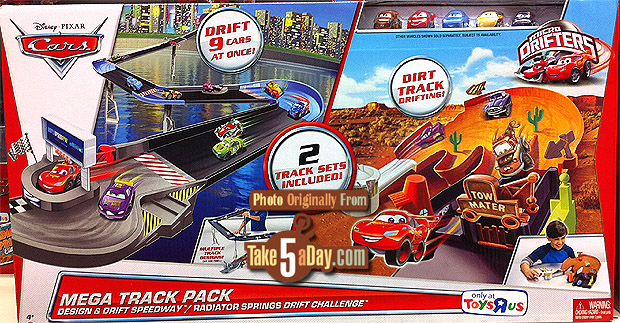 So, you do save a little if you're interested in these two playsets, you get three "free" Micro Drifters (yes, you get 5 Micro Drifters but you normally get 1 in each track set).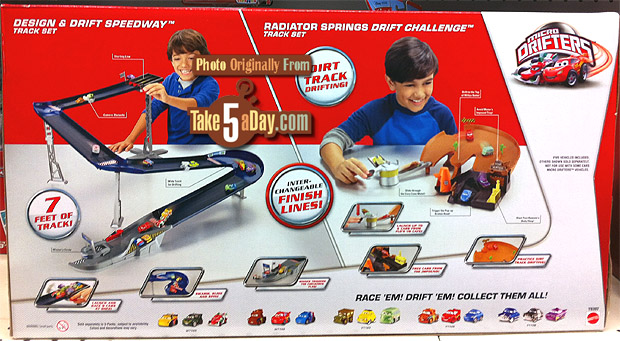 The problem is at $39.99 for this 2-pack, it doesn't serve a lot of purposes other than making the initial revenue numbers look good (just pretend these will totally sell out).
Here's the problem. Obviously the mainline metal 1:55 diecasts have collector interest and for the average casual fan who sees it on the shelf, no one needs an explanation, people are either collecting them, or have just started collecting them or it's simply a classic toy item purchase – it's appreciated by kid's when they get one – even if they are just crawling – boys AND girls love CARS diecast.
As with any manufacturer (not just toys), the goal is to grab more peg space (hello, Caffeine Free Diet Coke … yes, people will pay for black carbonated artificially sweetened water 🙂  ). So, on that level, Micro Drifters as a line extension makes corporate sense but Micro Drifters do not organically serve a consumer need.
Corporate wise, what could be better? – plastic and a ball bearing – much cheaper to produce.
But it's a line extension in search of a consumer buying purpose. What do I mean by that? First, a line extension has to serve a consumer need, NOT just a line item in a revenue spreadsheet of Mattel's (or any other company). First, while "Squinkies" (from another toy company) are not exactly the same, the non-success of a micro Disney CARS lineup means there was no crying consumer demand for a micro Disney CARS lineup. Perhaps Mattel thought a ball bearing was the difference? That consumers were really saying they wanted a micro Disney CARS line but with ball bearings? I hardly think so.
Yes, they are cute and it's fun to see stylized tiny versions of mainline CARS. But it's also the circumstance of the situation. Part of the problem is that mainline CARS 2 diecasts have been poorly managed tactically and strategically. Bottom line, there are NOT enough mainline 1:55 diecasts being created/produced/distributed. So, consumers resent line extensions for CARS to begin with, asking in effect – why are resources seem to be directed at a stylized micro line when there's so much work left to be done on the mainline? Yes, Mini Adventures were a sold enough business for CARS 1 but that was when we were getting literally hundreds of new releases in a year and canon products – so in between that, adding Mini Adventures was a fun addition – no one felt 1:55 diecasts were being neglected at that time to chase Mini Adventures.
However, now, the situation is not the same. When you are bleeding from the head, you don't stop to see if your tie matches your shoes.
Another general main strike against CARS line extension is the line is ALREADY a kid friendly line. Generally line extensions work to bring in younger kids until they can "graduate" to the main line – for CARS, if you can grasp a thing in your hand, you're in. Yes, technically a CARS diecast is for 3 and up but good luck making some kid hold off until they are 3 to play with CARS diecasts.
So, your line extension has to either be for kids or to sell to the regular CARS collector.
For kids, Mattel already has a Fisher-Price division so I guess not to step on their toes, they have to work on something else not as obvious toddler directed.
But of course, MICRO CARS are not exactly small kids friendly who will put anything in their mouths. Cute when it's your ice cream cone – not so cute when out of the corner – you spot them bending over to pick something up … you know where it's going …
So, clearly, these are aimed at the general collector audience. There are some huge strikes against it. Consumers are asking – what about the mainline? I like the mainline metal diecasts at @$3.50 each. I might be willing to buy other things – whatcha got? At $2 each in a 3-pack is ok but it's not really priced low enough to bring in the casual fan … AND the main thing is that for boys lines, the main revenue driver in the line are launchers, display cases, playsets and track sets that make the money. It's more obvious on the Hot Wheels line – you cannot make much money selling diecasts for $.99 – clearly, that is the foundation to entice people to buy up everything else and the Hot Wheels group works hard at it. CARS is tougher because there are films and shorts and CARS collectors want it to be canon – which may not lend itself to a visually exciting play set. We love Lizzie's Curio Shop as a display but a retailer wants to know how kid's can interact with it – so we get a lot of random ramp-gravity play-track sets that are not canon … like the two above … plus, you have to FULLY COMMIT to this line to the tune of $39.99 – unlike a Hot Wheels play-track set that works with EVERY diecast 1:64 car EVER MADE by EVERY COMPANY worldwide! This fact seems to have escaped the designers and approvals for the current play sets/track sets. CARS collectors are not that interested in a NON-CANON track set and the average fan is NOT going to commit $39.99 to a track set that ONLY works with ONE LINE of toy vehicles.
So, that's the problem with the CARS Micro Drifters plan. It counts on us buying every 3-pack and single (including repeats in other configs) plus launchers (they have ball bearings, kids just need a table or floor) or track sets from $19.99 to $39.99 that require a bunch of vehicles for full play value or at least a few … in other words, this track set plus 2 packs of singles – about $52 – bottom line for the average consumer, here is a "option" that accepts no other toy vehicles (essentially) or for the other $52 option, I can buy a Hot Wheels track set and about 30 1:64 METAL diecasts. That is the competition. That is the buying option that causes Micro Drifters to lose.
And yes, there are PLANES Micro Drifters coming which make even less sense. PLANES don't drift, I think that's called a really bad landing or idiotic takeoff … there are several play sets and track sets listed for PLANES MICRO DRIFTERS … which will probably look like the two sets above, a ramp and launcher to shoot them around a track …
But as it stands now, Micro Drifters fill no compelling need. The mainline diecasts are cheap enough to collect one and open one to play. It's not so expensive that people want an alternative to open and play with. There is no pent up demand for a micro line with ball bearings – so to make the line a minimal or quasi-success means overcoming the main issue. It can be done but only if you execute it correctly. As it stands now, they have simply applied the same game plan of every release to MD's … singles, multi-packs, track sets, playsets, exclusives, etc … but that same-old plan does NOT work when that line fulfills no consumer need. YOU NEED TO DO BETTER.
Micro Drifters need a DAZZLING track or play sets with some "magical" play value – jamming two track sets and adding some MD's at $39.99 is not it. AND they have created no plan to draw collectors in – already a lot of repeats in 3-packs. So after an a delayed launch, Micro Drifters have already  started showing up at discounters, sales at the Big Three seem to have slowed to a crawl … and we all know what happens when the Big Three retailers have full pegs – they stop ordering.
That is why while I'm not against Micro CARS, I just think this a weak attempt in every aspect that is doomed to fail. It's too costly and the release plan and execution of the plan is all wrong.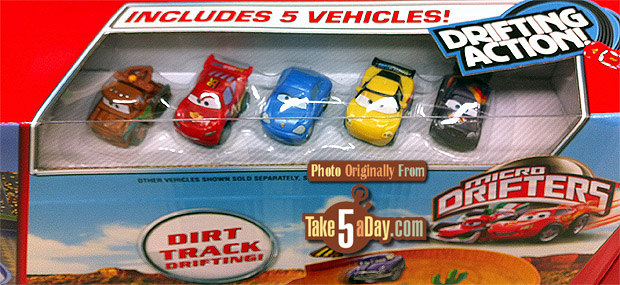 Same as the Stunt Racers – who here has thought, "we need some plastic pull-back effect CARS that cost nearly TWICE AS MUCH as diecasts!"
Again, it's a line extension in chase of revenue that fills no apparent consumer need. The ONLY line extension that might serve a consumer need are the HYDRO CARS – at least they are designed for their target audience – toddlers and kids who enjoy toys at bath time – but what else are we adding to the CARS End of Line list?
If you want the track sets separately, Amazon has them for $16.99 and $19.99.


metroxing

27 February 2013

Disney Pixar, Disney Pixar CARS 3, Mattel Disney Pixar CARS


5 Comments