Home
»
Disney Pixar
,
Disney Pixar CARS 3
,
Mattel Disney Pixar Diecast CARS 3
Mattel Disney Pixar CARS: The EOL CARS Lineup 2013
Of course, Mattel never actually cancels a line … (the Mini Adventures are still listed) rather, they simply stop adding new products to the listing – though years later, they do sometimes actually delete the listing.
For CARS, the EOL (end of Life) lines are not a huge surprise:
Action Agents
Not sure why they didn't simply continue the MINI ADVENTURES lineup so those collecting the original line would simply add to their collection. The other HUGE strike against it was the pricing. For some reason, people weren't willing to pay $5 for a mini plastic car with a launching device or 2 of them for $11.49 … If they were price at $1.99, they would've worked fine.
Color Changers
At some point, Mattel might notice that Toys R Us is a HORRIBLE, HORRIBLE exclusive lineup long term partner. They are like most kids who want a puppy, after 3 days of feeding and walking it, it becomes your dog. 🙂 … in this case, LITERALLY as TRU wants exclusives but then they never have any money to pay for wave 2 or any reorders ever! So, Color Changers are a nice concept and work okay – pricing is obviously not as low as it should or could be but reasonable enough. However, once it became an exclusive at TRU, it meant they would order it once and never place any reorders … so done.
Quick Changers (UPDATE)
Oops, had them on the list but after writing Color Changers above, clearly, I forgot they are different. There is no new listings beyond the new "Spy" snipe to jazz up the line. I'm presuming it's the last chance this holiday season – if they sell out, we'll see more but if not, EOL as I believe they are being replaced by "stunt" CARS, posting next week sometime …
Collect & Connect Puzzles
Most likely because the head designer of CARS 2 in 2011 came from Games & Puzzles, this seemed like a great idea – and to boost sales, making them repaint exclusives worked but once she left, clearly no one else wanted to work with the Games & Puzzles people so it's 4 and out.
Pull Backs
I'm not exactly sure if these even saw the light of day but they are revising the pull backs and creating a new pullback series for 2013 that seem closer to 1:55 scale – though presumably all in plastic …
1:24 Lights & Sounds
Since Mattel does like oversized plastic CARS that are priced high, they might bring these back under some other name but for now, the large scale plastic L&S series is done.
3-Packs
Nothing new listed for 2013.
1:55 Lights & Sounds
It seems to sell okay – there are still 4-5 CARS listed that have not been released so it's hard to tell. It's actually a very nice series as it's all based on the 1:55 metal diecasts.
Toons (Not Take Flight)
Nothing listed for 2013 (yet).
Haulers
Outside of Wally & Mack, nothing listed for 2013.
Stay tuned for what is coming in 2013. Some good, some interesting and some pretty weird.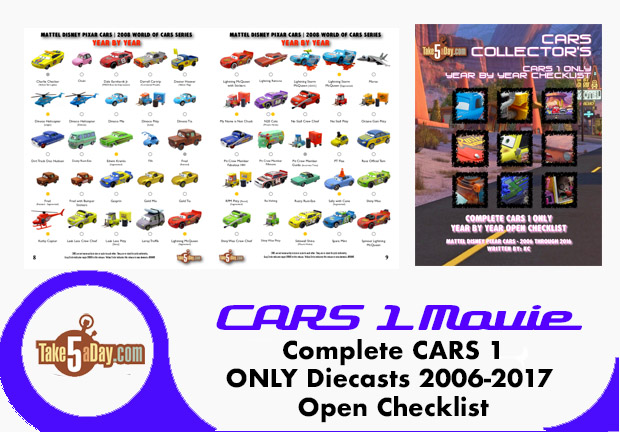 metroxing

29 August 2012

Disney Pixar, Disney Pixar CARS 3, Mattel Disney Pixar Diecast CARS 3


14 Comments