Home
»
Disney Pixar
,
Disney Pixar CARS 3
,
Mattel Disney Pixar Diecast CARS
,
Mattel Disney Pixar Diecast CARS 3
Mattel Disney Pixar Diecast CARS 2: Warehouse Find, Case P – 9 New CARS, 2 Super Chase …
It looks like Mattel packed an N & P case for Walmart but Walmart did not want it? Or they did not want to order enough so back to the warehouse it went – available for anyone to order.
So, it looks like the P CASE contains pretty much all of the "missing" CARS 2 Porto Corsa CARS on cards … I don't believe it's hype to say this is the greatest case assortment EVER.
Here are the new CARS in this case …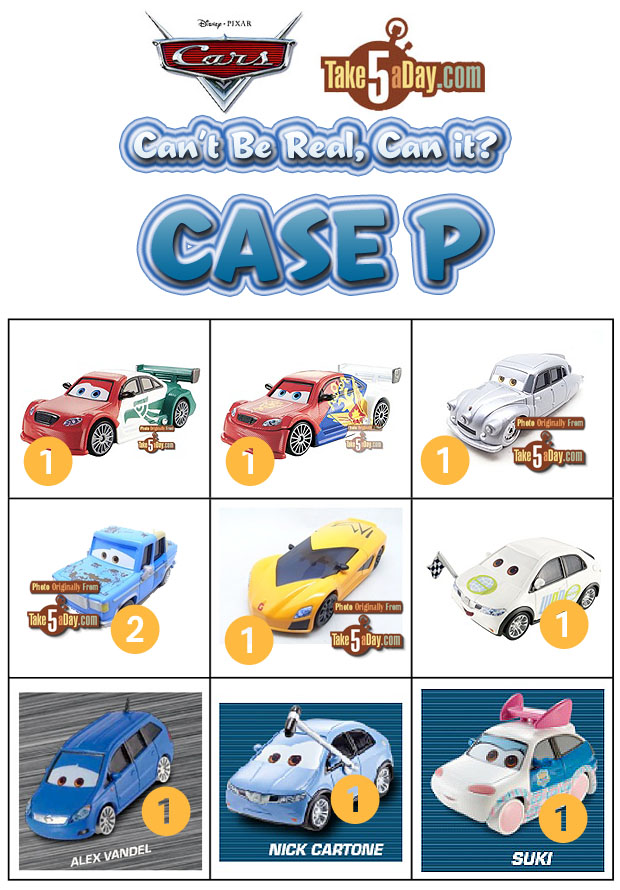 Yep, TWO Super Chases – Memo Rojas Jr. (Mexico) AND Vitaly Petrov (Russia).  And 1 each of: Sir Harley Gassup, Fabrizio, Alex Vandel, Nick Cartone and Suki plus 2 of Otis and Erik Laneley (sorry for the error number 1 above – too lazy to go back and change it).
The other 13 CARS in the case are: 2 Carlo Maserati's, 2 Miguel Camino's, 2 Max Schnell's, 2 Nigel Gearsley, 1 Hydraulic Ramone, 1 Raoul Caroule, 1 RT Sarge, 1 Francesco and 1 McQueen …
Yes, hard to believe.
Yea, holy snickey … Can you say, 'nice freakin' case?'
Before I forget, CASE N is the TWIN of case P without the Super Chase's – replacing them are an extra Suki and an extra Nick Cartone … you know, if you're boycotting the whole Super Chase thing, then ask your favorite reseller for CASE N.
Otherwise, if you want the last two EVER Super Chases, ask for CASE P. Plus 7 other new CARS … yawn, just another boring sealed case of Mattel Disney Pixar CARS 2 diecast – wake me when there's 20 Apple CARS in a case. 🙂
So, while Mattel may not have intended us "regular folk" to have access to this case, thanks to Walmart's "decision," it is the greatest gift Mattel could give to collectors, to close out the card motif by actually releasing EVERYTHING in sufficient quantity and yours for the asking-ordering. What a concept! Unlike most lines where the last case or leftover in the series gets shuffled off or buried in another country, this is the right way to close out CARS 2 Porto Corsa.
So, it looks like CASE N is available at some Walmart's – that is why you might find 7 of the 9 new CARS in this case on the pegs but it depends on if your WM is receiving CARS diecast restock.
So, thanks, Rob's Palace of Disney CARS for gathering up all the info. Be sure to call or email Rob if you would like a case …
These are shipping out in the next few days and should arrive at the end of the week or in the next week to route to you.

metroxing

13 November 2012

Disney Pixar, Disney Pixar CARS 3, Mattel Disney Pixar Diecast CARS, Mattel Disney Pixar Diecast CARS 3


24 Comments