Home
»
Disney Pixar
,
Disney Pixar CARS 3
,
Mattel Disney Pixar CARS
,
Mattel Disney Pixar Diecast CARS 3
Mattel Disney Pixar CARS 2 Diecast: Kmart CARS Day #9 Cases Pre-Order Up … Yes, You Read That Right
"Eli D." gives us an interesting heads up …
"I did want to point out that using a link from the last kmart pre-sale from the front page of your site, I was already able to pre-order a case of the October Kmart cars day #9 cars. I'm not sure exactly how it worked, but a few weeks ago, I added a case of the Cars day #8 to a cart on the site. Of course it told me that they were not available at that time but I didn't bother deleting it from the cart. I went back to the virtual cart yesterday after adding a different item and found that the #8 day case had changed to #9 and was available so I figured why not, and bought one."
Sure, enough, I gave it a go … it's not obviously when you click the link as they have not updated the ad photo from the last one (as on the front right side of T5) or the CARS photographed underneath but if you click on the link … the next page clearly is marked PRE-ORDER and says it will not ship until October 20, 2012.

Not only does "Eli D." give us the nice heads up, he even sends along a coupon code:
kmart10psavings
Nice!
So, click on the link on the front page of Take5 or HERE. (the coupon seems to work better with our direct link versus going on the KM site as some people report).
I got the confirmation at the end of my order that it was a pre-order and I would get it October 20th to October 23rd. So far so good.
Will Kmart actually honor these pre-orders before the normal pre-order (about a week or two before October 20, the in-store event?)
Your guess is as good as a moth eaten squirrel.
It's like that age old behind two doors question – will we get a beautiful shiny case of Kmart CARS #9 sealed CARS? Or punched in the mouth by a UFC sore loser?
In any Kmart case, thanks, Eli D for the heads up on the pre-order and the coupon code – hopefully you've saved us all a lot of grief in trying to guess when the pre-sale pre-order will actually go live …
Now? Now? Now? How about now? Yes NOW. 🙂
Now, what's actually in the case? No one knows 100% certain yet but it's 100% certain we'll get chrome metallic WGP racers: Lewis, Max, Miguel & Nigel … it seems virtually certain we're getting Rip but since he's such a mystery, it's hard to go out the limb 100% but as far as all info points, he's included … what's the assortment of the overall 24 (to a case)?
??
Chase? Probably?
Who?
??
(the photos are the early concept ones when the plan was to release them as clearcoat cars and not chrome metallic …).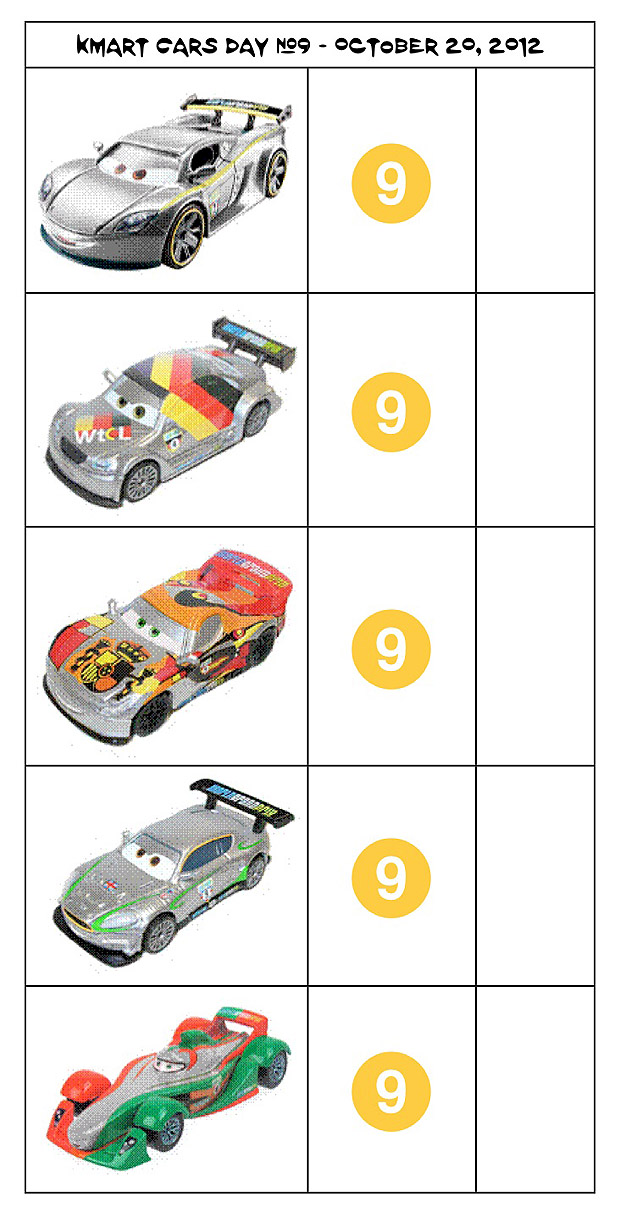 BTW, on the page above, they will also offer you the 2-packs so if you're still missing those, looks like KM still has some Security Finn's …

It's never dull!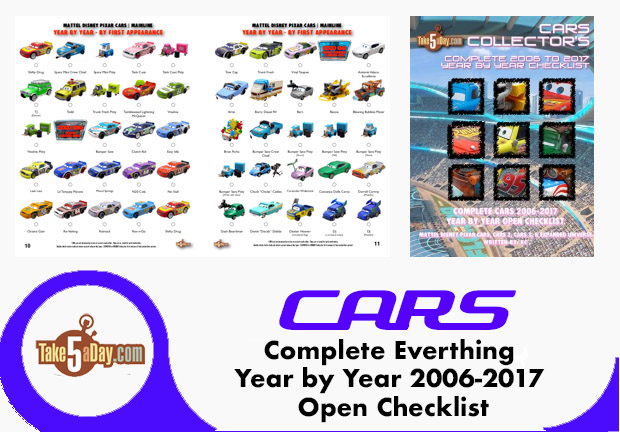 metroxing

17 September 2012

Disney Pixar, Disney Pixar CARS 3, Mattel Disney Pixar CARS, Mattel Disney Pixar Diecast CARS 3


18 Comments