Home
»
Disney Pixar
,
Disney Pixar CARS 3
,
Mattel Disney Pixar CARS
,
Mattel Disney Pixar Diecast CARS 3
Mattel Disney Pixar CARS: Micro Drifters Launch Party
Mattel threw a Micro Drifters launch party last week – "John H." was kind enough to represent T5 and took some great pics. Thanks!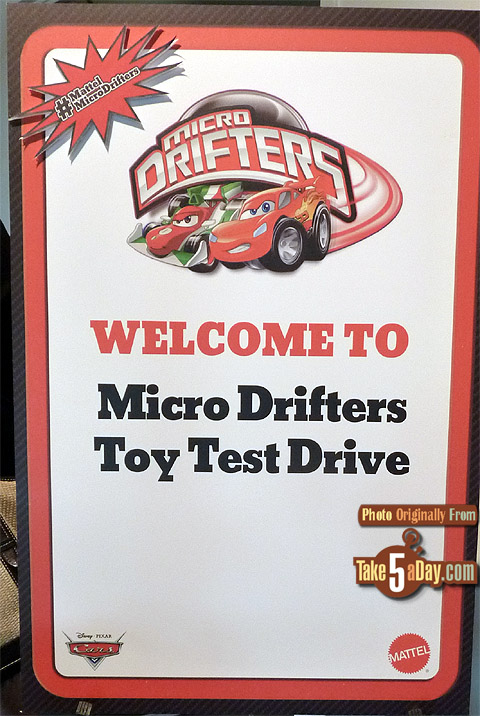 They set up a nice ramp …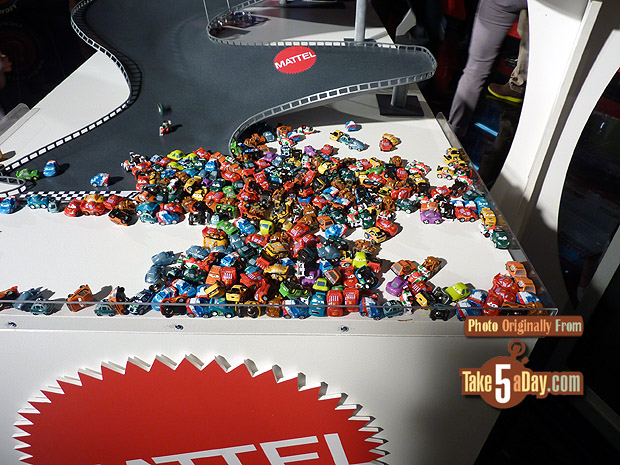 Comments from John H … "the kids were free to play with them at will. It was great fun. They dropped buckets of cars down the large chute. It was OK for kids to take a few home too. (And I bet museum staff will be finding MDs in nooks and crannies for weeks!"
Collect 'em all!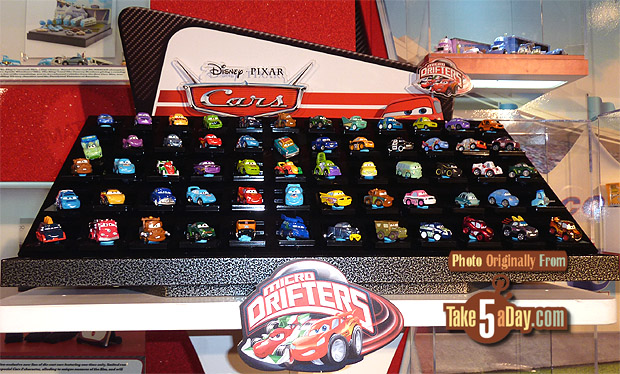 Since we've gotten about 20 released so far, this display shows off the next 40 or so releases.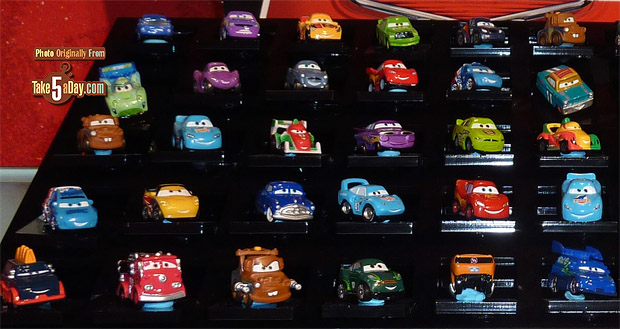 I took a stab at identifying the 60 Cars in the photos I sent you.
There are some duplicates and a couple of variations making ID harder. Seem to be 54 discrete releases which actually divides by three; 18 three packs, but who knows. I think they could assure a good launch for this line by releasing all 11 Cars 2 racers ASAP and make none of them scarce.
[from Tokyo]
Kabuto
Yokoza
Snot Rod
Boost
Wingo
DJ
[Radiator Springs] (only missing Lizzie; Bessie, tractors and Frank)
Red
Mater
Mater(2)?
Mater(3)?
Doc Hudson
purple Ramone
yellow Ramone
Flo
Lightning McQueen red Rusteze
Lightning McQueen red metallic
Lightning McQueen gold metallic
Luigi
Guido
Sarge
Filmore
Sheriff
Sally
[Piston Cup racers] (about half missing)
Dinoco McQueen
Dinoco McQueen(2)?
N2O Cola
Shiny Wax
Octane Gain
ClutchAid
Spare O Mint
Gaskits
Transberry Juice
Tank Coat
The King
Chick Hicks
Mario Andretti
[Cars 2]
Mater w/weapon
Holley Shiftwell
Finn McMissile
Submarine Finn McMissile
Rod Torque Redline
Brent Mustangberger
Darrell Cartrip
Acer
Grem
Professor Z
[all 11 Cars 2 racers]
Lightning McQueen Cars 2 Piston Cup
Shu Todoroki
Lewis Hamilton
Rip Clutchgoneski
Max Schnell
Nigel Gearsley
Nigel Gearsley(2)?
Nigel Gearsley(3)?
Miguel Camino
Francesco Bernoulli
Jeff Gorvette
Raoul ÇaRoule
Raoul ÇaRoule(2)?
Carla Veloso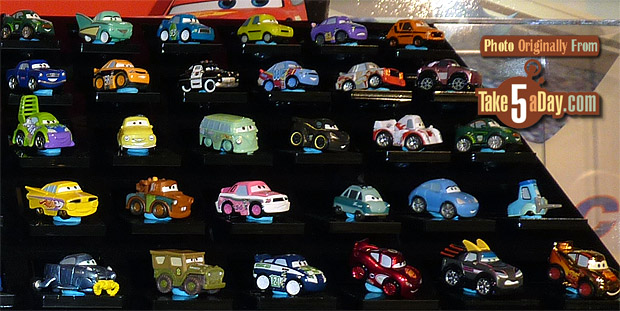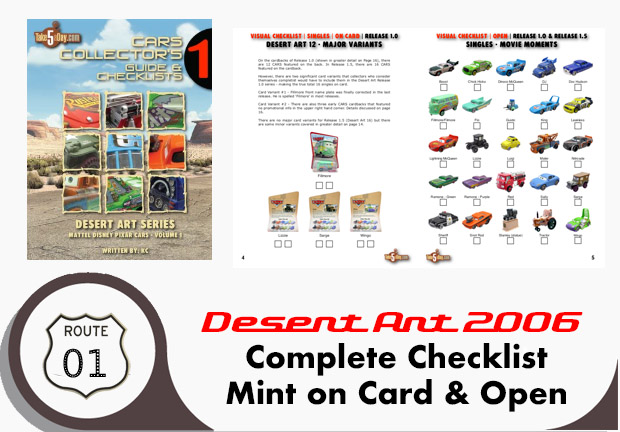 metroxing

16 September 2012

Disney Pixar, Disney Pixar CARS 3, Mattel Disney Pixar CARS, Mattel Disney Pixar Diecast CARS 3


11 Comments