Home
»
Disney Pixar
,
Disney Pixar CARS 3
,
Mattel Disney Pixar Diecast CARS 3
Mattel Disney Pixar CARS 2 Diecast: Cases Canceled, Now What?
In case you missed yesterday's post, a lot of cases were canceled – the first question is so what happens to all the new singles planned for cases J, K, L, & W?
It's just speculation at this point but since newly created cases N & P are going to Walmart, I suspect that to get Walmart back on board the retail train, Mattel offered up the "new" CARS that were in cases J, K, L & W as exclusives to Walmart or at least first to market.* And these were much more enticing to WM than the offer of CARS TAKE FLIGHT CARS so that got dropped like a hot potato.
Since it seems virtually certain they were either in the warehouse or right on the docks, they have now gone to a Mattel distribution where temp workers will start stuffing a WM pallet … again, just a guess but seems the most likely scenario.

Galloping Geargrinder, Nick Cartone & May Esgocar.

Alexander Hugo With hat, Fabrizio, Sir Harley Gassup & Eric Lanely.
Some of these are CHASE but as with CASE G, whether WM gets them as an endcap or as a pallet drop display, there should be multiples of each CHASE.
And in that shipment of 96 to 200 (depending on if it's boxes, endcaps, sidecaps or a pallet drop …) should contain a large mix of CHASES.
And while these two are not technically new, as numbered CARS, they are technically new … *and mostly first to market.
The rest are obviously re-releases and hopefully – there are not going to overclot WM with CARS 2 LM and Piston Cup Hudson Hornet Sticker LM as we could be back in the EXACT SAME boat in 2 months if they do but of course, that might require learning history to avoid repeating history. :-/
More wacky news to come.
Oh, and what's going on with the Ultimate Chase – the clues so far seem to point to them being part of the CASE assortment for "2013." Which starts in late October-early November – so for the Mexico & Russia Ultimate Chase, they should show up later in October …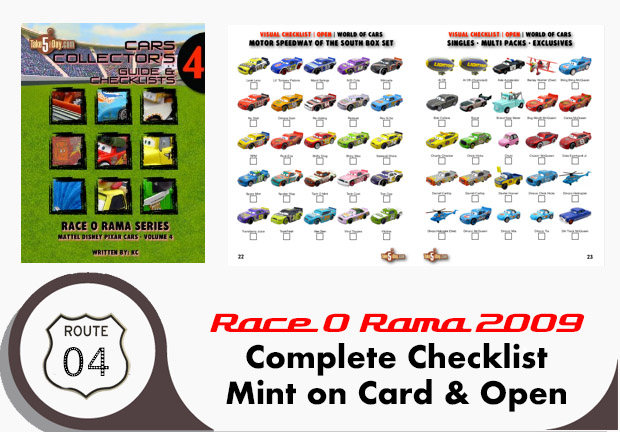 metroxing

26 August 2012

Disney Pixar, Disney Pixar CARS 3, Mattel Disney Pixar Diecast CARS 3


16 Comments