Home
»
Disney Pixar CARS 3
,
Mattel Disney Pixar Diecast CARS 3
Mattel Disney Pixar CARS Diecast: Target 4-Pack Box Set Geek Update
Three of the Target Box sets have been upgraded in their re-releases. It is NOT noted anywhere on the box so you have to look. The main upgrade is that most of the racers are "upgraded" to one-piece metal unibodies. Essentially the "mouth-faceplate" on each CARS WGP racer (aka: their facial expression) was generally plastic and in theory, it offered Mattel an option to update them to offer different mouth positions to accenuate any changes to the eyes. That option is still available to Mattel as they still have the old molds but for now, they have actually gone to the added expense of creating a new mold that has the CARS mouth position molded into the rest of the metal body. Strange decision but a nice mini upgrade.
Some have already been released as singles as unibodies and others are presumably coming in the next few cases. As of now, Raoul seems to be the only one not updated in these 4-packs.
Ronnie Del Cooper – still 2 piece. Interestingly enough, Becky Wheelin' the repaint CHASE single is a unibody. Lightning, Jeff Gorvette & Max Schnell – all now upgraded to unibodies. Lightning & Jeff Gorvette have been released as singles as a unibody. Max Schnell's unibody version has not yet released as a single but he is scheduled in CASE K.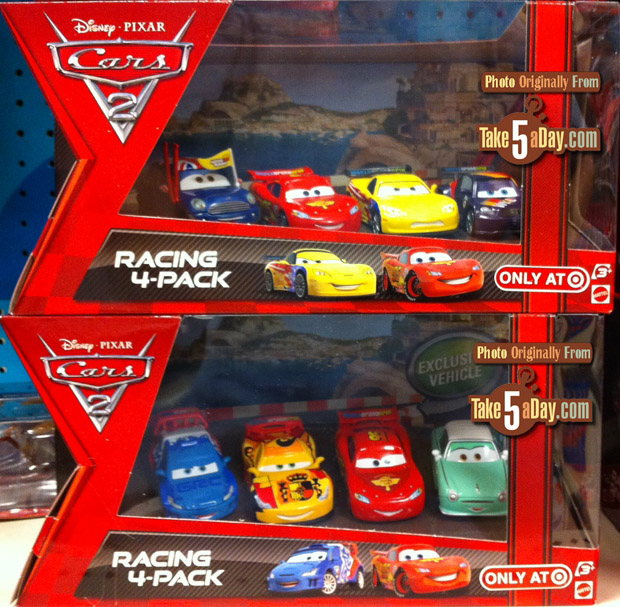 Denise Beam is still a 2-piecer. Lightning is a repeat from above, Miguel is now a unibody and is scheduled as a single in CASE W so presumably his single card version will get the upgrade then. Raoul is the only released racer not upgraded.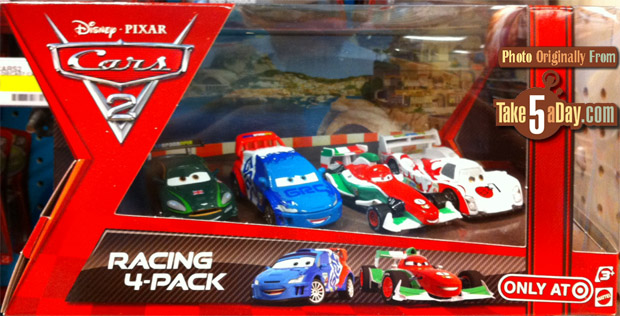 Nigel has been upgraded. He is also due for a singles re-release in K so again, presumably he will be upgraded/updated in that case release. Raoul – the one holdout. Francesco has always been a unibody. Shu got a few updates – he now sports the correct black air dam, has gray eyebrows and is now a one-piece unibody release. His release in the H case was NOT a unibody single release and as of now, is not scheduled in the next few cases so if you want a unibody non-metallic Shu, he's only available in this box set.
Raoul is scheduled in CASE W so will he get a unibody singles release there? Will there be a third revision to the Target 4-packs to update Raoul, the only released holdout out so far? Will you collect them all? 🙂
I have not seen the 4-pack with Carla or Lewis Hamilton Target 4-pack back yet, presumably they will get an upgrade also? Will update as they get re-released.
Rip Clutchgoneski is of course the only WGP racer not released yet. The prototype shows him as a 2-piecer but now, most likely he'll be released as a unibody.
No word on him yet though it looks like Kmart might get first dibs with a metallic chrome release of him in October?
BTW, the TRU 10-pack has NOT been upgraded in any manner (LM is still a 2-piecer).


metroxing

25 August 2012

Disney Pixar CARS 3, Mattel Disney Pixar Diecast CARS 3


4 Comments