Home
»
Disney Pixar CARS 3
,
Mattel Disney Pixar Diecast CARS 3
Mattel Disney Pixar CARS 2: San Diego Comic Con 2012
Thanks for the great pics, "Kevin NascarBronco."
It does look like this year they at least made more of a showcase for CARS diecast versus just lining them up in a cabinet so that's a good sign going forward.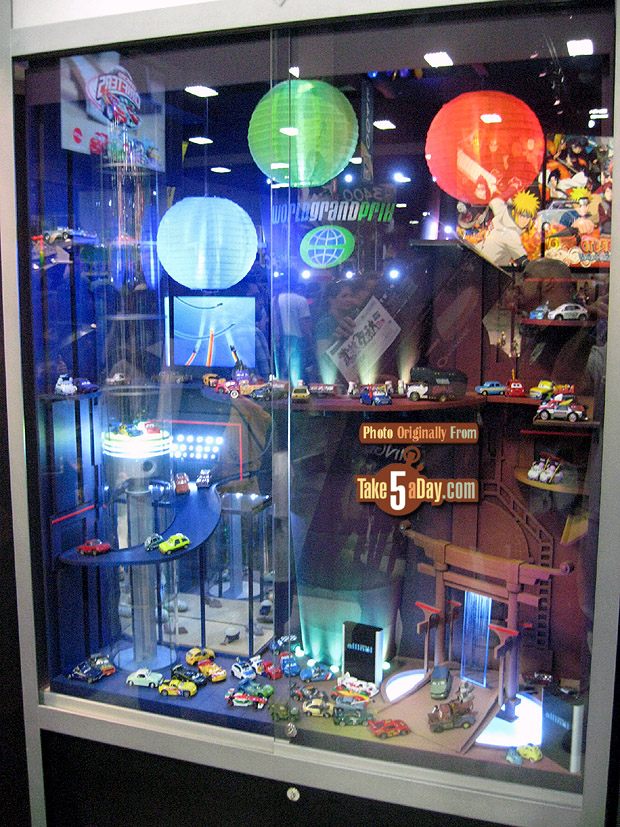 Most of the CARS included are still sort of randomly inserted but at least they looked at some screenshots of CARS 2 this year versus last year so it's closer.
There are not a lot of CARS we have not already seen the prototypes of or revealed from a poster but it's still nice to see them in 3D form.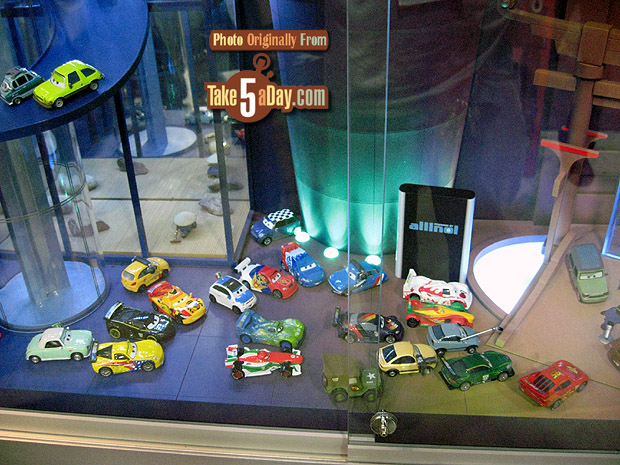 There is Ultimate Chase – Vitaly Petrov – Russia next to Raoul Caroule (though we had a larger pic a while back). And of course, he is really real and not mythical diecast – Rip Clutchgoneski. Raoul's Caroule's Crew Chief Bruno Motoreau will be coming in a Target 4-pack this holiday season. Petra Cartalina, Miguel Camino's Opel Corsa Crew Chief will be available in a 2-pack Movie Moment.
The Brent Mustangberger with headphones is part of a TRU box set coming. I do not know if Darrell Cartrip with headphones is also part of that set or whether thay accidentally placed a Darrell Cartrip Lights & Sounds release which has a headset. Or he's really part of a 6-pack?

The CAR with the pink bow is the upcoming "Tokyo Party Girl" CAR. Do we know the name of the white bow red wheeled CAR? (not currently scheduled for release – maybe part of a box set?) The red CAR with the Lightning Bolt is McQueen's SuperFan, Cartney Brakin (coming in the next few months).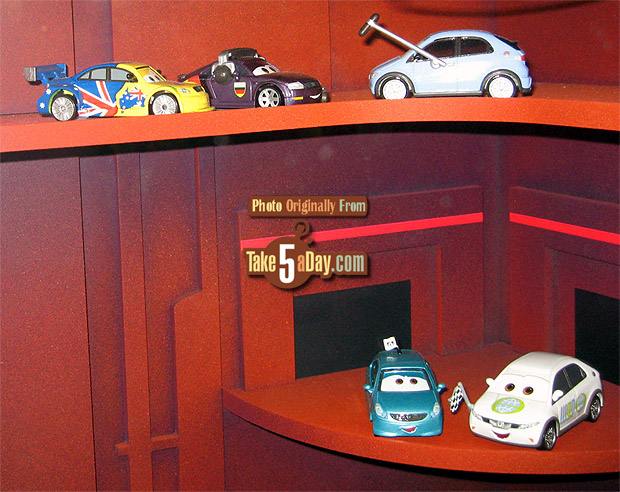 Top row is Australian Ultimate Chase (not currently scheduled), Otto Bonn, Max Schnell's Crew Chief and reporter Nick Cartone (scheduled for release in next 3 months).
Below is Max Schnell's Fan (coming in Target 4-pack) and Eric Laneley, WGP race flag man (coming soon also).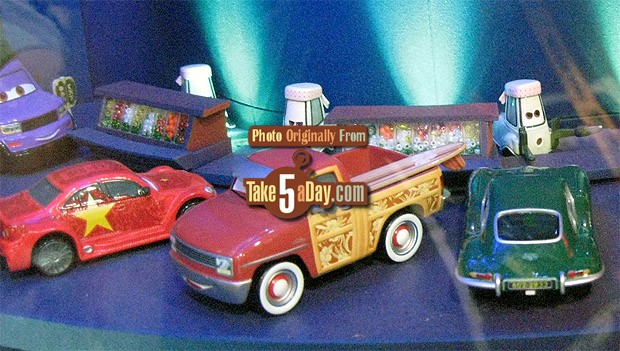 There's Long Ge (China Ultimate CASE in CASE H. In the warehouse, not shipping yet). There's David Hobbscapp … which may or may not be part of a 6-pack (the listing seems to come and go).

The Sushi Chef Pitty's are interesting as they were on a list but based on eye positions and mouths, there seems to be 4? Which is a little surprising … box set? Most people presumed two would get released …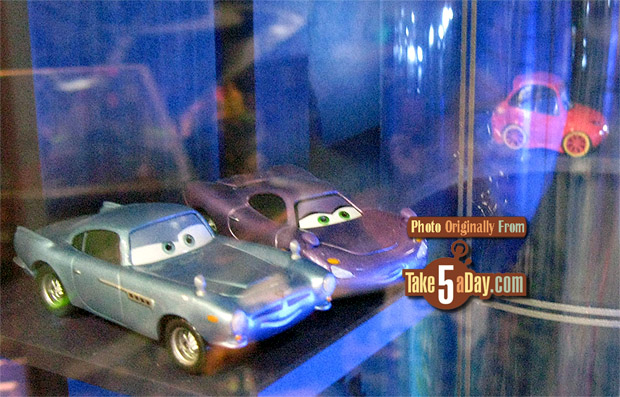 Er, is that a unibody Finn or do my eyes deceive me? That looks like another Tokyo CAR in the back?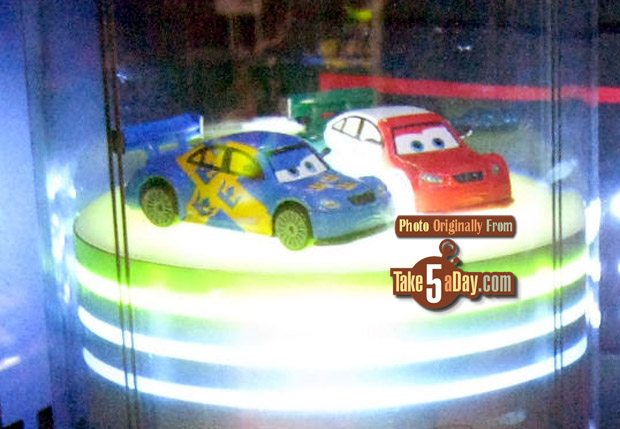 Flash is out – Ultimate Chase Memo Rojas Jr. – Mexico is to the right (and HERE).
And of course, Comic Con 2012 Mater …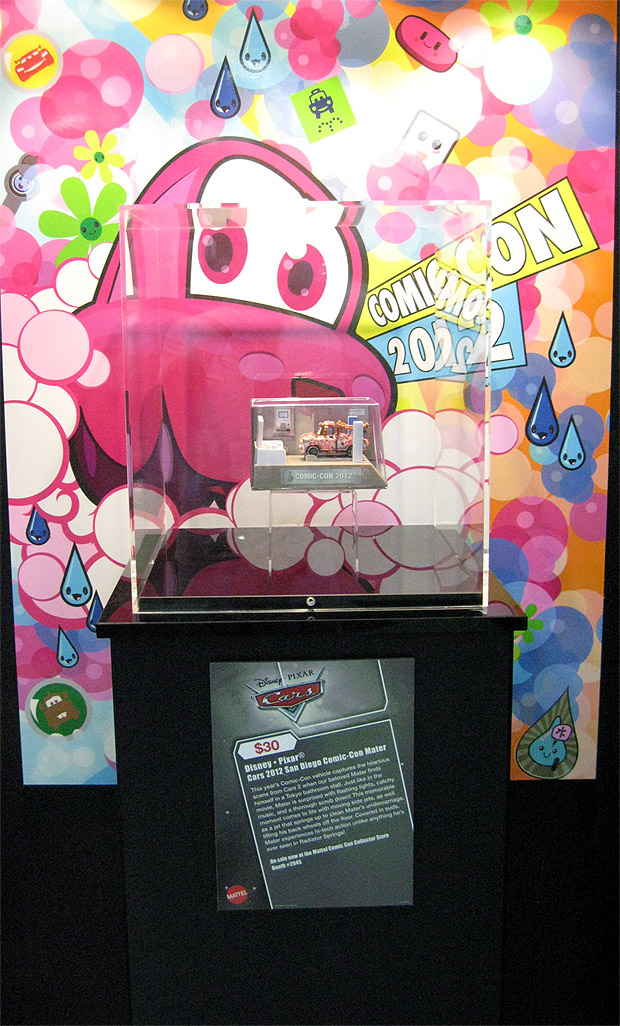 Have Fun! And thanks for the great pics, "Kevin Nascar Bronco."
Cute but where's the trunk space to carry back all the Mater's?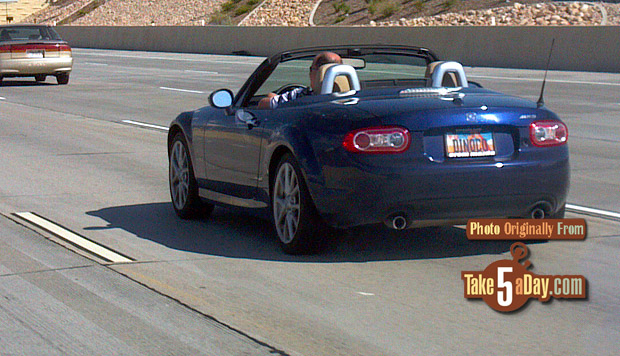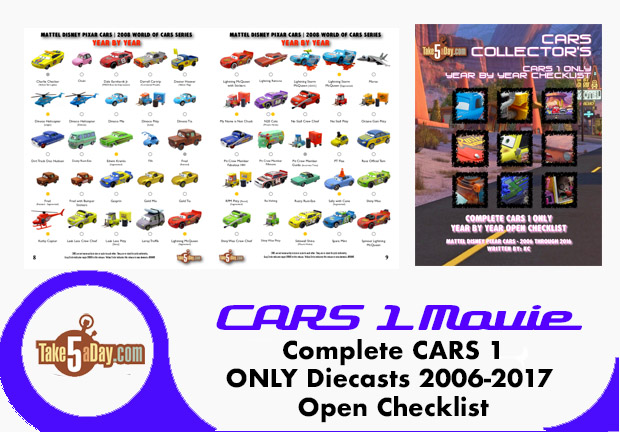 metroxing

13 July 2012

Disney Pixar CARS 3, Mattel Disney Pixar Diecast CARS 3


13 Comments