Home
»
Disney Pixar CARS 3
,
Mattel Disney Pixar Diecast CARS 3
Mattel Disney Pixar CARS 2 Diecast: Singles Cases 2012 Update
It looks there will be 9 cases available from here on out until the Mattel CARS Year 2012 ends in October. This includes the H case coming in the next few weeks. Some of these 9 cases are "twins" of another case – much like CASE G was the twin of CASE E. Not all of the info is complete but it looks like the Ultimate Chase cases all have a twin where it's not included so if you loathe the Ultimate Chase CARS and flat out refuse to have anything to do with them – you are in luck. Ask for the "twin" version of the case. 🙂
Check out the post on CASE H. Just call or email one of TakeFive's favorite advertisers such as Children'sToyCloset & Rob's Palace of Disney CARS to order a sealed case.
Is there a "twin" version of cases for mass market retailers? Seems like it. So, it seems like if you're hoping to find an ULTIMATE CHASE on the stores shelves at Target, WM or Toys R Us, you might be out of luck? Why do I say this? Because mass market retailers do not care what's actually in the case. They care about the cost and they care if anyone else has gotten that particular case before them. Yes, they will ask for an exclusive now and then but they want higher margin exclusives or an entire line, they don't really care about 1 carded item that makes them less than $.50 in profits – as they would make by selling 1 ULTIMATE CHASE for about $3.49. Mass market retailers don't even order by case code, they just order X number of a product code. They usually have instructions they want the latest case or a case code that is what is being shipped to their competitors but beyond that, Prince Wheeliam and Race Team Fillmore are essentially the same release.
So, I believe that in order to avoid confusion, Mattel packed 3,000-3,500 cases with an ULTIMATE CHASE and called it a different letter code.
That's good news if you want an ULTIMATE CHASE as it's included in every case with a particular case code such as G & H. And if you definitely do not want an ULTIMATE CHASE but want the rest of the case, then order E or the twin case of H. All the case codes seem to be available to all authorized resellers.
I'm not trying to be negative and claim that no one will ever find an ULTIMATE CHASE on the pegs but has anyone found one at one of the mass market retailer stores yet?* And in a weird way, it's actually a nice gesture on Mattel's part for CARS Collectors. Hot Wheels collectors have ZERO idea what Treasure Hunt or Super Treasure Hunt is in any case code PLUS the assortment changes during the run! So, if you get 3 Treasure Hunts in a case, the next one might actually contain zero. While CARS assortments are not guaranteed, at least you have a 99.99% chance of getting the case contents which is actually revealed.
That also brings us to the T case floating around eBay. Of the 9 cases remaining to come, it looks like the runt of the litter. It has no Ultimate Chase. It has two "new" CARS – Bindo, the Blue Maserati which is also in the H case and the other "new" car is Kabuto. Kabuto is really not a new CAR but technically, it's new to the CARS 2 diecast mainline … the oddity is that Kabuto does not seem to be available in any other of the forthcoming cases so I suppose if you really love Kabuto, then buy CASE T. (UPDATE – Yes, it looks like it was originally suppose to contain Bindo but got a blue car, Rod Torque subbed in … so, definitely the runt of the litter).
So, we don't exactly know how it will play out as we've NEVER had case assortments with a "twin" with a different letter code but so far and going forward, this format seems to be designed with splitting off the Ultimate Chase for collectors and without one for mass market retailers … until proven otherwise … it's like a science experiment. 🙂
So, observe without being observed. And hey, at least we're not double blind. Don't shock the monkey and don't eat the placebo (CASE T?) 🙂
* This does not count other retailers like supermarkets which tend to get offered POP displays which may or may not mirror current cases and/or in some cases, a small enough chain might order by case code because their order (generally 200-300 cases for a regional chain like Kohl's) does not get attention from the Big Three, they don't really care what Kohl's does in regards to toys. Drugstores tend to get serviced by distributors who buy cases and split it up as they generally do not get more than 1 peg of singles per store so a case of 24 might be randomly split for up to 6 stores. And since they tend to sell slower at $8.99 per, they don't often get more than a few restocks a year. 🙂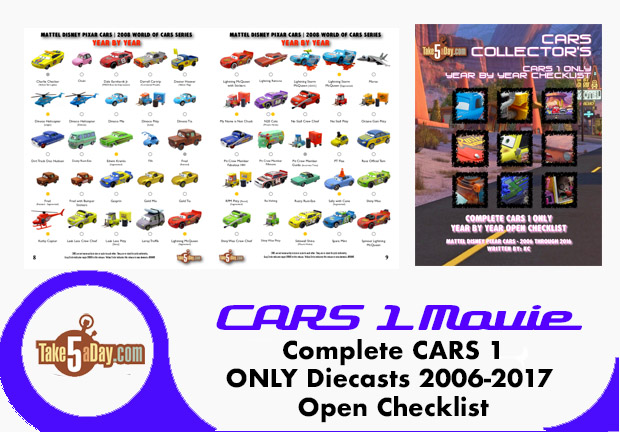 metroxing

9 July 2012

Disney Pixar CARS 3, Mattel Disney Pixar Diecast CARS 3


17 Comments