Home
»
Disney Pixar
,
Disney Pixar CARS 3
,
Mattel Disney Pixar Diecast CARS 3
Mattel Disney Pixar CARS Diecast: Buying Sealed Cases & Oversized CASE R Confirmed
In a galaxy far, far away and in a land before time, you could go into a retail store and buy CARS on the pegs …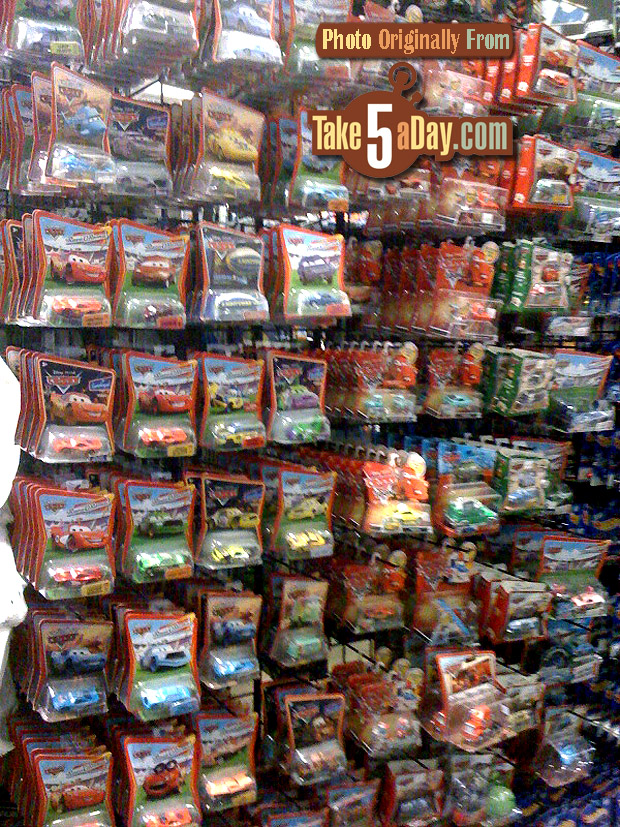 Well, maybe not this nice of a selection but at least something like this …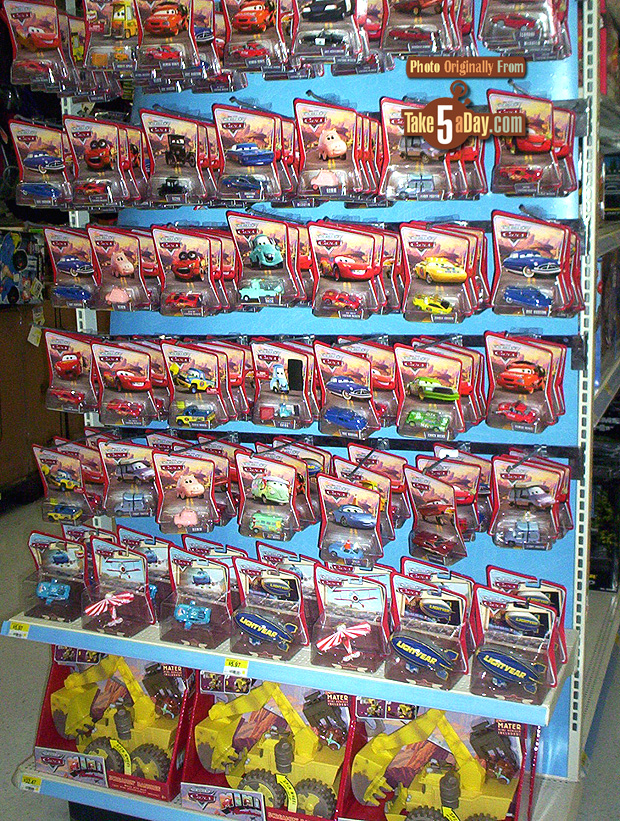 Yep, there was once a Golden Age of CARS … where we got selection, selection, pricing and distribution – crazy huh? Even if you lived a crowded populated area, every Target or Walmart received 3-8 cases of every case plus TRU would get one or two and even Kmart got fairly regular shipments. Add in plenty of stock on eBay and our trading forum, most people did not really need to resort to buying cases.
But for some collectors, especially when CHASE CARS arrived in 2009 (one to a CASE), it was simpler just to buy a case. Especially if you were a card completist collector, the cards were untouched after the factory packing. Each case of 18 were a mix of new and re-releases but again, for completist collectors, some were first time releases on a particular card or only appeared once or twice in a year. Case sales dropped off drastically in 2010 as Mattel went to lenticulars and 24 CARS to a case – and not as many people collected lenticulars. Final Lap cases alternated between 18 and 12 CARS per case but were only available at Target stores so no case sales.
In 2011, CARS 2 were 24 to a case but with the same CARS flooding the shelves in the first 3 cases – it was not particularly enticing to order cases.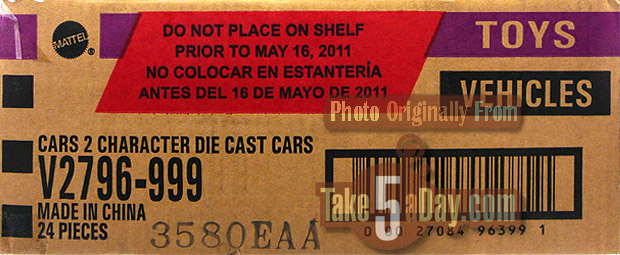 For instance, if you bought the first three cases of CARS 2, out of 72 CARS, you would've had 11 Mater's, 14 Finn's, 12 Lightning McQueen's and 8 Francesco Bernoullli's … gee, I wonder why the shelves are full of these 4 and why not one was really interested in cases A, B & C.
BTW, the product number for CARS 2 CARS this year are V2796-998_ with a letter code after it. The V2796-999 product code was just for 2011 cases A,  B & C which were not to be shelved prior to May 16, 2011.
So, now with Ultimate Chases, Chases and the fact that retail has cut back on ordering to a large degree, for some/many collectors, it's again enticing to order a full case … such as with CASE G. So, this below is a listing for V2796–998G.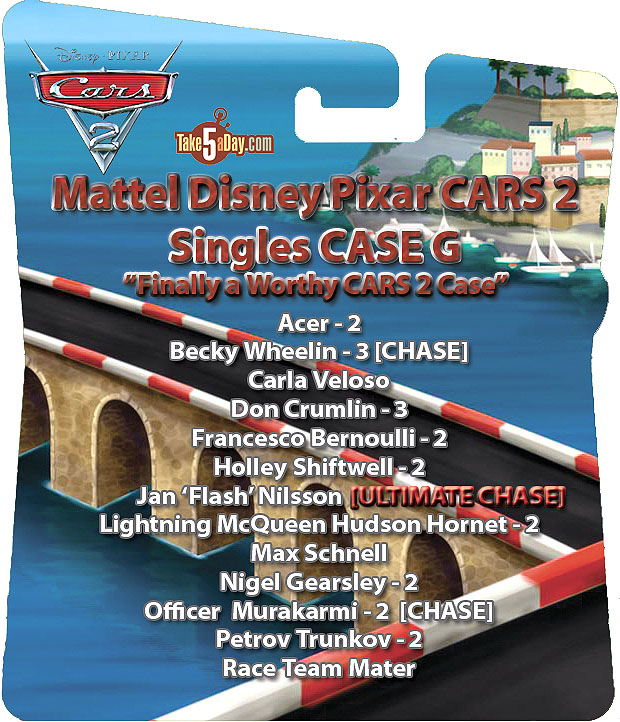 Nine of the 24 CARS are new (including duplicates, of course) and 6 of the CARS as CHASE CARS will never (in theory) be released again with the exact same look plus the low production of FLASH. Since WM seems to have cut way back in ordering, how much work will it take you to find the CARS? While gas prices have dropped, it's still in the $3-$4 range and unlike 3 years ago where a drive to 2-3 stores would almost certainly net you the CARS you want, now? Is it better just to wait by the doorstep? Of course, that's your call but it's something to consider.
Yes, there are always repeats but some are not easy to find (like Holley or Carla) so they're nice to have around to trade or maybe hold onto them …
And the next mega-deluxe case is listed – CASE R which looks to be: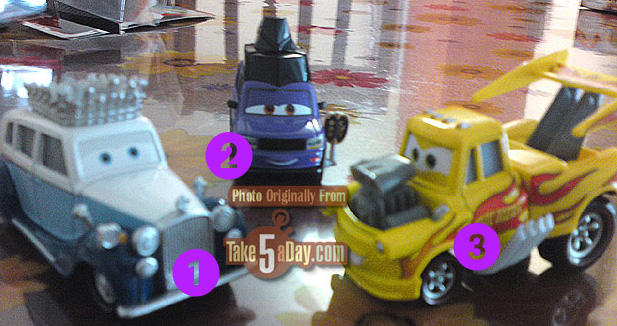 (the purple number indicates the number in the case). Kimura Kaizo (aka: Sumo Ref), Funny Car Mater & the Queen
So, if you'd rather skip the hunt and either click or call, be sure and check with TakeFive advertisers Children'sToyCloset & Rob's Palace of Disney CARS.
If they do not have it listed, be sure and call or email them to confirm what you want, if they have it in stock, if it's coming and they'll be happy to answer any questions for you.
And you can simply refer to the CASE code without the number as they know so you can simply say OVERSIZED CASE R or SINGLES CASE G.
Good luck!
And thanks for supporting our advertisers!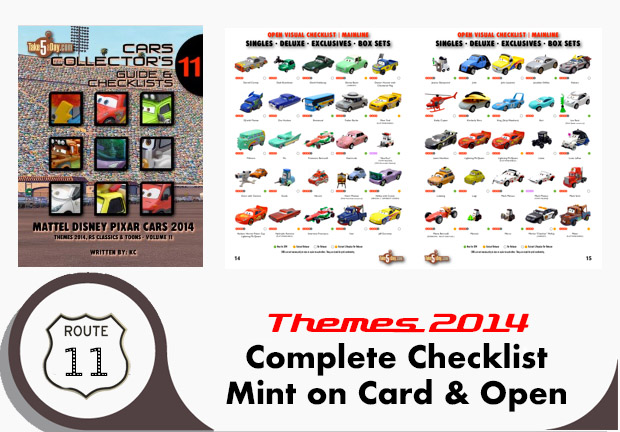 metroxing

27 June 2012

Disney Pixar, Disney Pixar CARS 3, Mattel Disney Pixar Diecast CARS 3


17 Comments