Home
»
Uncategorized
Mattel Disney CARS 2 Diecast: Kmart CARS Day #8 In Store Event
Other than the crazy sad story of the idiot who ran out of the stores with three boxes of CARS, Day #8 seem to go fairly smoothly … there definitely was much fewer master cartons sent to each store – each master carton holds 4 boxes so as few as 4-8 boxes of CARS or 96 to 192 CARS available in each store. Of course, if only a few people showed up in your store, then it was all smooth but if wanted a set to open and one to keep sealed, then as few as 10 people at the store might cause you problems (since if your store got 196 CARS, 80 were Francesco's and Lightning McQueen's) … here's pretty much what is left at the store closest to me after about 8 hours after the event.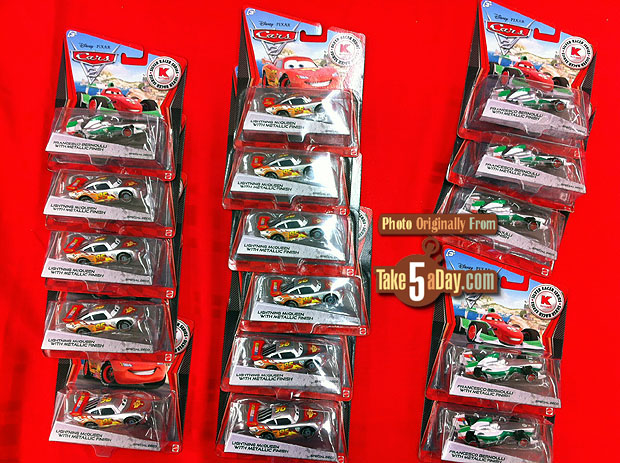 And yes, they decided to save a little by not repainting Francesco's helmet, leaving it the one pass silver chrome … the last few years, they have had additional sales of the cases after the event – whether they one this year or not is hard to say but the link is still "active" as of now … so if you see it go back live, drop us a line.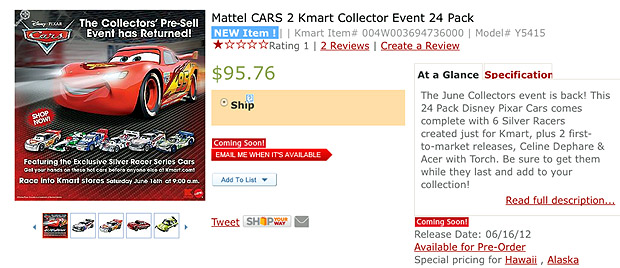 (and if you extras including the poster or your store still has extras other than LM or Francesco, drop me an email if you're interested in trades. Thanks!).


metroxing

17 June 2012

Uncategorized


21 Comments