Home
»
Disney Pixar
,
Disney Pixar CARS 3
,
Mattel Disney Pixar Diecast CARS 3
Disney Pixar CARS: The Rainbow Color Lightning McQueen Mystery
A couple readers have asked about these and "Overseas CARS Fan" was nice enough to send along some pics of these.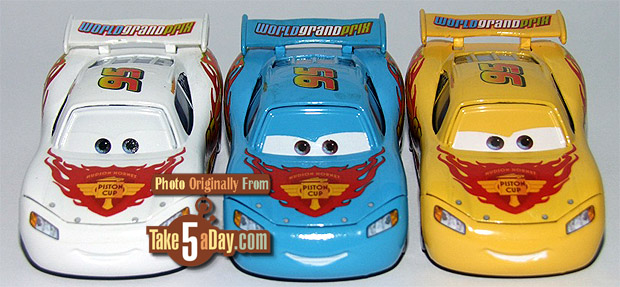 These are very professionally done – my opinion is that they are unauthorized factory customs.
Here's my evidence and opinion – you are free to agree or disagree with me. 🙂
#1 – There is no listing for them.
Every CAR product gets listed anywhere from 1 year to 6 months out. They are assigned a product number. Sometimes the information is so scant that we have to guess … for instance, the Disney Theme Parks Pirate Mater was listed as "Pirate Mater." No picture, no other info so the natural assumption was there was going to be a Pirate Mater Toon – this turned out to be incorrect but Pirate Mater did exist as a listing months before its arrival and ultimate release, only we had no real idea what it was. In this case, no such listings for these prior to their arrival and no such listings as of yet at all. Sometimes things get listed and then disappear as they did not meet with approval or whatever reason but everything shows up with a product code – whether it lives or dies, it always has a product code. So, if there exists a release on card or even with a plastic bag with a product code, then it's "real."
#2 – Non canon.
Of course, there are plenty of releases that get approved that are non-canon but just saying, it's much more rare so it's another strike against it and linked with reason #1, non-canon releases get listed somewhere (Finish Line Frenzy Lightning, Metallic Lightning, Metallic Francesco, etc …) and or get a product code.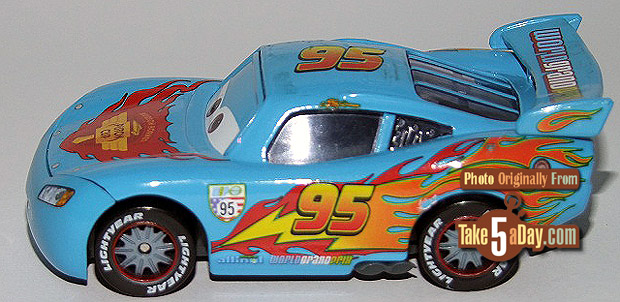 #3 – "Europe Children's Day" release (very unlikely).
One story floated to add legitimacy to this release was that these were for "Children's Day." I'm no expert but it looks like it's a holiday around the end of the year in Europe. If it's was for 2011 – which is more likely as it would be to boost DVD disc sales, I think a few hundred collectors that email us and comment on a regular basis from Europe would have given us a heads up – nothing. If it's for 2012, the timing makes no sense – no DVD release, no other rational to do a promo in 2012. More importantly, the Europe market is much smaller than the US and does not do promotions separate from US promotions – they simply do not have the budget so they tag on or add on to US promotions by ordering X% extra. European mail aways or other promos are always added on to the current US production even if the US portion was not a promo. Plus, if it was for the Children's Day, it would say so somewhere. What's the point of a promo if you don't tell people why they are getting this piece?
And related to that, sellers of the fake "Brainstorm Red Ransburg," tried to add legitimacy to their release that the reason more/extras were popping up was because of an Asian Brainstorm Meeting giveaway … except there wasn't any. You know who, the lead designer of CARS from 2007 to 2010 was at ONE Brainstorm meeting where the people present got 1 CAR each + other goodies. That was it.
#4 – "London Olympic Release" (FAIL)
Even less likely. As noted with the LEGO releases, you cannot say the words Olympic unless you are a core sponsor. These don't even have a sports/athletic theme nor does a few random colors actually mean anything. Plus, Disney is the LAST company that would skirt licensing issues.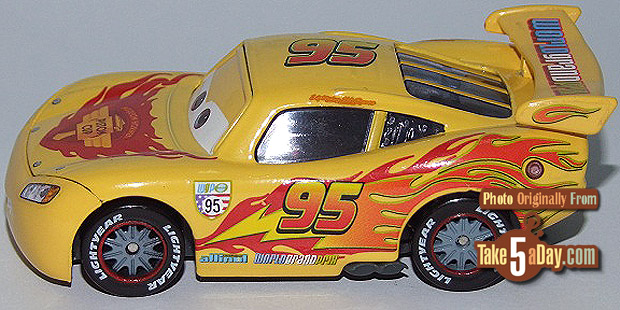 #5 – CARS Land.
Well, in theory, Disney can call anything canon and approve/make Mattel manufacturer it but Pirate/Goofy/Mickey Ears Lightning McQueen while not canon clearly advertise Disney and Disneyland. These design say nothing about Disneyland nor CARS Land. These are not advertising pieces for CARS Land.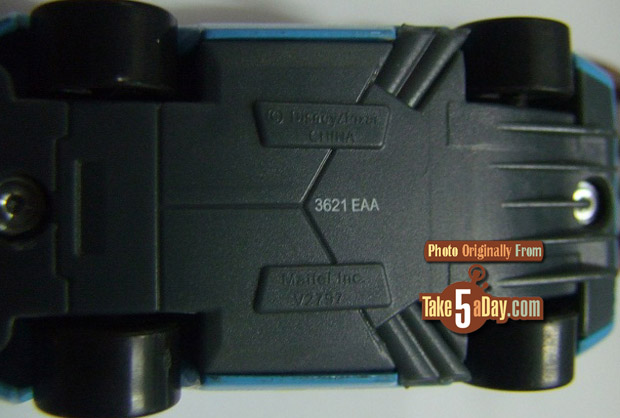 The base is no real clue as every Lighting McQueen for CARS 2 (all 16) has the V2797 production code.
So, my opinion is this is a factory unauthorized custom. The tampo decals are easy to obtain if you have access to the factory and of course, if you have access to those, you have access to in whatever color is in the machine – this blue looks like the blue from the Moon Mater NASCA "Dustin Mellows," (or just Dinoco Blue) and the yellow looks like yellow from Funny Car Mater. The colors also don't make much sense as their not spiffed up enough for a non-canon exclusive release (zamak, double ransburg, or rubber tires, etc …) (and they would definitely not use a blue that looks like Dinoco Blue – too confusing) but most important of all, there's no listing for them at all. So, thanks for the pics "Overseas CARS Fan," but I'm going with 99.99999999% certain these are "factory" customs.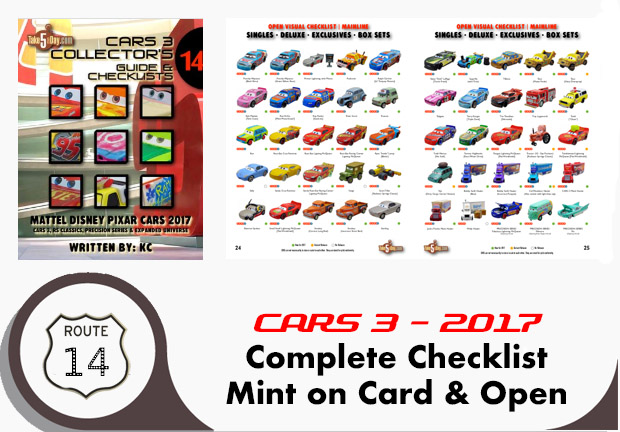 metroxing

3 June 2012

Disney Pixar, Disney Pixar CARS 3, Mattel Disney Pixar Diecast CARS 3


18 Comments