Home
»
Books
,
Disney
,
Disney Pixar
,
Magazine Checklist
,
Mattel Disney Pixar CARS
TakeFive New Magazines: Everything & Ultra Completists
As you requested, there is a new COMBINED CHECKLIST with everything Mattel Disney Pixar CARS 1:55 in one photo checklist – our biggest issue ever!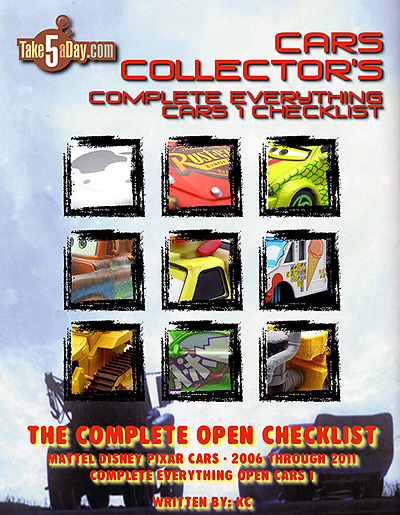 (click for a FULL PREVIEW) … so what's the final count? Including updating some variants, it's 433 + 21 Haulers + 35 rubber tire racers + 2 racers in boxes + 3 repeats releases with Piston Cups or 494 CARS. This includes 3 Disney Stores CARS in scale so if you don't count those – 491.
This includes everything (including Toons, Storytellers) but not lenticulars.
This does also include "Mike I's." hard work in updating our Lizzie variant count … The radiator cap deal was known as well as the purple-lavender-white headlamps things. But since Lizzie's were hard enough to collect – for the most part, I didn't spend too much time dwelling on it as we have a few hundred thousand other issues to look at but now that we have time to genuflect … Mike I was instrumental in helping sort through the issues so there are at least 4 Lizzie variants. The first two were mostly know. Thailand produced radiator caps had an extra square piece while the China Lizzie radiator caps were round (left below).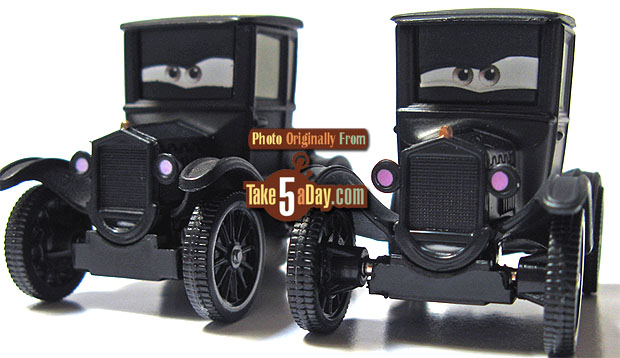 And yes, the headlamps varied in color but since Lizzie's were hard to find anyway – the headlamp color thing didn't really affect its pricing by very much. The few Pixar screen grabs show Lizzie with purple headlamps – my feeling is that it's an incorrect color monitor adjustment that remained uncorrected so it appeared purple when it probably should've been yellow-white. Mattel ran with it and Pixar signed off on it.
But Mike I also found Lizzie's where the radiator caps are BELOW the hoodline … very interesting … And they come in both versions (Round and square-round radiator caps).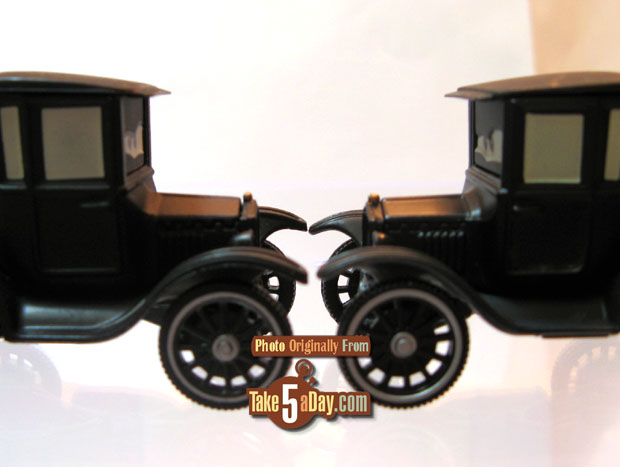 There are more photos if you want to see them and yea, we are taking 2mm but hey, the whole thing is only 3″ long so 2mm is 2mm. 🙂
You don't have to collect every variant but now, it's in there … and since I was updating the EVERYTHING CHECKLIST, might as well create a recap issue for ultra completists …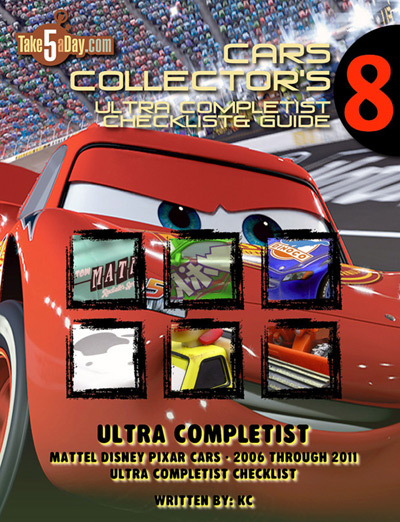 This issue is really for the ultra completist collectors. It's text heavy without repeating a lot of the photos from previous issues.
It's a recap of each series and the hard to find/ultra collectibles.
It's a recap of the CARS unique phenomenon of "factory unauthorized production" runs – how to spot some of them and their perceived value once you know all the info.
And there's a chart of the Top 10 rarest CARS.
This issue also breaks out ALL the open variants including the 4 Lizzie's.
You also get all the oddball info compiled of why McQueen was red tinted for ROR and all the Canadian "dumped" cards …
Also, now you can have a hard copy of the MSOS prodution date database as a guide to see if a set you're buying matches those dates, plus much more!
Again, click on the link for a preview to see if you're interested.
Thanks again for your support of T5 by buying copies – all the issues are now available as digital copies if you want them on a portable device to take with you. Hours of incomparable reading! Or is that incomprehensible? 🙂
For those who are not/will collect the Toons, the other open checklist is still available. To avoid confusion, I am now calling it the MAINLINE CHECKLIST 2006-2011.
Enjoy!
I know people have asked for a Toons checklist by short – do you want a Toons checklist by itself or do you want it with everything else … in that case, i would probably do a chronological one – with listings broken out by its first release? Interested? Not interested? Thoughts?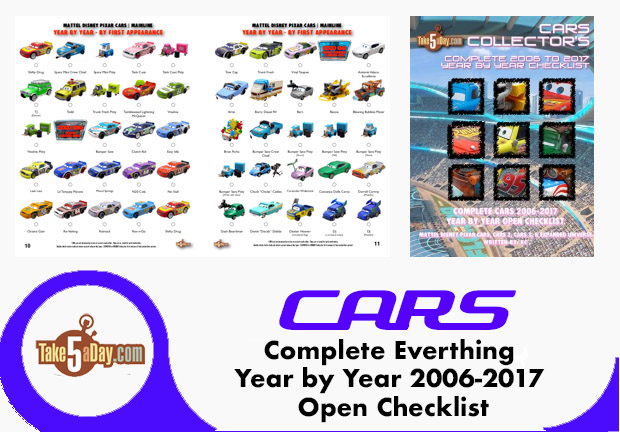 metroxing

24 August 2011

Books, Disney, Disney Pixar, Magazine Checklist, Mattel Disney Pixar CARS


26 Comments