Home
»
check list
,
Checklist
,
Disney Pixar
,
Mattel Disney Pixar CARS
Mattel Disney Pixar Diecast CARS: The COMPLETE Opener Checklist Magazine 2006 to 2011
It's FINALLY HERE – the good news is that we have a final visual checklist of EVERY mainline CAR released from 2006 to 2011.*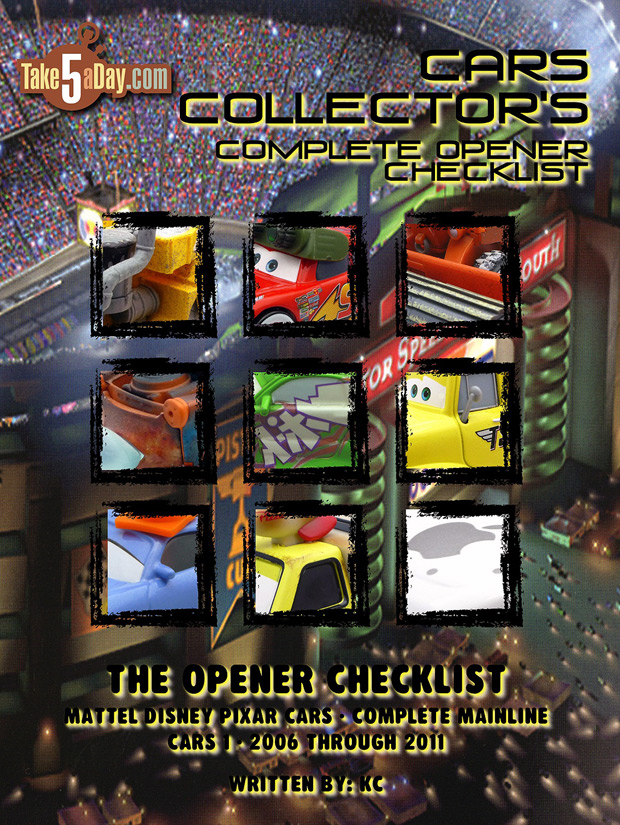 (CLICK the link for a FULL PREVIEW of EVERY PAGE!)
So, what's the final verdict of how many CARS are there?
The count is 365 which includes:
every "classic" non moving eyes CAR,
every lenticular with no "classic" eyes release
(mostly CHASE CARS but a few not CHASE),
significant variants,
oversized-megasize deluxe CARS,
rubber tire releases (Kmart),
backstory Storytellers Series,
+ one from CARS 2,
and haulers.
But I'm sure every collector have a few minor variants that they want to count (for instance, the TRU box mail away releases of Sidewall Shine and N20 Cola are now what I would consider a minor variant and not counted as a separate release but to each his own!)
So, 370 is a nice round number for the mainline as a solid COMPLETE number …
Then add in 120 Expanded Universe CARS (Toons, Holiday Storytellers, Mailaways, promos and Disney Store) … round up slightly to a perfect round number.
500.
Very good symmetry.
5 years. 500 CARS.
500 Days of CARS Bliss.
(unless you are missing some Storytellers, then it will gnaw at you until it consumes you … heh, heh  😛  )
The only bad news is the count is at a standstill in regards to CARS 1 CARS for 2011 but for next year – mo CARS 1 CARS? That's the talk of the town but will it be talk or real? We shall see.
* NOTE – the "mainline" does NOT include the Expanded Universe CARS which of course are all included in their own issue. (click for preview).
Some additional things to note:
You can buy the DIGITAL PDF version separately now so if you don't want a paper version or save on shipping for overseas readers. Same links as above.
I have also added DIGITAL PDF versions of all previous issues as a purchase options.
I have "deleted" the previous edition of the OPENER ISSUE (2006 to 2010) so no one orders it by accident as this is the current and most complete one, I take it no one still wants the older one?
And Questions – Comments …
MagCloud now offers "PERFECT BINDING" which costs more and you get a flat side versus the "staples" binding (aka: saddle stitching). I have to upload a separate version – is that something you want? If so, chime in below. It will cost more.
Do you want a COMPLETE, COMPLETE mainline + expanded universe CARS all in one issue?
Do you want them intermixed or in separate sections (if you want one)?
(I would either integrate them all by alphabetizing them or adding the Expanded to this current issue by adding them in their separate alphabetized listings after the mainline?)
Any other checklist versions?
Anything else, please comment below – thanks and thanks for your support of T5!
Your purchases help support TakeFive – thanks!

metroxing

24 July 2011

check list, Checklist, Disney Pixar, Mattel Disney Pixar CARS


27 Comments