Home
»
Books
,
Disney Pixar
,
Magazine Checklist
,
Mattel Disney Pixar Diecast CARS 3
Mattel Disney Pixar CARS: Final Lap-Night Skyline Magazine Checklist
OOPS – SORRY. Everything is fixed now – somehow a few CARS got dropped and I definitely forgot a few additional launchers or that the Leak Less hauler was re-released for Night Skyline – me eyes glazed over … or when you stare at it on the shelves for 11 months, you tend to gloss over it. 🙂
But thanks for eagle eyes, David V. who reminded me and thanks for ALL who stepped up fast with photos of Leak Less and Lightning … thanks!
So, I have uploaded the revised version … since I had to add some pages, there is now info on the Pixar Motorama McQueen also!

With the last Night Skyline releases (rubber tire Chick, King & Lightning McQueen) in the bag and in the books, it's time for the Final Lap-Night Skyline magazine & checklist!
Click on the cover art or the link above to go to MagCloud to get your issues printed on demand – now worldwide ordering is available.
There is also a FULL PREVIEW of the issue on the cover at MagCloud. As you can see, it includes every Final Lap and (classic non-moving eyes) Night Skyline release. Lenticulars will get their own issue soon.
The Expanded Universe is issue #7 and Race O Rama was issue #4 in case you were wondering there was a gap. I could not complete the Final Lap-Night Skyline until the rubber tire CARS got released last Saturday. 🙂
Remember, your order supports TakeFive, so thanks!
Or you can find all of our issues HERE.
(Note: I am working on updating the OPENER issue to have a complete CARS 1 checklist magazine issue – the current one is 2006 to June 2010).
If you got in an order before I placed the issue on HOLD, drop me an email with your order number and I'll send a replacement when I order my issues – sorry and thanks again for your support of T5!
I think I caught them before it was printed but if not – the new version now contains half a page on the Pixar Motorama McQueen – so if you do NOT see it in your issue, drop me a line to replace it – thanks and sorry!

Two Questions – Does anyone actually want a lenticular checklist?
And B – interest in a digital version? Basically it would be a PDF file you can read or upload-read on your smartphone-iPad? Unfortunately, it's not interactive so you can actually use it as an electronic checklist … but let me know what your interest is in the comments below.
Thanks!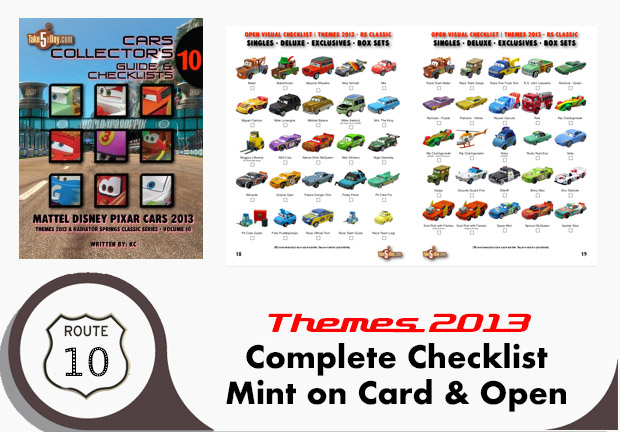 metroxing

2 July 2011

Books, Disney Pixar, Magazine Checklist, Mattel Disney Pixar Diecast CARS 3


27 Comments