Home
»
Disney Pixar CARS 3
,
Food
Disney Pixar CARS 2: Make, Bake & Eat Your CARS 2 CARS Cakes & Cookies
Of course, as an adult, feel free to chew on your CARS & CARS 2 (even Sarge 2007) … you've already killed enough brain cells, a few more won't matter … now for kids – that's a different matter. Raise them strong , healthy and smart – they will need to chase you down the street as you're running with a pitchfork yelling* – "Only the Piston Cups are supposed to be gold on Bling Bling!" … and if you them raised as CARS diecast fans, they'll actually understand you. 🙂
* Hopefully you're clothed.
But if chewing on metal and polymers are not good enough for you – now, you can make, bake and eat your CARS cakes too …
Turn these into …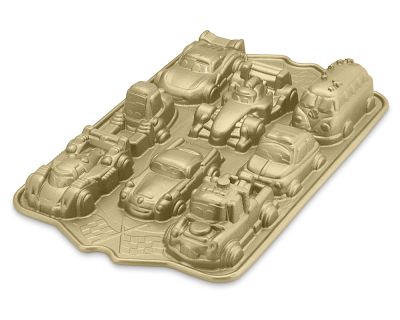 … this …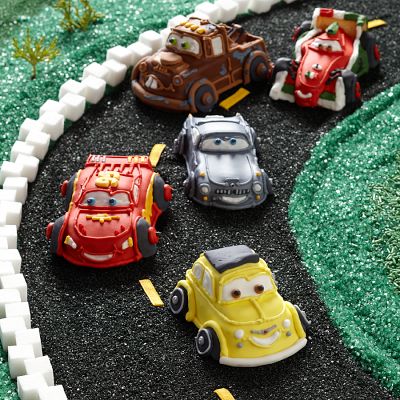 Something tells me you need some more skills than just pouring batter into a mold and turning on an oven … and the setting of the timer thing …
And you can't really go wrong with a cake surface made of color sugar granulars and sugar cubes. Your kids can do that running sideways on the walls like in the cartoons.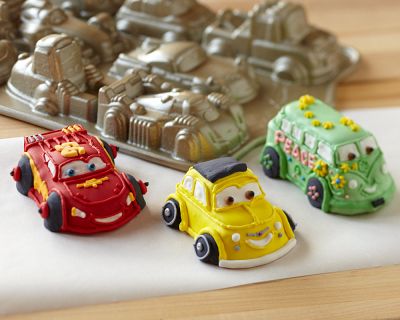 Bake up a fleet of Cars 2 vehicles, and gear up for an animated dessert course! The pan turns out eight favorite characters with charming details – simply dust them with confectioner's sugar or create custom paint jobs with an array of icings and decors.
Bakes eight mini cakes in the shapes of Lightning McQueen, Tow Mater, Francesco Bernoulli, Finn McMissile, Luigi, Guido, Fillmore and Shu Todoroki.
Heat-responsive cast aluminum promotes even rising, uniform baking and a golden crust.
Premium nonstick finish ensures easy release with details intact.
Nonstick finish allows for easy cleanup. Made in the USA by Nordic Ware.
Or cookies …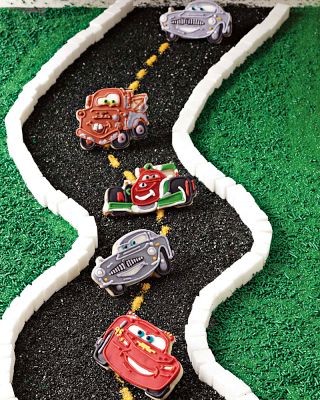 Again, you will need some piping skills to get your cookies to look like this …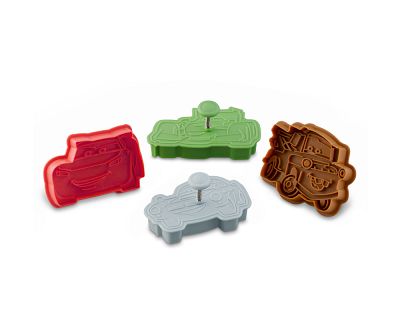 At least mine will resemble Mater – you just have to use your imagination … of course, it's not really a canon cookie until you add the new '95' logo.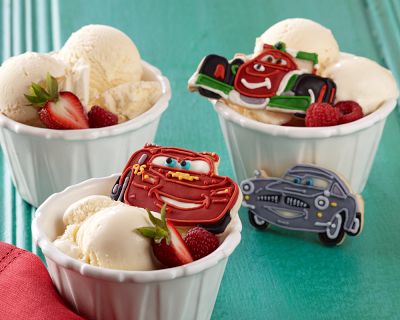 This is the lo-cal version – just add some jimmy's, some chips, some sugar granulars and 4 or 5 sugar cubes and that's dessert!
These are exclusives at Williams-Sonoma – they also have a kids CARS apron.
They also have some cool Starwars molds.
Thanks "compassinfo" & "Monica" for the heads up!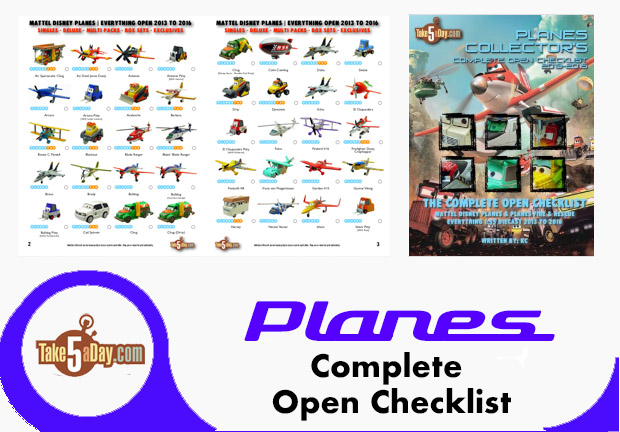 metroxing

28 May 2011

Disney Pixar CARS 3, Food


10 Comments