Home
»
Disney Pixar CARS 3
,
Mattel Disney Pixar Diecast CARS 3
Mattel Disney Pixar Diecast CARS 2: Lights & Sounds First Wave + YouTube Videos Demos
Joining the party will be Lights & Sounds 1:55 scale* versions of most-many of the main characters.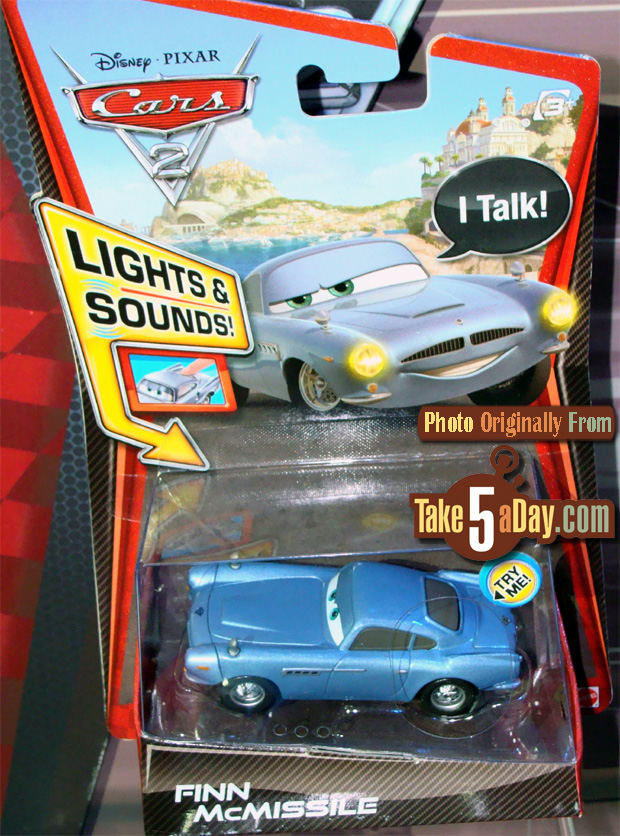 And surprisingly, the design & execution turned out very nice.
You press a button – that activates the lights and they begin speaking and surprisingly, they actually speak a lot of phrases – up to 10? Or just a hair under but pretty impressive – I thought for the price & scale, it would be something meager but 7-10 is very nice … and if you hold the button down, the lights stay on so if you need a teeny tiny wattage light source or a very nice looking but feeble flashlight, there ya go … 🙂
AND also ALL voiced by the original US film version actors** – as far as I can tell.
The first wave pretty much consists of who you think it might be … (some are photos of the regular mainline singles – no lights & sounds but they look essentially the same – yes, mostly all metal diecast or at least whatever the regular release is composed of).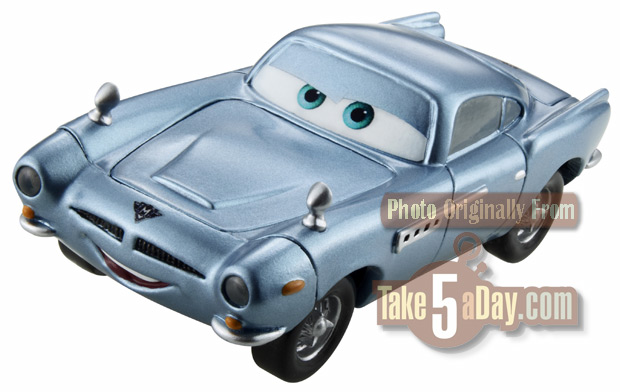 Finn McMissile – d'uh.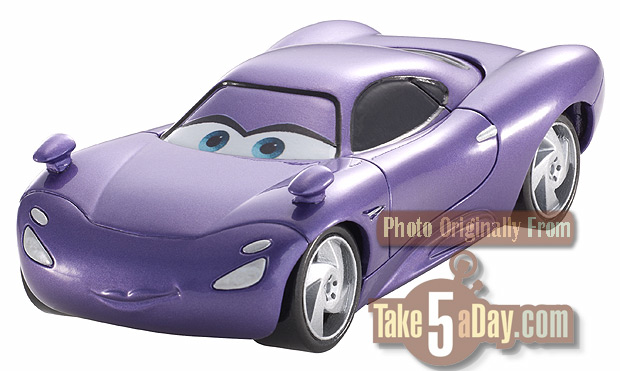 Holley Shiftwell (Holley I believe is actually in CASE B)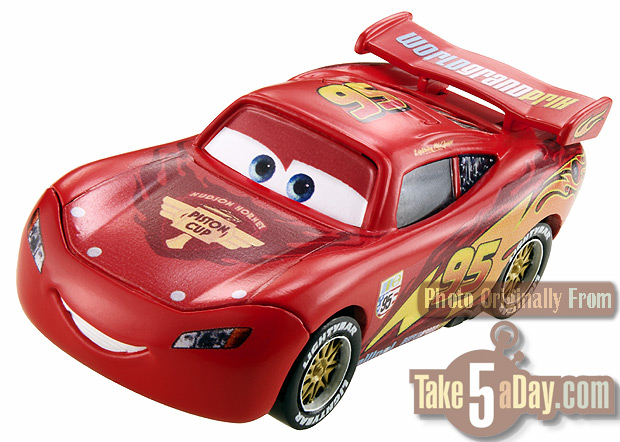 Lightning & of course, Mater.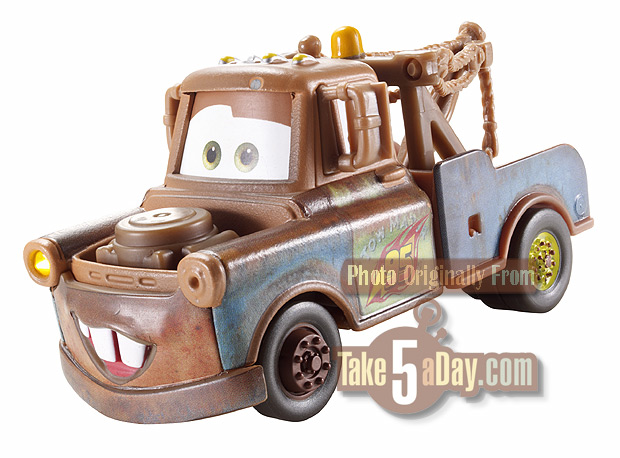 You'll notice that Mater is smiling wider as the STAR of the film – he now has three teeth visible.
*They all are essentially the 1:55 versions except with lights & sounds except for Francesco Bernoulli which is somewhat-quite a bit larger – more like 1:50 scale …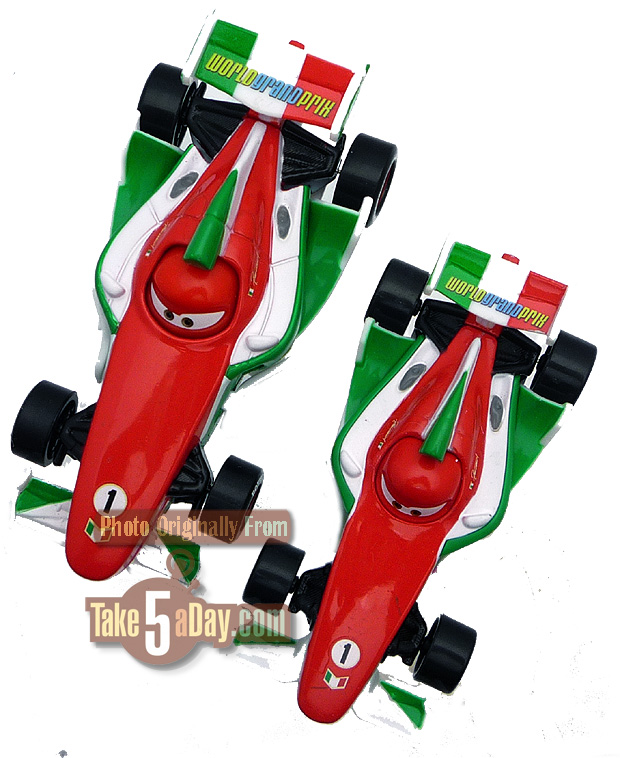 I presume because Francesco is a low profile CAR, it was just too hard to hide the lights & sounds components? So, Francesco is larger as a lights & sound CAR.
The main difference is the bottom.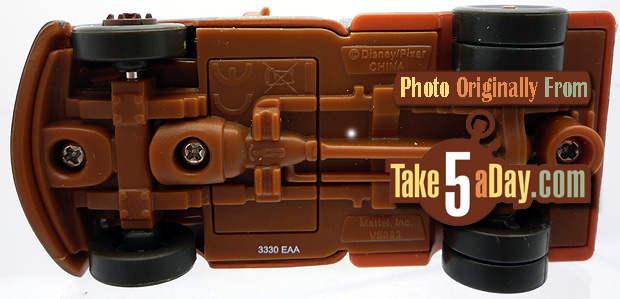 As you can see, not riveted but screws. The battery compartment holds three flat "watch" batteries so you can do your own replacements and since the base is screwed on, I'm sure we'll see some wacky mods down the line. 🙂
And as promised, a brief demo video of some of the CARS. Each CAR is activated in a different area … there are at least two Mater's – this is the first release. You can hear some of his dialogue and his lights – the end of the video is with the light source turned off … mater, he funny.
This one is Mater with missiles in the back (they do not fire nor light up) but it's Mater in spy character.
Holley is activated by pressing down on the back window.
And Francesco is activated by pressing down on his helmeted head. 🙂
You can access them all here at the TakeFive YouTube page.
So, all and all, very nicely down – at first, I figured it was a quick gimmick but it seems likely done – all original voices and each character has lots of lines and the lights are nicely done – not just repeats but make sense for each type of CAR.
The retail price will most likely be @$9.99.
No UPC yet but the DPCI at Target is: 087-07-1970
There will also be some 1:24 lights & sounds CARS but they seem to be all plastic and more typical of the larger scale play items for younger kids – and limited to Mater, Finn & McQueen.
** If you live in a country with a dubbed release of the film, if you get these released, it will feature the US actors voices.
Thanks "Red Vested Ninja" for your help on the lights & sounds CARS.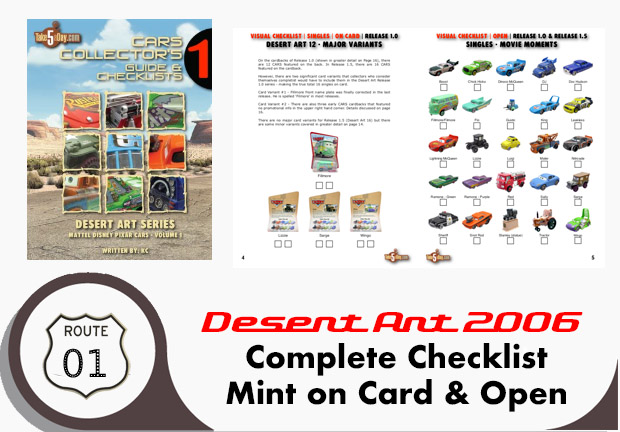 metroxing

5 April 2011

Disney Pixar CARS 3, Mattel Disney Pixar Diecast CARS 3


32 Comments