Home
»
Disney Pixar CARS 3
Disney Pixar CARS 2: Lightning, Mater & Finn Will Do 30-City US Tour & They're "Green"
Autoweek reports that there will be a 30-city US CARS 2 tour with an electric motored Mater, Lightning & Finn … custom created by a company called TFX. There will be 8 Lightning McQueens, 6 Finn McMissiles & 5 Mater's.
Then they will tour Russia, Japan, Europe, Mexico and Latin America (probably Brazil & Argentina).
So maybe in 20 months, Disney-Pixar might consider themselves overstocked on them 1:1 scale CARS and might just toss them on eBay. 😉
(no link online to this article)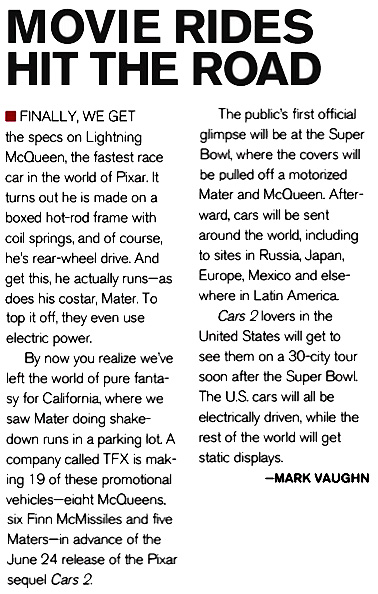 Because the inclimate climate, I think the Super Bowl appearance was canceled. This article was written in early February.
There is a Mack tour going in Australia right now.

metroxing

22 February 2011

Disney Pixar CARS 3


4 Comments