Home
»
Mattel Disney Pixar CARS
,
Retail
Mattel Disney Pixar Diecast CARS: The WM 4 Pack Variant Alert
The WM 4-packs were a pretty good deal at $10 for 4 "Townies," but are a really great deal at the clearance pricing people have found for anywhere from $4 to $7.
For newbie collectors, they are great as many are hard to find in the classics non-moving eyes versions.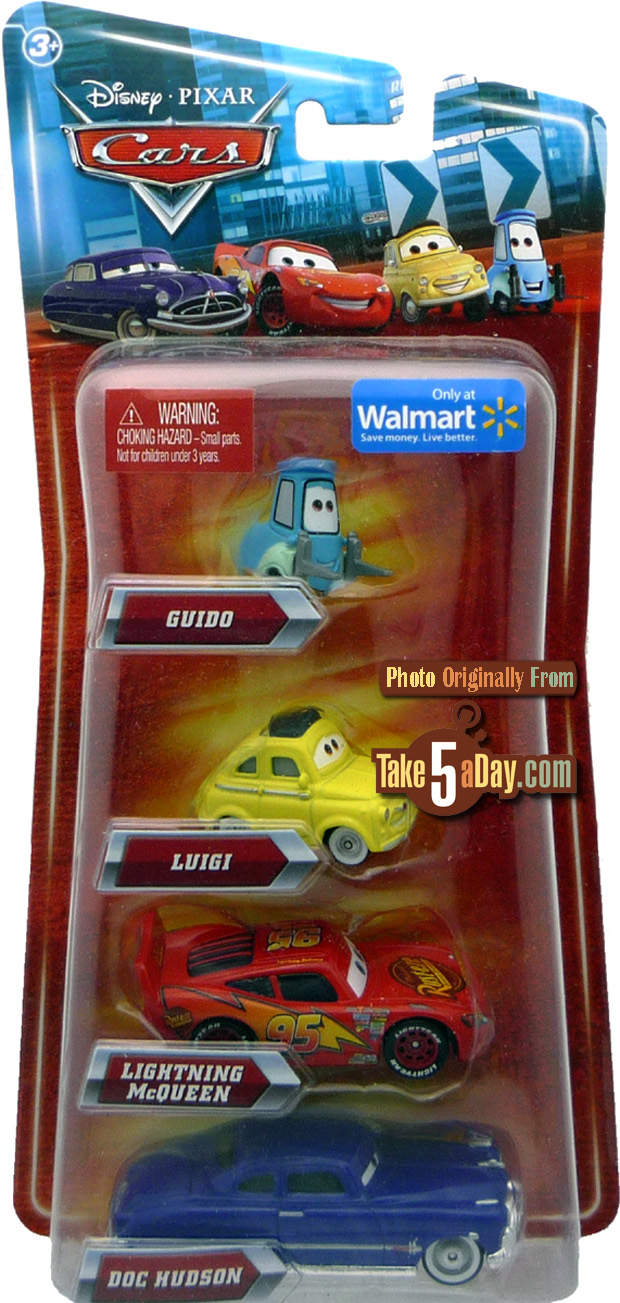 This 4-pack is easiest to find hanging on the pegs as the 4 CARS available here are not that difficult to track down either as singles on older cards or in a box set at TRU. There is virtually no difference between 3 of the 4 CARS even compared to 2006 versions. McQ does sport the Rust-eze logo on the spoiler but clearly not a new variant.
Guido is slightly different in the crease lines around his "door" and trim are sharper – presumably they made a new mold of him for CARS2 and have already started using it.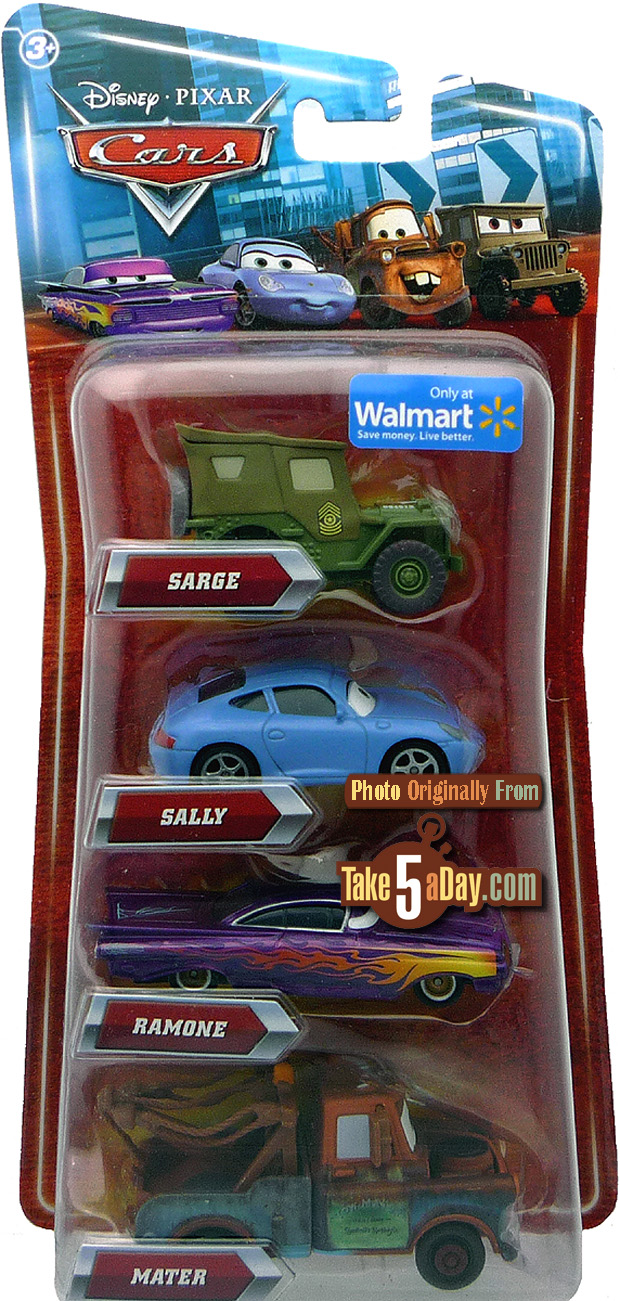 Nothing too new in this 4-pack other than the first appearance of Purple Ramone in a while. He last appeared in the ROR Dirt Track Challenge Box Set. Sarge is the new 2009 Sarge without the USA Stencil and Mater is the new less metal Mater (same since ROR als0). Sally looks like a new mold – like Guido, her lines are crisp and sharp. Since I don't think I've opened a Sally since the Supercharged years, I cannot say for an absolute certainty if it's a new mold for CARS 2 or one that's been around a while but I've just not looked too closely.
But really, Guido & Sally cannot really be called true variants, just the usual minor changes in production that's common with mass production items but in addition to being the most sought after 4-pack, the Tuners 4-pack is full of variants.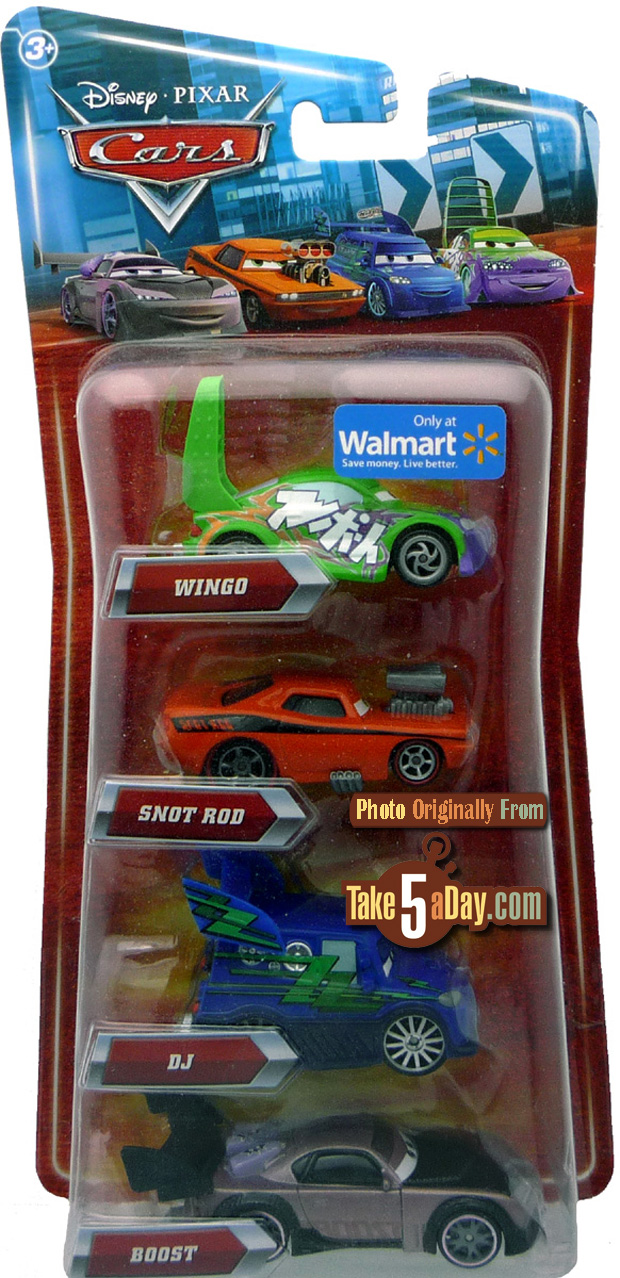 Wingo is an easy one – not really a variant but some slight production changes from the 2006-2009 version …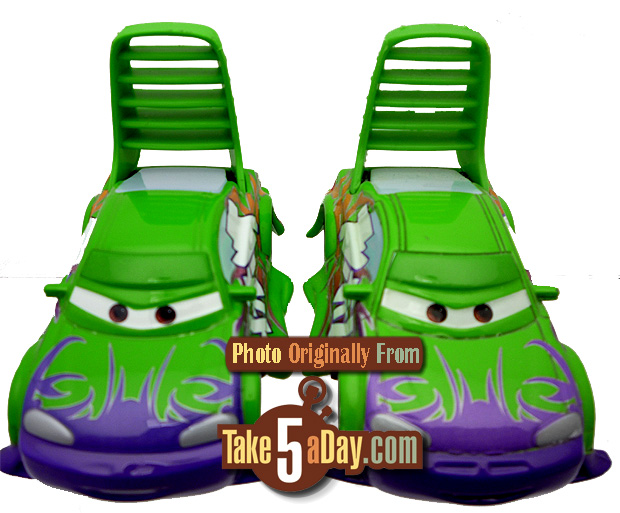 His mold lines have faded with each one produced (the 4-pack one is on the left) but his front mouth piece purple decal now is one piece so there's a better color match as it runs up the hood while the 2006-2009 ones on the right seems to be a two-piece decal so the color is slightly different from the mouth & the hood.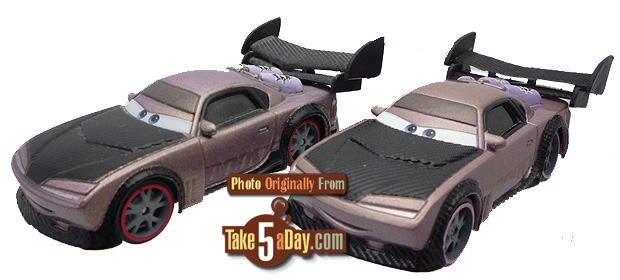 Boost from Desert Art (2006) through Race O Rama (2009) is the one on the left. He can be spotted with the words Boost on the door and red rim trim.
When they released CHASE Impound Boost in 2009, there were some slight changes. The Boost words on the door more closely matches his paint scheme so it's not as apparent and his rim trim changed from red to light purple.

They also made hollow points in his exhaust (new Boost on right). And the used a new mold to create the "carbon fiber" on his hood, front scoop and back spoiler. They are better detailed and sharper.
So this new "Boost," in the WM 4-pack is essentially Impound Boost without the impound boot and different in all the points outlined from Boost 2006-2009.
New Boost is on the right in both pics above.
And DJ is finally corrected.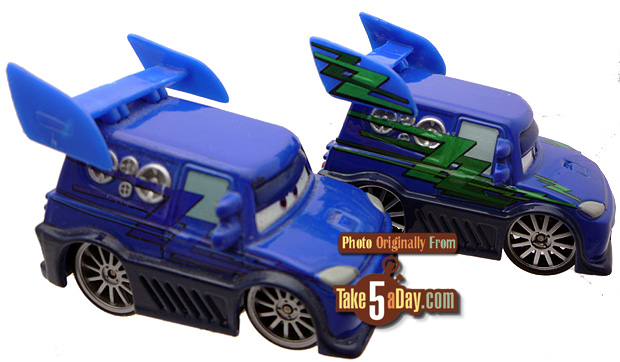 In the movie, DJ has a green "ZZ" design that is shown in the DJ on the right (WM 4-pack).
The incorrect DJ with the blue ZZ was available from 2006 to 2009.
DJ was corrected in the 2009 CHASE Impound DJ release so again, the WM 4-pack is Impound DJ without the impound boot.
DJ CHASE with Metallic paint was correct in his 2010 release – some people might feel the metallic-ransburg version more closely matches the paint job anyway so you might be satisfied with the metallic paint corrected DJ.
DJ lenticular releases also reflects the corrected green ZZ design.
And Snot Rod … Again, the CHASE Impound Snot Rod (2009) features a license plate color change from Orange on White to white on blue.

This change is carried over to the "new' Snot Rod. He's the one on the left. I did have a few open Snot Rod's and it does seem Desert Art (2006) to Race O Rama (2009) all had Snot Rod with the orange & white license plate.
Other than that, there's no other obvious change in Snot Rod. You can quibble about some slight variations but again, simply production differences and not an obvious variant.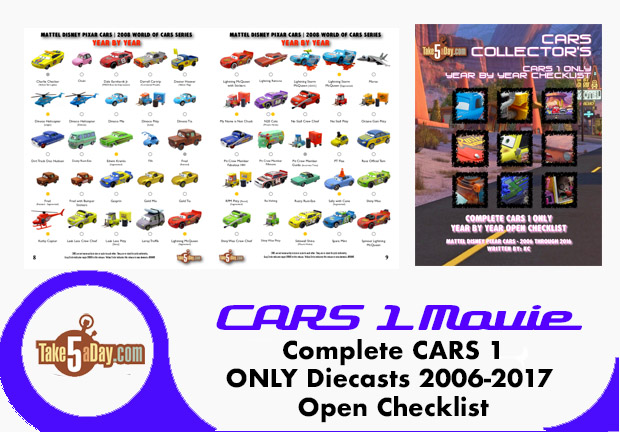 metroxing

16 January 2011

Mattel Disney Pixar CARS, Retail


11 Comments