Home
»
Magazine
,
Mattel Disney Pixar CARS
Mattel Disney Pixar Diecast CARS: TakeFive Visual Checklist Magazines on SALE for 12 HOURS
Click on any of the link below to check out the free preview of all the pages at MagCloud (plus ordering info).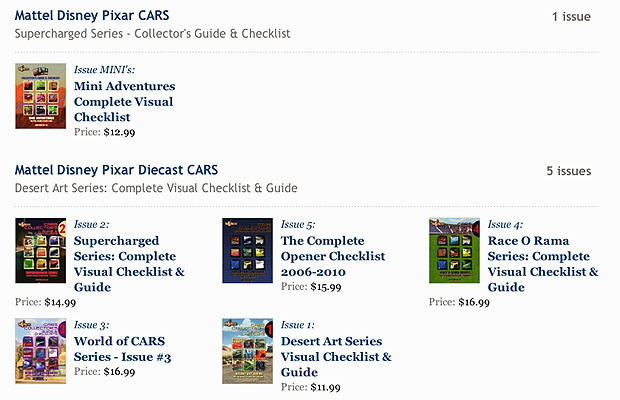 MagCloud is having a sale on FOR 12 HOURS starting at MIDNIGHT PACIFIC TIME 11/26/2010.
MagCloud sales are odd as they are off the cost of the production (these magazine checklists are printed on-demand as you order them) so your savings will vary from about @$1.50 to @$2.50 off the regular price. Prices vary by the # of pages – some series releases number more than other series.
Remember your order help support TakeFive and you get a full color checklist-magazine. Thanks!
As with each of these (and you can click through to MagCloud on each title for a preview) – all in high res and in full color with hundreds of photographs.
We make sure everything is in high res and we do not just pull photos off the internet – everything in each product line is sized exactly the same and take from the same angle as you can see above and in the previews. Each checklist is also a complete encapsulation of that series. (the OPENER CHECKLIST is June 2006 to June 2010).
Shipping is now available worldwide.
Thanks and enjoy!
Sale ends 12 noon Pacific time.
NOTE – MagCloud's Sale says 50% off but it's 50% off the production cost – so it works out to about $1.50 to $3.00 depending on the page count and NOT 50% off the cost you see above – confusing yes …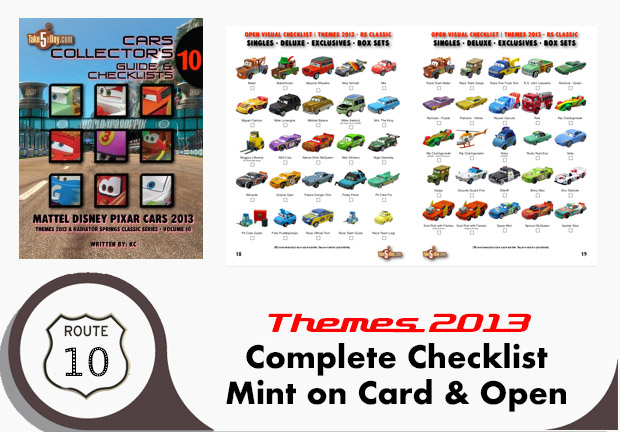 metroxing

26 November 2010

Magazine, Mattel Disney Pixar CARS


4 Comments