Home
»
Video Games
Sony PS3 Gran Turismo 5 – Actually Arriving November 24, 2010
Gran Turismo 5 is actually arriving …

Now you really have an excuse just to grunt after eating the turkey …
Key Features:
Build a dream collection from over 1,000 of the world's most exciting cars, from exotic imports to muscle cars and performance supercars, to customize, race, and upgrade.
Travel the world to experience a wealth of real and fictional road, rally, drift, kart, and select NASCAR courses, and use the new Course Maker feature to create your own personal proving grounds.
Expand the Gran Turismo experience with deep and robust online community features, and challenge friends in the new custom race room system with voice chat for the ultimate track day.
New and improved Photo Travel mode lets you take stunning pictures of your favorite cars in exotic locations with a virtual digital SLR camera. Works in both 2D and stereoscopic 3D for enhanced realism.
Challenge and hone your driving skills in the A-Spec career mode as you complete a wealth of racing events spanning all racing styles.
Become a team coach and train AI drivers to be the best of the best as you guide them through a variety of racing events in the B-Spec career mode.
The most advanced Gran Turismo yet, featuring unrivaled graphics and a true-to-life driving feel.
They don't even mention the weather thing … you can check out the video here.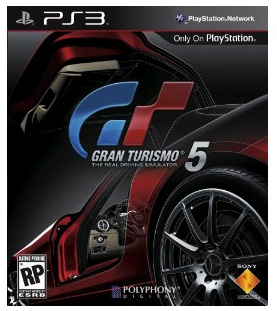 And if you pre-order, you get a special exclusive downloadable car for use in-game as a pre-order bonus.
Different retailers are offering different CARS
There is also a collector's edition …
Collector's Edition Content Contents:
Gran Turismo® 5 game
Exclusive limited edition 1:43 scale diecast 2009 Nissan GT-R Spec V with custom Gran Turismo livery designed by Polyphony Digital, produced by well-known collectible car maker Kyosho
In-depth 300-page car-lover's guide written by the experts at Polyphony Digital, covering everything from the history of the modern automobile to driving techniques and game reference material
Custom etched Gran Turismo key chain
Voucher for five (5) exclusive high-end cars with custom Gran Turismo livery and performance upgrades
Numbered certificate of authenticity
Custom collector's packaging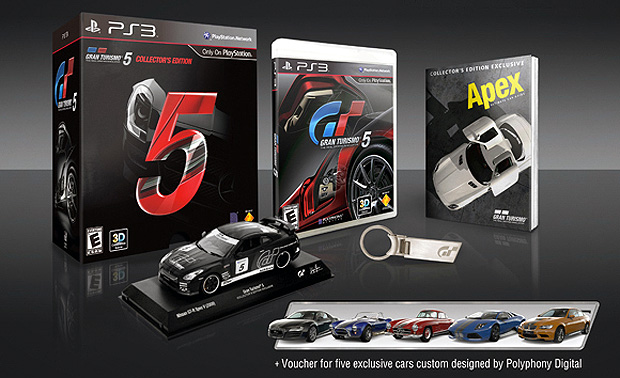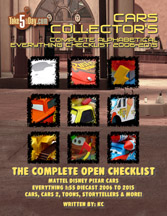 metroxing

23 November 2010

Video Games


10 Comments