Home
»
Mattel Disney Pixar CARS
,
Retail
Mattel Disney Pixar Diecast CARS: Black Friday 2010 – Shop Early & Often
There was a mystery 4-pack listed for Walmart's Black Friday (next Friday) but the mystery has been cleared up …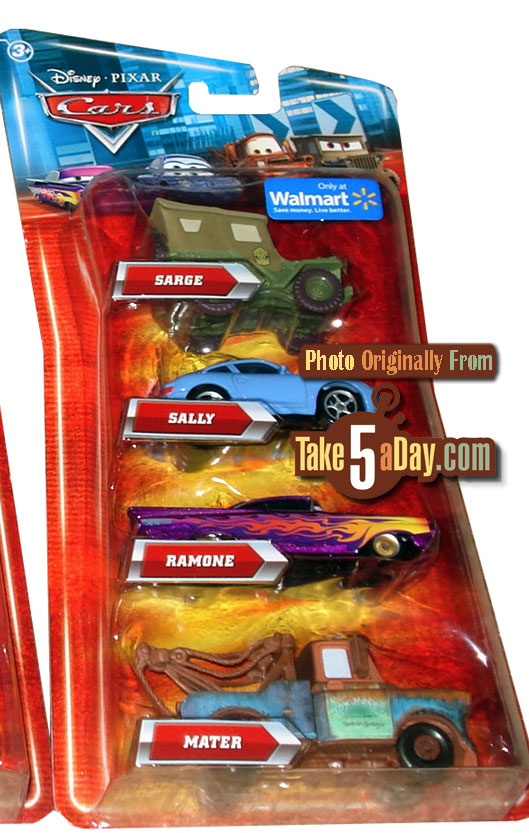 The 4-packs that appeared briefly will be $10 each next Friday. They are sold separately.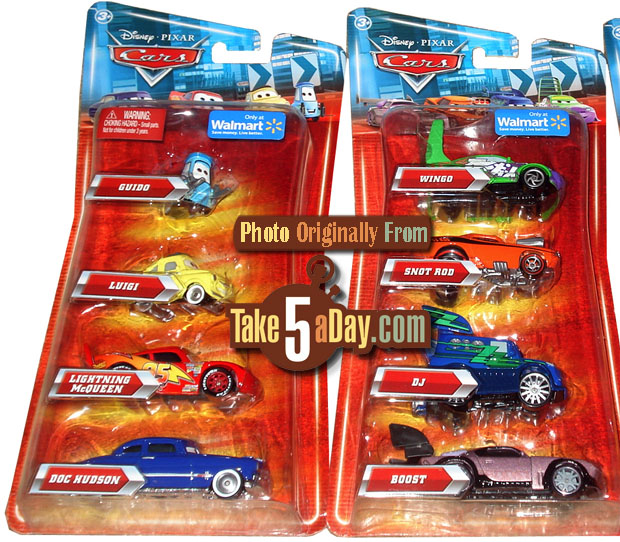 Thanks for the nice pics, "SlicePie."
He notes that the, "4-Packs are marked as AnnualWK4 on the yellow tag on the outside of the case.  They came in a big red tray and I think there were 8 of each pack for a total of 24 packs in the case."
They will probably be back online after Black Friday for $14.99 – either way,a nice price and great for newbies just joining in … though note for variant collectors, this is your second opportunity to get the corrected stripe DJ (classic eyes) outside the TRU 5-pack.
We'll find out in another week if there are other variants.
NOTE – Many Walmarts will be open at MIDNIGHT (one minute past Thursday Turkey day) but the doorbusters electronics do not go on sale until 5 AM.
They also have started ONLINE SPECIALS which may not be available in stores.
Again, the 4-packs are currently not online.
Target will open at 4 AM … presumably these will be available at $19.99 at that time …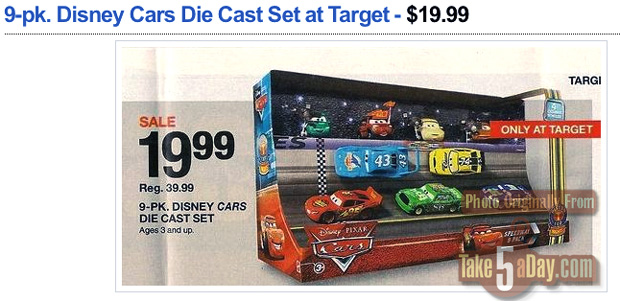 Kmart (many) will be open on Thursday but the CARS diecast items are Black Friday items only to 11 AM. Kmart will open doors at 5:00 AM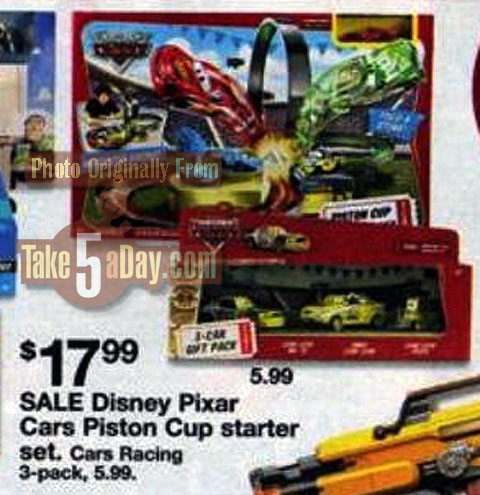 Kmart also has special online sales going on right now.
TRU will be open at 10 PM Thanksgiving Day and be open for 24 HOURS until Friday at 10 PM. There will be different sales and doorbusters – more details next week.
There's nothing spectacular going on at TRU for Black Friday – Mater the Greater Stunt Playset for $12.49, the Piston Cup 500 track set is $10 off – $39.99 (while not a huge deal, it was listed on eBay for $150 …).
Toys R Us has daily sales going today and tomorrow.
There's a Christmas stocking with CARS sounds, the Mater Wrestling I-Screamer 3-pack is available online, as is the Mater Wrestling Rastacarian 3-pack … the Dr. Feelbad 3-pack is out of stock online. The Mater Saves Christmas 3-pack with corrected photo is still available online – hurry!
OTHER STORES:
Sears will be open from 7 AM to Noon THANKSGIVING DAY – if you use a SEARS card, another 5% off … no Mattel CARS on Black Friday but they have opened a toy department in some stores so if you're passing by.
Kohl's will be open at 3 AM and all toys are 50% off.
Meijer will be open at 6 AM – action figures are BOGO, lots of Lego sets are BOGO 50% off, & the CARS Garage is $30.
(Nothing from the Disney Stores yet).
If there's anything else, just add it in at the comments.
If you want some apps for your iPhone, I recommend these (ALL FREE): TGI Friday Black Friday, Black Friday (Deal News), Black Friday Survival Guide and Black Friday by Brad Deals. All offer you searches by stores, by product and add to 'wish list.'
Happy shopping y'all.


metroxing

19 November 2010

Mattel Disney Pixar CARS, Retail


24 Comments