Home
»
Mattel Disney Pixar CARS
Disney Pixar CARS: Mater Tall Tales DVD Now Available on iTunes
The Mater Tall Tales "DVD" is now available on iTunes (US).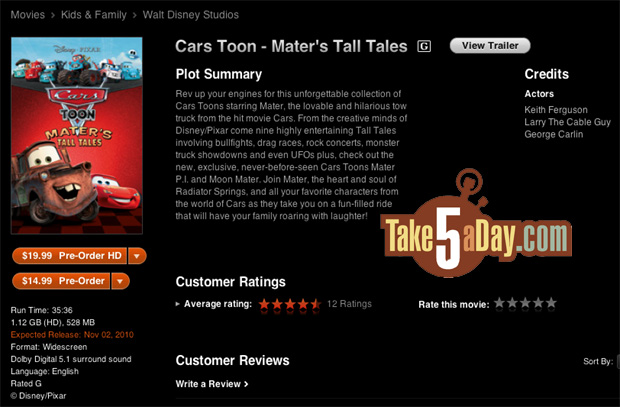 Now, you actually have a choice to make. If you want to watch it on your Mac or PC and want to stream it to your AppleTV or transfer it to your iOS device (unlimited transfer BTW in your household as long as you share an account) – you might want to consider buying the iTunes version.
The HD looks spectacular on the iOS devices – iPod Touch, iPhone or iPad.
So, if you are going to watch it on a portable iOS device or if you have an AppleTV device to stream it to your TV, the iTunes version is the best resolution and portability.
Because while you can "rip" a copy from the DVD to load on your iOS device (or some other non Apple device), the DVD resolution is not going to match the iTunes HD version … and while I'm sure some of you have a Blu Ray reader and know how to rip Blu Ray DVD's – you  clearly don't don't need my help and I know the numbers are not huge out there. 🙂
Click on the graphic above to launch iTunes or this LINK. You can pre-order or just wait until November 2, 2010.
The DVD or Blu Ray DVD versions do NOT include a Digital Copy so for now, if you want a copy on your portable device, you either have to buy the iTunes version again or "rip" your own from the DVD.
But if portability is not a big deal to you – obviously just buying the DVD or Blu Ray is the way to go.
Or if the DVD is not available in your country, all you need to do is get a US iTunes card and set up a "new" account – you can follow along the instructions on how I bought the HD shorts on the UK site – just switch to the US store.
(the interesting thing is on the UK iTunes store, you can buy them separately though the bundle deal is better – it does not look like the US one has the shorts being offered separately but logically, it seems like it should be separate files – it might change when the "DVD" is actually released on iTunes).
BTW, Costco offers a good deal on iTunes cards and Sam's Club has a $100 card for @$88.00.
Or if you just want the DVD discs with same day delivery and price matching – AMAZON. (The Blu Ray DVD contains both the Blu Ray version & the DVD version).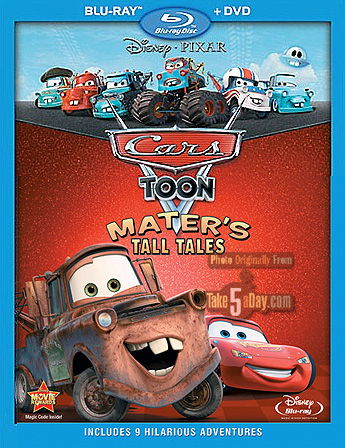 Or the plain ole DVD version. Amazon.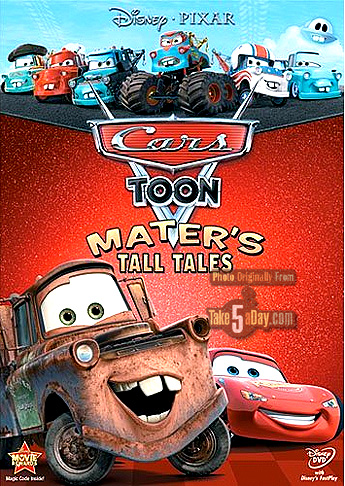 metroxing

23 October 2010

Mattel Disney Pixar CARS


4 Comments