Home
»
Mattel Disney Pixar CARS
Disney Stores Re-Launches First at Montebello CA – CARS Ridemakerz
The Montebello store is the first of 20 newly designed Disney Store locations that will open across major markets in the United States and Europe in 2010. The 4,800-plus square foot store's floor-to-ceiling remodel now features multimedia technology, interactive storytelling and Disney Store exclusive merchandise that bring Disney's most beloved characters to life for families in the local community.
"As part of Disney, we're committed to the value of entertainment and exclusive experiences," said Jim Fielding, president of Disney Stores Worldwide. "Disney is setting a new standard for the specialty retail category by integrating robust technology and creative store planning to make each visit customizable and that much more memorable. This is truly an immersive, one-of-a-kind retail experience for children and families that only Disney could deliver."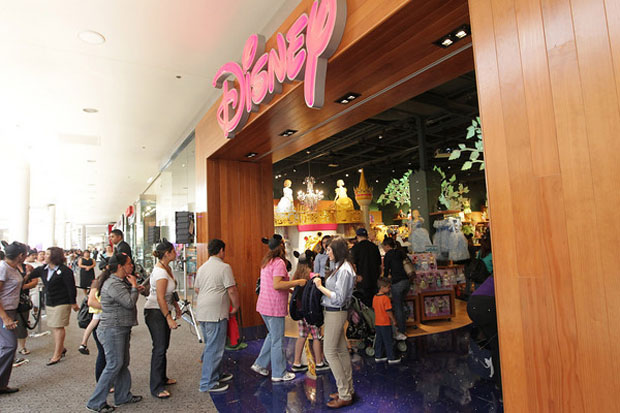 Technology is integrated throughout the new store to create magical moments for guests:
The newly designed Disney Store is merchandised by franchise neighborhoods so guests can easily shop by character or theme and is anchored by several "hero fixtures" including: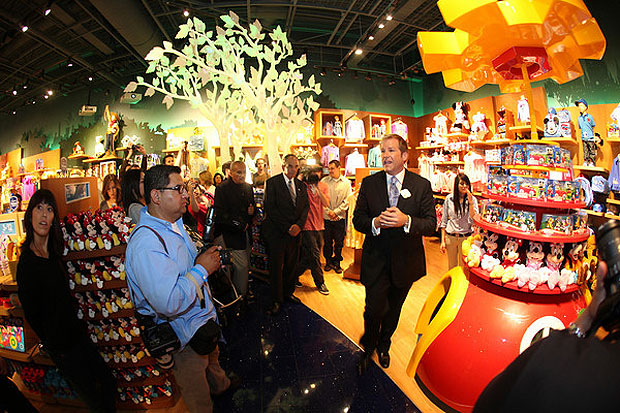 That's the Prez of Disney Stores – Jim Fielding.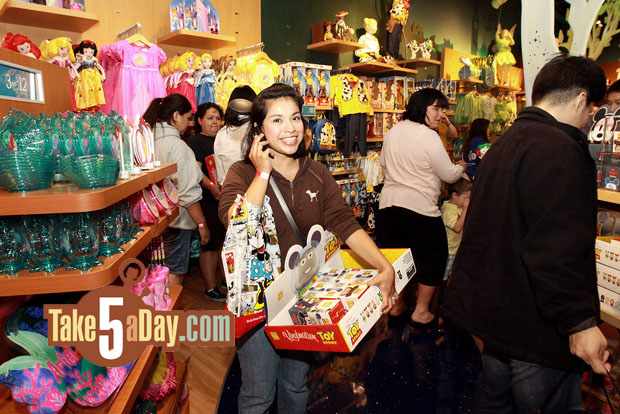 — The Disney Princess Castle with Magic Mirror — A child-sized princess castle anchors the Disney Princess neighborhood and inspires kids to make believe. As they walk under the iconic castle they encounter a magic mirror and with the wave of a wand, they watch in delight as their favorite Disney Princess character appears.
A customizable shopping experience:
The new store concept also includes the launch of an all new in-store application where guests can customize their shopping experience. Accessed via an interactive kiosk with touch screen, this animated experience gives users the ability to navigate a 3-D view of all Disney Store and DisneyStore.com products and discover the latest Disney Store news via video clips, articles, and social media feeds. This application allows the Disney Store to share its news to customers, who can then share information and in-store events via email, Twitter and Facebook.
The Disney Store Theatre: The newly designed stores will also feature a theater as part of its marquee attractions. Guests can pick from a selection of pre-loaded content that will be updated regularly and can view classic and new Disney entertainment, sneak-peek previews, music videos and more. The theater will also serve for special in-store events such as reading time, scavenger hunts and more.
The "Pixie Dust Trail" and "Magical Trees": With its glistening blue glitter, the Pixie Dust Trail leads guests through the store and to major interactive elements as they enjoy a Disney-themed skyline and surrounding magical trees which are programmable with changing colors, images, and music set to an array of Disney themes.
— The Disney-Pixar CARS-branded RIDEMAKERZ attraction is a one-of-a-kind immersive car building and customizing experience. Launching with three favorite CARS characters — Lightning McQueen, Mater and Sally — fans use tools to assemble their car, and their imagination to customize it with a wide selection of rims, side pipes, hoods scoops, blown engines, spoilers and many more accessories. Disney-Pixar CARS-branded RIDEMAKERZ toy vehicles will only be available within the new Disney Store design and, later this year, at RIDEMAKERZ retail locations.
So, we "forced," Mariela P. to take the family – Pablo & son, Ian to be our reporters …
Looks like loads of fun!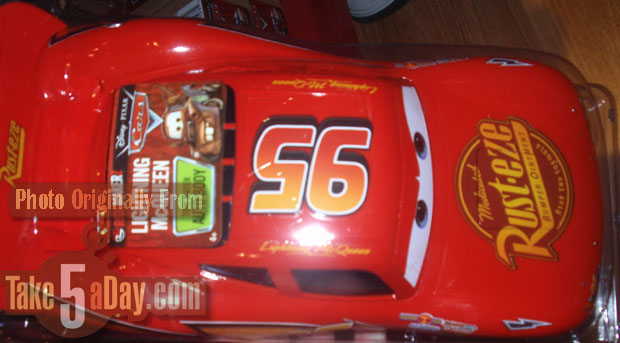 Pick out a base shell – McQ, Sally, Mater, Tuner Mater, Cruisin' McQ and Dinoco McQ …
Then like in real life, your options to spiff up your CAR but they are pretty cool …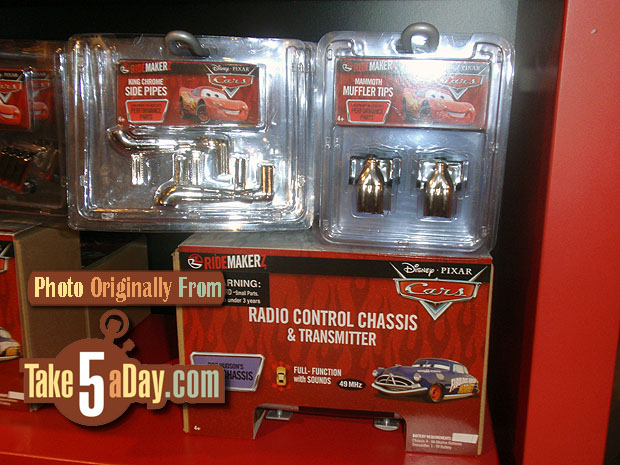 Already, this is more options than my real CAR …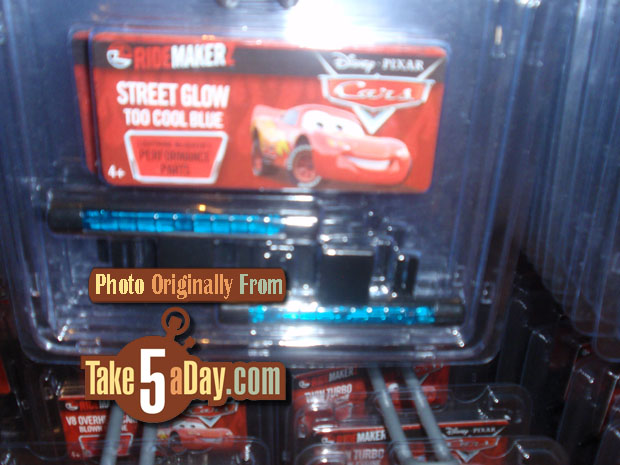 Nice …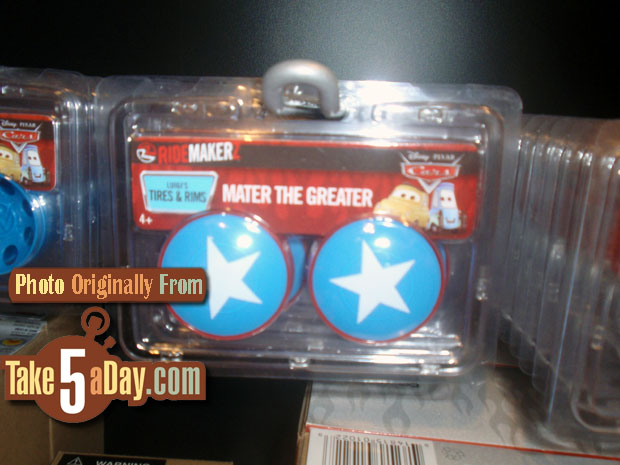 These would be cool in real life … but of course, UPGRADE!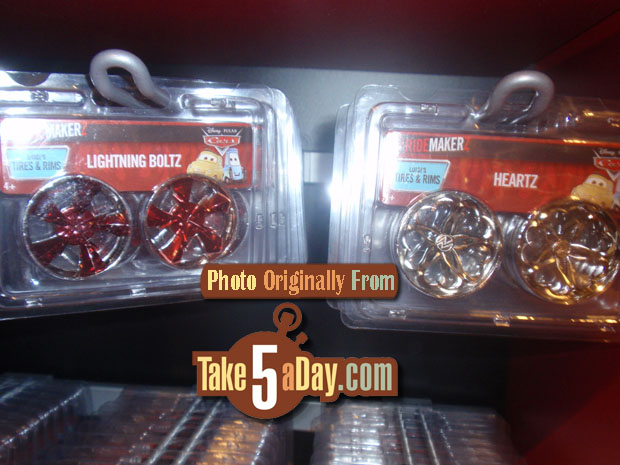 And would these just burn away snow and ice?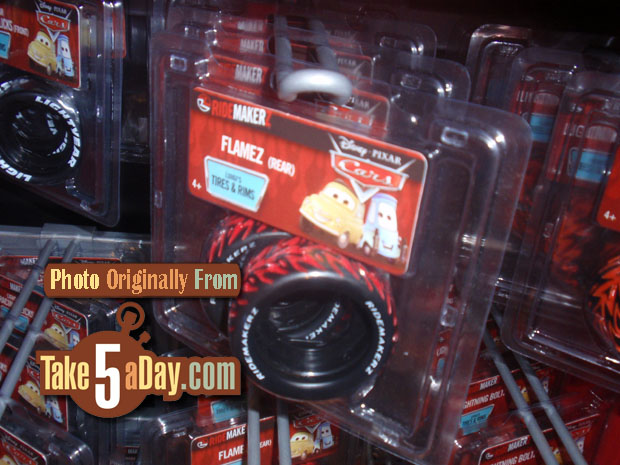 So after you get mom and dad's credit cards and loaded up 🙂 …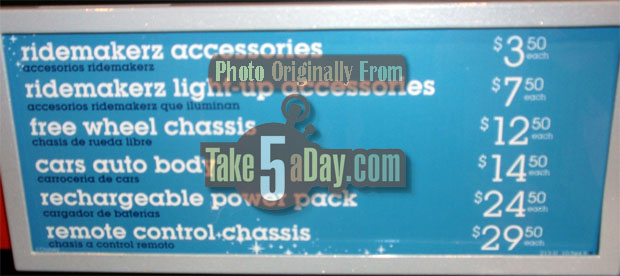 You head on over to 'the shop.'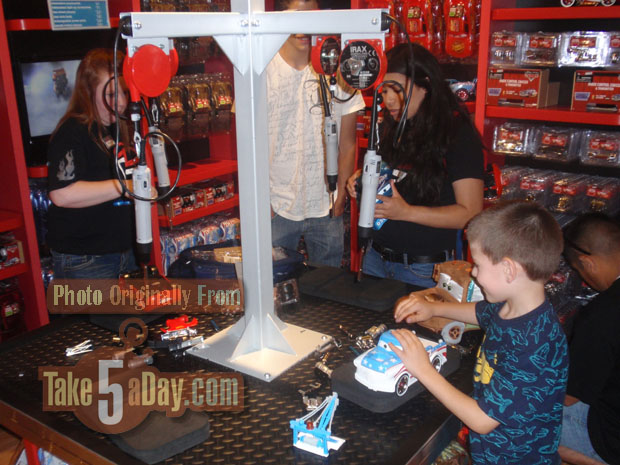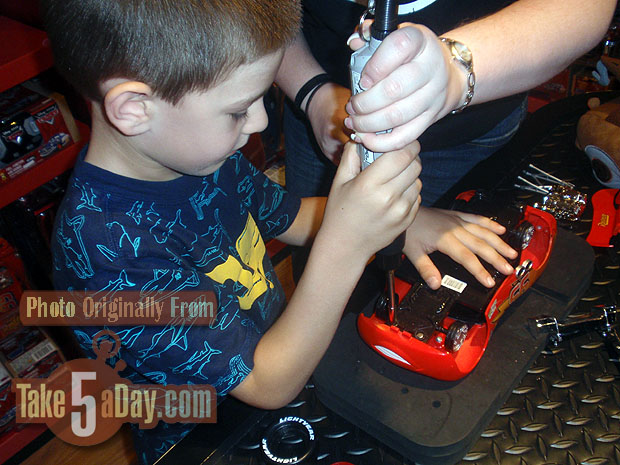 Inspect … make sure it's up to standards …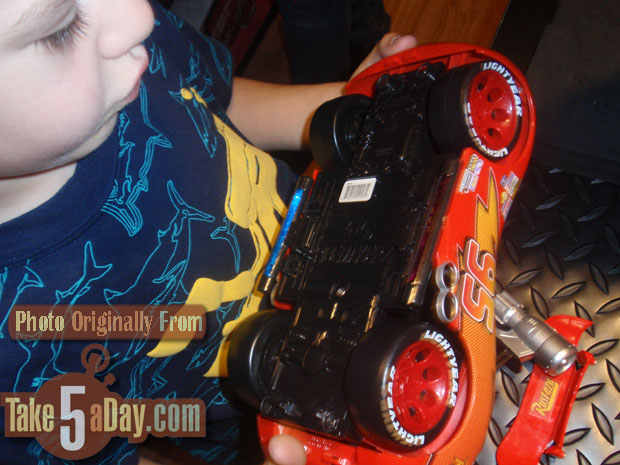 Looks good from here!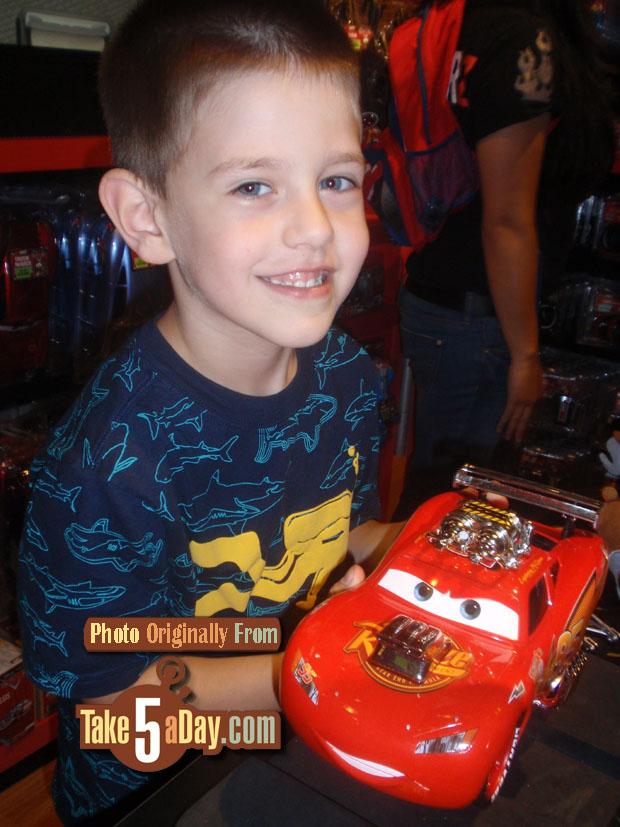 Nicely done, Ian …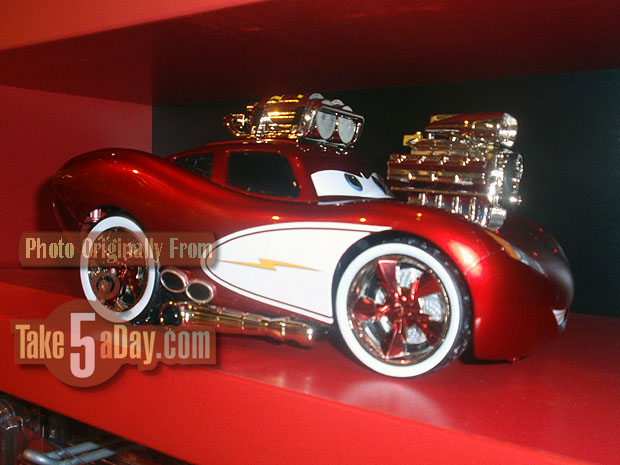 Some examples … that must be a V4 putting out at least 88 horsepower? Right?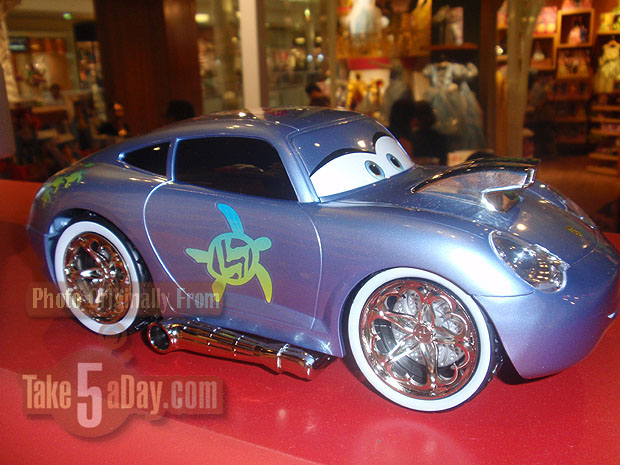 Cute.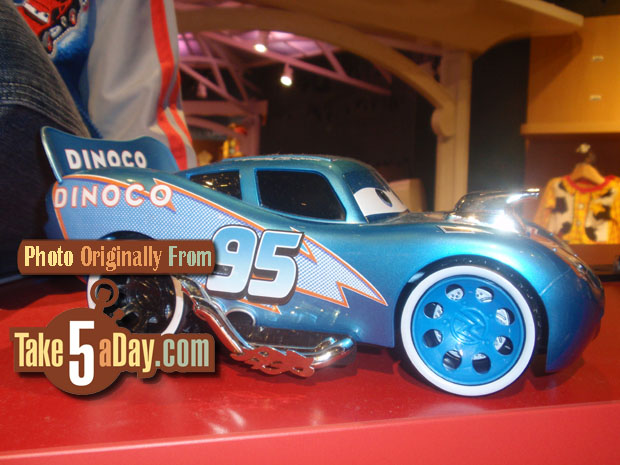 Always that Dinoco …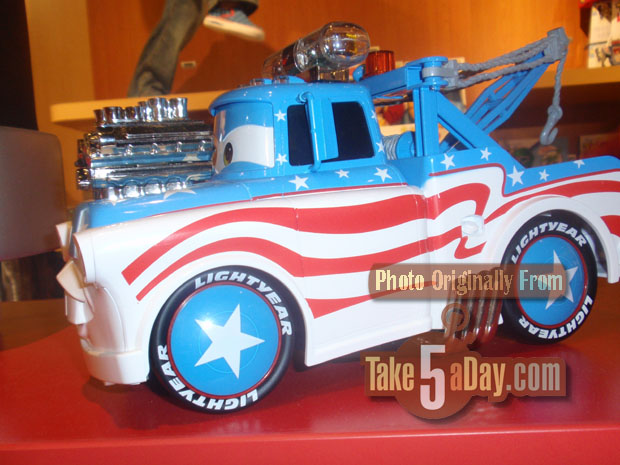 Super sweet.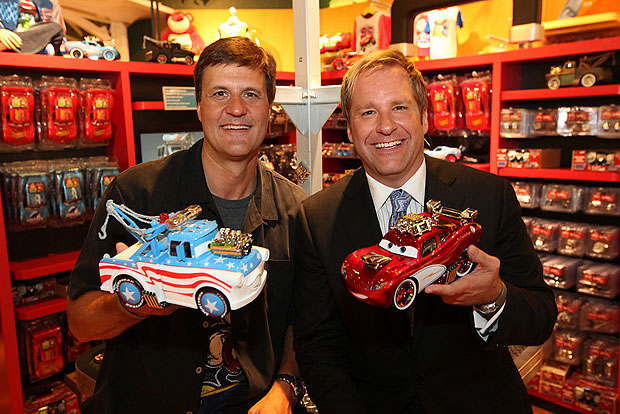 If you're the Prez of Disney Stores and the Prez of Ridemakerz – you can say, "I Made This!"
In case, you can't find the CARS section, Ian knows the way …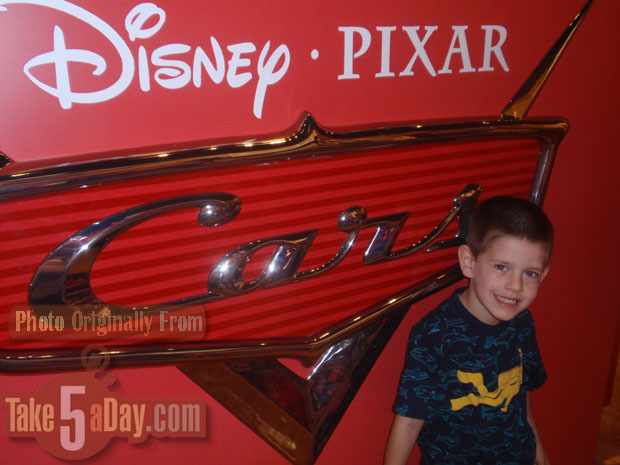 This would be a nice panel that swings open to my CARS Man Cave … I want one!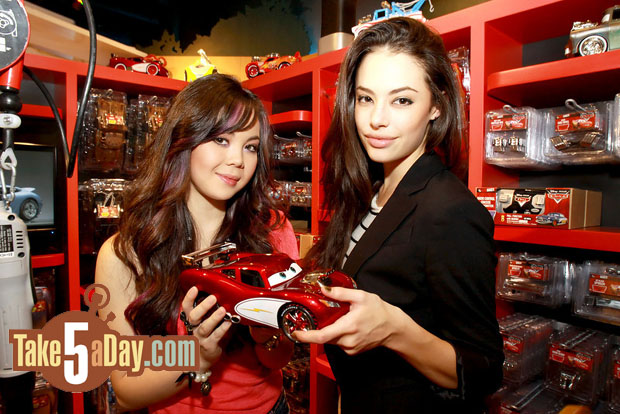 The girls from Camp Rock 2 probably won't be there everyday but try and be nice even if you think your custom Cruisin' McQueen is better than theirs.
Sure, I could be a charmer also if I was covered in Ransburg … where's Sally?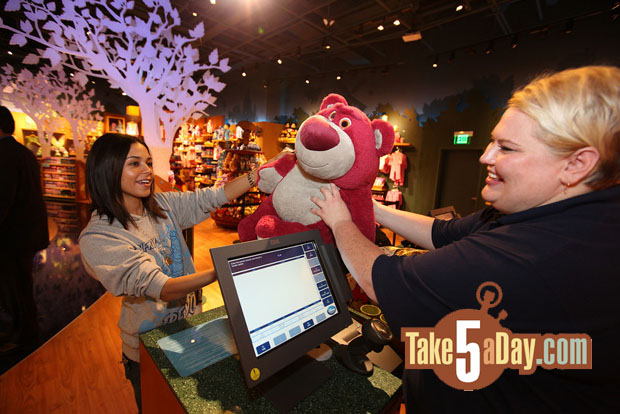 Okay, I'll stuff Lotso at the bottom of my bag and claim I'm there for the CARS Build … shhhh, don't tell anyone … I promise not to creep you out and only smell the Lotso I'll be buying.
And if you get tired, you can watch some TV …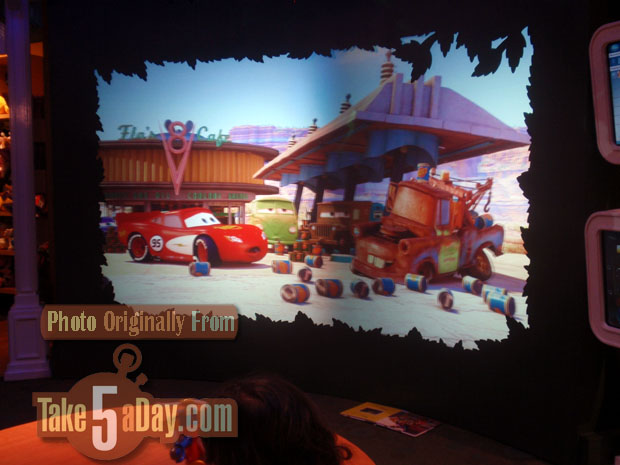 There's a slew of photos about princesses, fairies, pooh, mickey, etc … but I'm er, too tired to load those … you'll just have to go and check it out yourself.
Thanks for the great photos, Mariela & family for checking it out for us – and for putting Ian to work in the salt mine-like conditions of making CARS. 🙂
Some photos are PR photos supplied by Disney – you can guess which ones are those.
And thanks for heads up on the opening of the Montebello store, "Brad."
The Montebello store is the first of 20 newly designed Disney Store locations that will open across major markets in the United States and Europe in 2010.
The newly-designed Disney Store is scheduled to open in the United States this year at the following locations:
— The Shops at Mission Viejo in Mission Viejo, CA, is anchored by luxury retailers and offers an extensive merchandise mix in a sophisticated atmosphere. Disney Store will be located on the second level in a 5100-plus square foot space.
— Disney Store on North State Street in Chicago, IL, (Block 37 Complex) will anchor the southeast corner of the center in 4,464 square feet on level one of the mall. The complex features an eclectic mix of shopping, dining and entertainment within a five-story atrium, located in the heart of Chicago's Loop between Washington and Randolph on State Street.
— Freehold Raceway Mall in Freehold, NJ, offers a complete mix of department stores, specialty stores, restaurants and entertainment making the property an ideal location for the new Disney Store.
— NorthPark Center in Dallas, TX, offers shoppers the best in every retail category, and the newly-designed Disney Store opening this fall will represent its premier children's retail store.
Other locations to feature the new Disney Store design opening this year include: Roosevelt Field Mall in Garden City, NY; Santa Monica Place in Santa Monica, CA; International Plaza in Tampa, FL; Fashion Valley in San Diego, CA; Disney Store in Union Square in San Francisco, CA; and a two-story Disney Store in Times Square in November.
With each new store opening in 2010, Disney Store will designate a day for 10 percent of the sales to be donated to the Make-A-Wish Foundation in the United States.
To find a Disney Store, guests can visit www.DisneyStore.com/storelocator or call (866) 902-2798.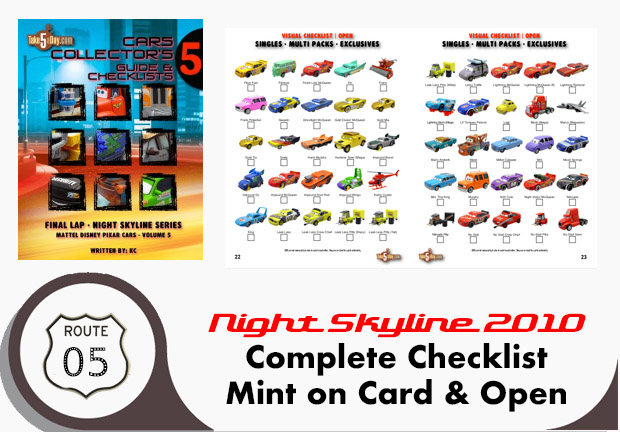 metroxing

3 July 2010

Mattel Disney Pixar CARS


16 Comments