Home
»
Mattel Disney Pixar CARS
The TakeFive Guide to Nearly Everything SDCC San Diego Comic Con
San Diego is one of the great American cities even if there was not the SD Comic Con, you should go anyway. But normally of course, you want to go when your city is 17 degrees and when SD is 78 degrees as it is on December 11th but in the middle of summer, expect a huge temperature swing of at least 5-6 degrees so hope you can handle 84 degrees with a nice Pacific breeze (BTW, that's Fahrenheit not Celsius).

San Diego Comic Con, the Super Bowl if Comic Cons, the ONLY Comic Con where ALL the movie studios, all the video game companies, all the comic book publishers (du'h) and nearly ALL the toy company's show up in 3 football fields of pop culture nirvana. And attended by 120,000 of what can only be described as fanboy-fangirl-geek-nerd-cosplay-furry-hardcore fans … where the flesh meets the stormtrooper vinyl and where comic book illustrators, artists and writers are met with shrieks and peals … and that's just the grown men.
It is a fun party of sights, sounds and bodies all compressed together. Fortunately the crowd is all hippy happy but it is a lot of people.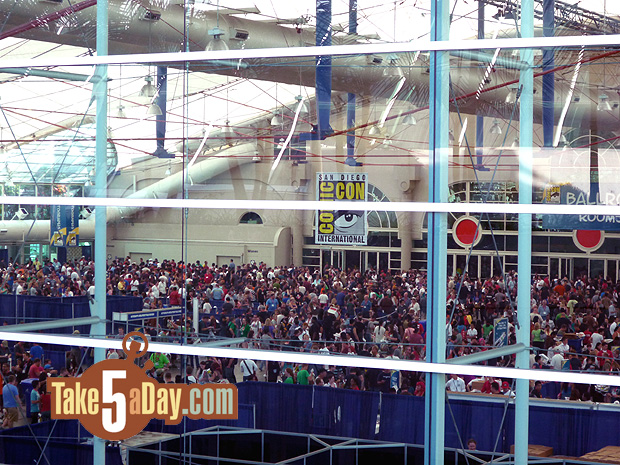 So be prepared for that.
If you do NOT have tickets, a second opportunity has arisen from refunded tixs … Click here and follow the registration process to determine what tickets for what day are still available.
There are also ticket packages with hotels which is not a bad way to go – these hotels all offer FREE Shuttle bus rides to the Convention Center.
Here's the deal on buying tickets from unauthorized eBay or Craigslist sellers – SDCC will glance at your badge and you when you enter – if you are a 6 foot 5 guy with a bushy beard and your badge reads RUTHIE TAKAHASHI – they will politely ask to see your ID so buying a secondary ticket might be a fools errand. EVERY ticket is a badge and they will check for the obvious mis-matches.
You will get a bar coded printout – you will need to go exchange it for a real badge – on Preview night and early on Day One, it will take a while to wind your way through the line to go upstairs but it's orderly and they are very fast. They check your ID to match the info. Weekend registration and badge pickup gets a little longer again as the non-pros are not quite sure where everything is. The line starts at the ground level before you are Disneyland-lined upstairs – there are volunteers to point to the end of the line.
Once you have your badge, you can enter if it's AFTER the hall has opened but if not – line up again.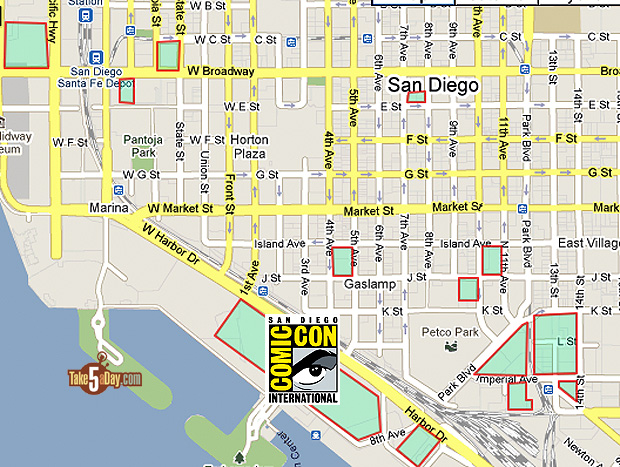 PARKING?
They have offered up some pre-sale on parking but the primo space under the Convention Center is sold out. I wouldn't worry about it too much since if you can't get in there or the Hilton lot across the street south of the Convention Center (on Harbor), the rest of the lots are all pretty much the same. While the teal areas are the pre-sale parking lots, there are plenty of lots south of Broadway (not shown) and anything between 1st and 8th are a casual walk to the convention center – and you can get coffee/breakfast and lunch along the way. The lots on the the East side of the Convention Center (off Park) are actually a longer walk since you have to walk around the outside of Petco AND you can't cut across the big street so don't park there unless you have to. (Petco is where the SD Padres play baseball).
Of course, you can park further away and take the shuttle – the only advantage to parking closer is if you're buying a lot of stuff you want to drop off in your car and go back to the show. There are no-in out privileges so again, parking is parking. They have expanded the show bag check area.
Obviously if you pick a hotel that is walking distance or has a shuttle stop – no need to drive. Traffic gets crazy in front of the convention center so it can take 10 minutes to go one block – keep in mind if you decide to take a taxi. The SD downtown area also has those pedal powered bike taxis … the problem is they have no meter so be careful of how much it might cost as it varies from pedal powered taxi to another.
You can also take the light rail trolley to the convention center.
THE SHOW
The crowdiest area of the show are where the movie studios are (huge giveaways) and the toys companies next to them. Some movie studio booths can take up to an hour to get your freebie so budget your time and interest. Also during PREVIEW NIGHT, THURSDAY & SATURDAY – a walk from the back of the hall to the front of the hall is a good 20-minute walk … and good luck with hearing your phone – make sure you can text people. WiFi is spotty – no shock. Google sponsored free in the front hallway and in theory, free WiFi in the hall but good luck with that.
Friday and Sunday are the lighter of the 5 day show in terms of audience.
Preview Night Wednesday is a madhouse of setup plus they save money and don't turn on the air until 5 PM … so it's a room of sweaty Teamsters and Comic Book guys and panicked setup execs … and then the madhouse of three hours of show … 5 years ago, PREVIEW night was casual and I think they sold less tickets this year as last year was CRAZED … as professional buyers had to buy up hoards of stuff … Mattel actually refused to sell to anyone on Preview Night except those who bought a ticket (no exhibitors, professionals, press, etc …) but I think they were the only company with that policy. Most other companies now pretty much sell at the show and online so there's less panic buying but some companies do offer daily exclusives so in case you're wondering why there's a 2-hour wait at certain booths.
Many booths have also instituted the go get a time slot ticket upstairs and then come back to line up so lines are more reasonable and you should get through in less than 30-minutes. Unless it's limited to 500 or fewer of some item, if you can wait until late Thursday or Friday, lines get much shorter so again, unless it's ultra limited, don't panic and budget your time accordingly.
FOOD
The food at the show is pretty much the non-descript $8 hot dog-pizza you'd expect at the convention center. Other than Starbucks and brand name ice cream, the rest of the offerings are pretty much non-descript. However, there is a great food almost anywhere else in SD and the Gas Lamp district has EVERYTHING so try not to eat at the hall – walk across the street or take the trolley for great food almost anywhere else. Link here for restaurants. (the link also shows more additional parking lots).
You are allowed backpacks but NOT rolling carts …
Sadly, there's no In & Out Burger within 10 miles of the Convention Center so you will have to drive or eat there afterwards.
OTHER
Of course, if you're bringing the family, SD has that amazing zoo-adventureland plus LegoLand (for smaller kids) plus about 1,000 other things to do … some members of your family might like the spa thing but laying around when plastic toys can be bought … that's just crazy … Costco sells tickets to all the theme parks and attractions so if you want to save some bucks, check out Costco first … also sign up for a coupon deal.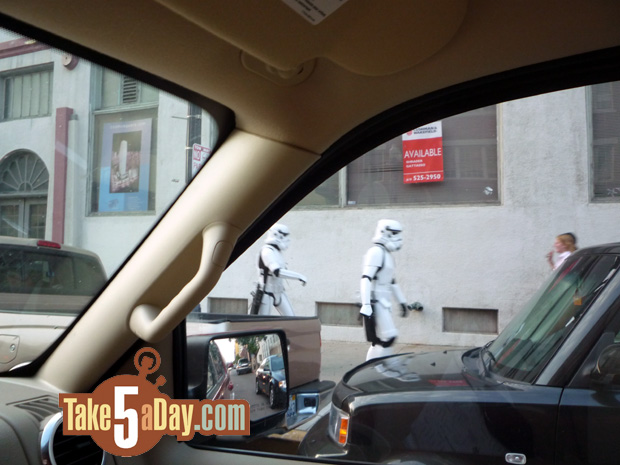 No, I'M looking for droids … Where can I buy some? You got any?
Yea, this is what SD will look like … yea, there's always an idiot who lost their stormtrooper outfit … how embarrassing for them.
See ya'll in three weeks!


metroxing

29 June 2010

Mattel Disney Pixar CARS


24 Comments