Home
»
Mattel Disney Pixar CARS
Mattel Disney Pixar Diecast CARS: John Lasseter & You, Practically Twins …
The Top 10 Things on Your Desk That John Lasseter Copied From You …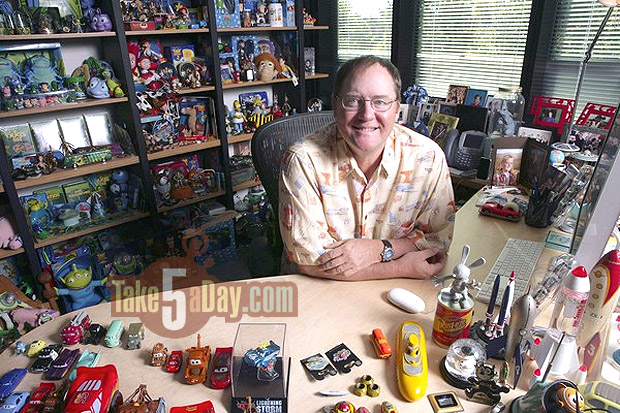 10) Lightning Storm McQueen SEALED because only a 3-year old could pry that top off and there's never a 3-year old around when you need one … though following the Doppler effect screaming is a clue …
09) Oscar Meyer Weinermobile (Hot Wheels) with bite marks.
08) The Townies!
07) iMac
06) Had tractor – Sold Tractor on eBay for $19.99. It's crazy how people love the Tractor.
05) Also cannot find showstoppers and cousins
04) View of Shrubbery
03) Missing CARS Mousepad
02) Missing JL Series Lightning McQueen though of course, he can resolve that issue with a sharpie.

01) Pieces left over from washing machine.
It's uncanny – we're like twins – desk wise. Other than that, there might be a few differences … he runs Pixar & Disney animation, I run Pixar DVD's and eat officially licensed Disney animation peeps … it's freakin' uncanny!
From the LA Times article, "Disney toys get Pixar animation guru's touch – John Lasseter champions better-quality merchandise that stays true to the films."
"Lasseter's experience with "Toy Story" and subsequent Pixar films, including "Cars," helped inform how he works with toy makers, retailers and Disney's consumer products group. Those practices at Pixar have extended to Disney Studios, whose animators for the first time participated in brainstorming sessions with the toy makers, providing feedback on design proposals and packaging.
Tim Kilpin, general manager of Mattel's Girls, Boys and Games division, said Lasseter argued that the die-cast replicas of "Cars" vehicles be manufactured in 1/55 scale — instead of the smaller 1/64 scale of Mattel's Hot Wheels — because the toys needed to be larger to capture the characters' personality and expressions.
"He's a student of what makes toys great toys," Kilpin said. "He's more willing to talk about the details about what makes a product, rather than saying, 'Oh, that's nice. I like how it lights up.' "
I will buy some of the CARS things that he speaks of and get back to you …



metroxing

15 December 2009

Mattel Disney Pixar CARS


32 Comments